Beijing should honour the Sino-British Joint Declaration, including commitments to Hong Kong's rights and freedoms, US State Department says
It urges the city's government to engage with the public, and protesters to respond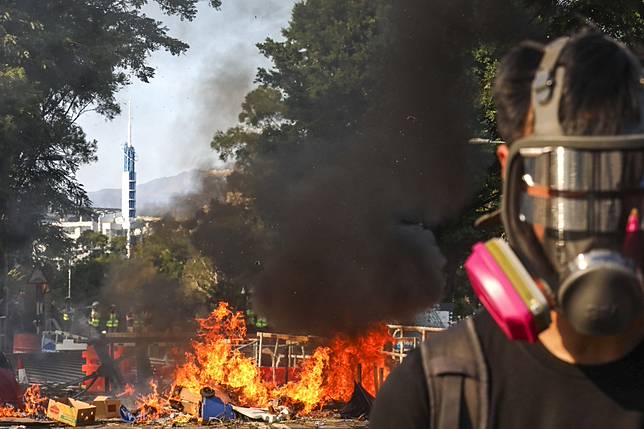 The US State Department said it was watching events in Hong Kong with "grave concern" on Monday evening and called on Beijing to honour commitments under the Sino-British Joint Declaration, after one of the bloodiest days in Hong Kong since anti-government protests began in June.
Clashes between police, anti-government demonstrators and Beijing sympathisers on Monday saw one young protester shot with a live round by a police officer and a middle-aged resident set on fire by a protester during an argument. Both men were left in a critical condition.
"The United States is watching the situation in Hong Kong with grave concern," State Department spokeswoman Morgan Ortagus said in a statement. "We condemn violence on all sides, extend our sympathies to victims of violence regardless of their political inclinations, and call for all parties " police and protesters " to exercise restraint."
The statement said that an increased polarisation in Hong Kong society underscored the need for a "broad-based and sincere dialogue between the government, protesters and citizenry". It called on protesters to respond to efforts at dialogue.
"We urge Beijing to honour the commitments it made in the Sino-British Joint Declaration," Ortagus said, referring to the document signed by China and Britain in 1984 that guaranteed Hong Kong a high degree of autonomy for 50 years after its 1997 handover to China.
Those commitments included a pledge that Hongkongers would enjoy human rights such as "the freedoms of expression and peaceful assembly " core values that we share with Hong Kong", she added.
Ortagus urged the city's government to increase engagement with the public and begin efforts to "address the underlying concerns driving the protests".
As tensions flared on the streets on Monday following the early-morning shooting, police fired tear gas on university campuses in the city for the first time in five months of protests.
Almost 100 people were hospitalised with protest-related injuries on Monday, while the tally of arrests made since November 4 rose to 266. An officer was suspended after footage emerged of him repeatedly driving his motorcycle at a group of protesters gathered on a road.
Ortagus' remarks came after Hong Kong's leader, Carrie Lam Cheng Yuet-ngor, struck a defiant tone on Monday evening, calling protesters the "enemy of the people" and vowing that an escalation in violence would not cause her government to yield to their demands.
Elsewhere in Washington, lawmakers cited the day's bloody clashes as further evidence of the need for a US policy response to the ongoing unrest, with House Representative James McGovern calling on Senate leader Mitch McConnell to bring the Hong Kong Human Rights and Democracy Act to a vote in the upper chamber.
Introduced by Republican Senator Marco Rubio, the bill would increase scrutiny of Hong Kong's autonomy from Beijing, and subject foreign nationals deemed responsible for the "undermining of fundamental freedoms" in the city to economic sanctions and travel restrictions.
What is the Sino-British Joint Declaration?
The legislative effort in the US was met with a chorus of support among protesters in Hong Kong, while the Chinese government slammed the move as an example of US interference in China's internal affairs. On Twitter on Monday, Hu Xijin, the outspoken editor-in-chief of the nationalist tabloid Global Times, accused US lawmakers sympathetic to protesters of "fostering ISIS-like terrorists in Hong Kong".
A House version of the bill was approved last month. Once passed by both chambers and resolved into one bill, the legislation would go to the Oval Office to be signed into law by US President Donald Trump.
Amid concerns that enactment of the bill could complicate trade negotiations with Beijing, Trump has instructed his allies in the Senate to slow-walk the legislation, according to a US source close to the talks.
One US official said that the legislation was not moving as fast as it could be "if it had the administration's full support", but said that Monday's point-blank shooting of a protester " the third person to be hit by live ammunition " would inevitably increase pressure on the US government, including Congress, to act.
"Hong Kong has long been the goose that lays golden eggs for China's trade relations; the US along with the rest of the world is increasingly horrified that China appears to be strangling it," the official said on condition of anonymity to be able to speak candidly. "The US has spoken up on Hong Kong and will not fail to act for long."
Additional reporting by Minnie Chan
Copyright (c) 2019. South China Morning Post Publishers Ltd. All rights reserved.