While peaceful mass protests went nowhere, violent unrest got Beijing to acknowledge the problem of unaffordable housing in the city, forced some concessions from Carrie Lam, and spurred overdue soul-searching
But, when the protests ebb, will Beijing further tighten its grip on the city?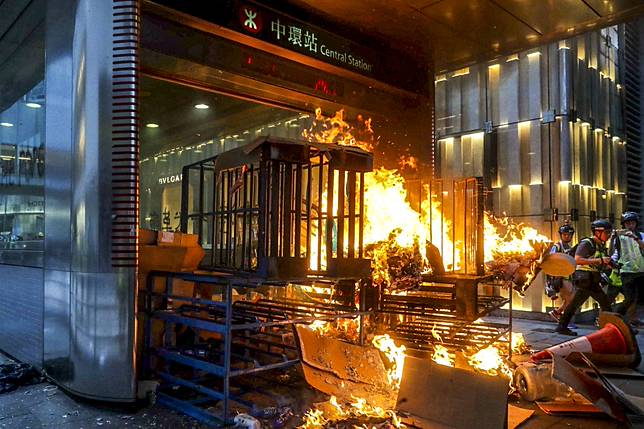 Who says violent protests don't work? They do and have done so in ways unimaginable before the petrol bombs flew. Without violence, would Chinese state media have empathised with Hong Kong's young protesters by blaming unaffordable housing as the root cause of the unrest?
State media had at first accused foreign forces and independence advocates for the uprising. But, with the violence escalating, they're now blaming Hong Kong's property tycoons.
Aren't these the same tycoons who long cosied up to Beijing in return for business opportunities? Didn't they just recently obey Beijing's orders to place newspaper advertisements to condemn violent protests and support Chief Executive Carrie Lam Cheng Yuet-ngor?
Didn't former chief executive Tung Chee-hwa explicitly accuse the United States and Taiwan of orchestrating the unrest? So why is the state media suddenly heaping blame on the tycoons, accusing them of greed, hoarding land and sucking every cent out of young aspiring homeowners?
It just goes to show that bowing to Beijing doesn't mean you are accepted as a true loyalist. A Reuters report even quoted an unidentified mainland source as saying the Hong Kong elites were not one of them.
Give young people a 'way out' of protest crisis, tycoon Li Ka-shing urges
Could you have imagined the staunchly pro-government Democratic Alliance for the Betterment and Progress of Hong Kong buying a front-page newspaper ad demanding that the government resume rural land held by tycoons to build public housing? The DAB had in the past rejected such use of government power, to appease the tycoons. Could you have imagined state media likewise demanding the government seize tycoon-owned farmland? They did that last week.
What does all this tell you? It tells you violent protests work. In early June, an estimated one million people marched peacefully against Lam's extradition bill after she dismissed concerns by the legal and business sectors. She responded to the peaceful protest by pressing ahead with the bill.
Then the violence started. Protesters stormed the Legislative Council, defaced the national emblem at Beijing's liaison office, threw a national flag into the harbour, hurled petrol bombs at police, and trashed MTR stations.
[
The difference between Occupy and extradition protests? Violence
It was only after the violence that Lam's "let them eat cake" arrogance gave way to humility. First, she suspended the extradition bill, then declared it dead, and finally withdrew it. Violence forced her to back down, not mass peaceful protests.
It is now obligatory for people to say they don't support violence. I have obliged in the past but will give myself a one-time pass. Yes, I will be criticised for doing this, but in today's toxic political environment, it's water off a duck's back.
](https://www.scmp.com/news/hong-kong/transport/article/3025288/dozens-railway-stations-vandalised-protesters-over-weekend?utm_medium=partner&utm_campaign=contentexchangeSCMP&utm_source=LINEtodayHK)
[Saying violence has worked is stating the truth. Without it, would our chief executive have agreed to hold free-flowing town hall meetings, which will kick off next week? Political correctness should not silence the truth.
Petrol bombs are out of sync with Hong Kong's character. But so are police tear gas, rubber bullets, water cannon, and Cathay Pacific being forced by Beijing to limit the free speech rights of staff. To me, all that has happened in the past 100 days is part of a cleansing process that had to come sooner or later. Hong Kong's soul needed baring. We needed to know public sentiment after 22 years of reunification.
Violence exposed the truth to Beijing, the government, the tycoons, and the people about our governance system under "one country, two systems". It is broken. Those who say otherwise are lying to themselves.
Without the violence, we would not have reached this necessary point of soul-searching. The ticking time-bomb would have been kicked down the road to explode another day, as happened after the Occupy movement.
I feel a mixture of exhilaration and gloom now that the time bomb has finally exploded " exhilaration because the violence brought out public sentiment in a way no opinion poll could have done. My gloom comes from the fear that, when the protests ebb, Beijing will further tighten Hong Kong's autonomy instead of loosening it.
Michael Chugani is a Hong Kong journalist and TV show host
Copyright (c) 2019. South China Morning Post Publishers Ltd. All rights reserved.
](https://www.scmp.com/news/hong-kong/transport/article/3025288/dozens-railway-stations-vandalised-protesters-over-weekend?utm_medium=partner&utm_campaign=contentexchangeSCMP&utm_source=LINEtodayHK)