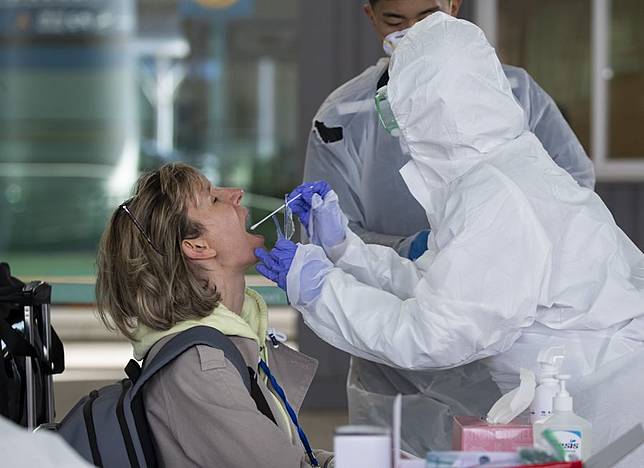 A passenger from Europe receives a test at an Open Walk-Through checkpoint in Incheon International Airport, South Korea, March 27, 2020. (Photo by Lee Sang-ho/Xinhua)
BEIJING, March 29 (Xinhua) -- The world is now in a battle against COVID-19, a disease caused by a previously unknown coronavirus that has spread to over 200 countries and regions.
The following are the updates on the contagious illness.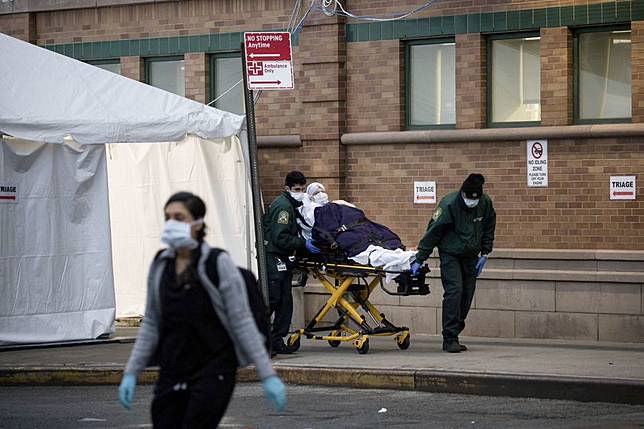 A patient is carried at Maimonides Medical Center in Brooklyn of New York, the United States, March 28, 2020. (Photo by Michael Nagle/Xinhua)
WASHINGTON -- U.S. President Donald Trump said Saturday he asked the U.S. Centers for Disease Control and Prevention (CDC) to issue travel advisory for the states of New York, New Jersey and Connecticut, scaling back from an earlier suggestion to impose quarantine on those areas.
"A quarantine will not be necessary," Trump tweeted.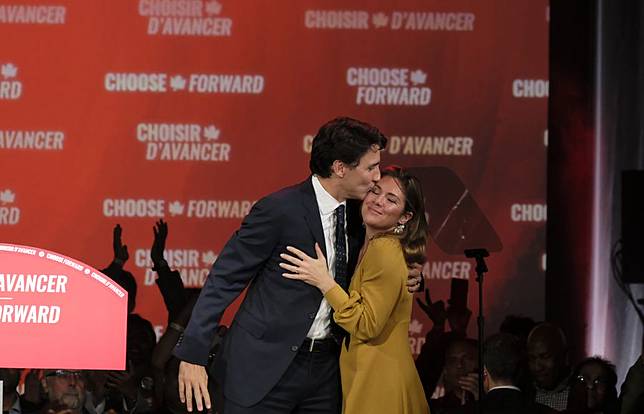 Canadian Prime Minister Justin Trudeau (L) kisses his wife Sophie Gregoire Trudeau at the Liberal Party campaign headquarters in Montreal, Canada, Oct. 21, 2019. (Photo by Raffi Kirdi/Xinhua)
TORONTO -- Canadian Prime Minister Justin Trudeau's wife said on social media Sunday that she has received clearance from her doctor after having tested positive for COVID-19 earlier this month.
"I am feeling so much better," said Sophie Gregoire Trudeau in a Facebook post, calling on everyone to listen and follow the health protocols and stay at home for the time being.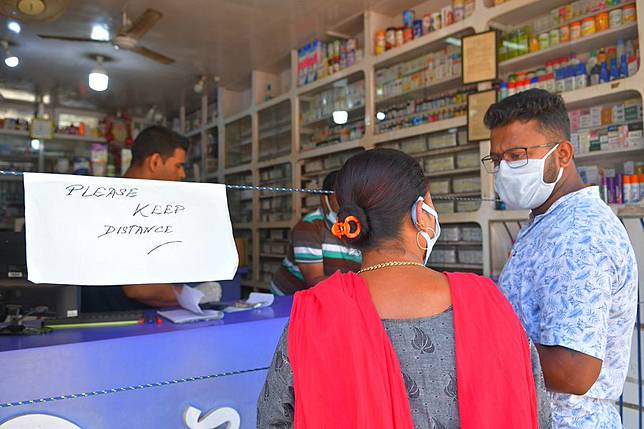 A note of "PLEASE KEEP DISTANCE" is seen at a pharmacy in Agartala, India's northeast state of Tripura, on March 28, 2020. (Str/Xinhua)
NEW DELHI -- The death toll due to COVID-19 in India Sunday rose to 25 as the number of confirmed cases in the country increased to 979, the federal health ministry said.
"Death toll related to novel coronavirus has reached 25," reads the information released by the ministry at 10:00 a.m. (local time).
People wearing face masks are seen on the street in Vientiane, Laos, March 23, 2020. (Photo by Kaikeo Saiyasane/Xinhua)
VIENTIANE -- A team of Chinese medical experts, along with medical materials, arrived in Lao capital Vientiane by a chartered plane Sunday morning to assist Laos to fight COVID-19 pandemic.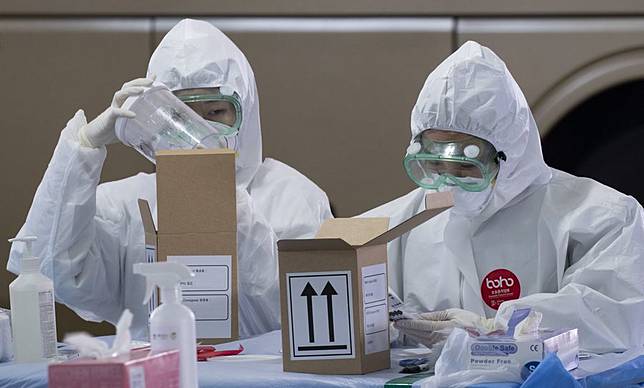 Medics work at an Open Walk-Through checkpoint in Incheon International Airport, South Korea, March 27, 2020. (Photo by Lee Sang-ho/Xinhua)
SEOUL -- South Korea will require all entrants from overseas to take a quarantine time of two weeks beginning April 1 to help prevent the COVID-19 cases from being imported, the prime minister said Sunday.
South Korean Prime Minister Chung Sye-kyun said in a meeting to discuss measures against the COVID-19 that all entrants from overseas, regardless of nationality and region, will be placed under a mandatory quarantine for two weeks starting from Wednesday midnight.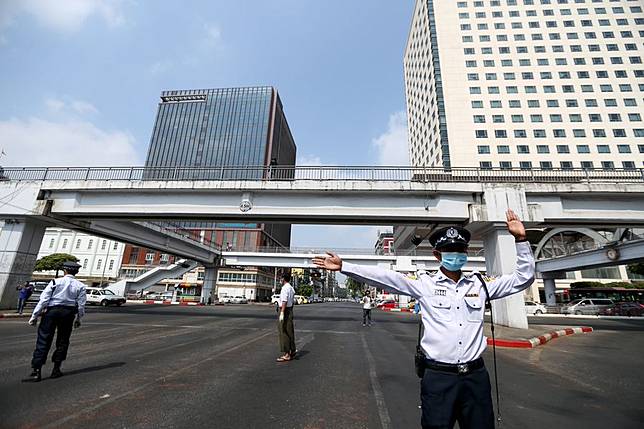 A traffic policeman wearing a facial mask works in downtown Yangon, Myanmar, March 29, 2020. (Xinhua/U Aung)
YANGON -- Myanmar's Foreign Affairs Ministry announced temporary suspension of all types of visas for foreign nationals from all countries with effect from March 29 till April 30 as part of measures to control the risks of COVID-19 spread on Sunday.
The announcement included the suspension of the issuance of all types of visas (including social visit visa) to all foreign nationals, except diplomats accredited to Myanmar, United Nations officials resident in Myanmar and crew of ships and aircraft operating to and from Myanmar.
People shop in a supermarket in Johannesburg, South Africa, March 23, 2020. (Xinhua/Chen Cheng)
CAPE TOWN -- South Africa has seen a growing number of health workers infected with COVID-19, Health Minister Zweli Mkhize said on Saturday.
As of Saturday night, the country has reported 1,187 cases, an increase of 17 in the last 24 hours, the minister said, adding 13 of the new patients are 13 health workers.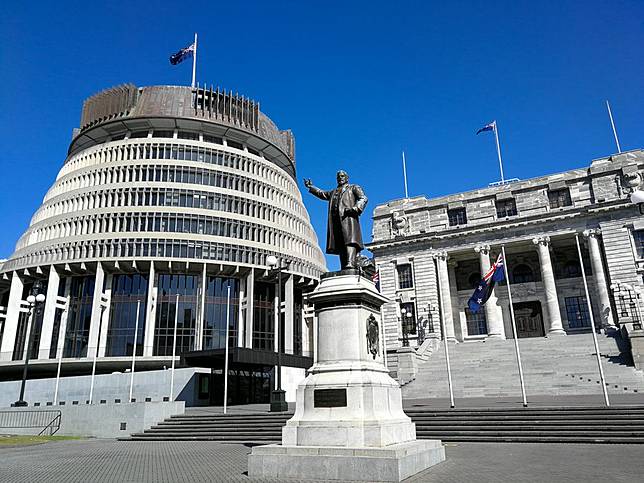 The empty square of the parliament building in Wellington, New Zealand, March 22, 2020. (Xinhua/Guo Lei)
WELLINGTON -- A woman in her 70s was confirmed the first death case of COVID-19 in New Zealand, announced New Zealand government Sunday afternoon.
Director-General of Health Dr. Ashley Bloomfield from New Zealand Ministry of Health gave the update on daily press conference.■