Brian Leung, who removed mask after storming the legislature in July, favours non-violent means of protest but says use of force is 'sometimes justifiable'
The 25-year-old has no regrets and will continue his support from the United States by becoming 'a voice of the movement'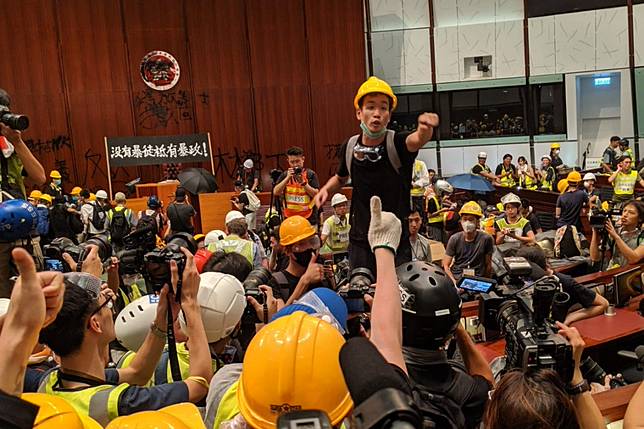 Exiled student activist Brian Leung Kai-ping, who shot to fame for removing his mask after storming Hong Kong's legislature in July, said protesters were fighting not for independence but for the city's "full democracy".
In an exclusive interview with the South China Morning Post in New York, Leung also said he supported non-violent means of protest but the use of force was "sometimes justifiable".
He said any concessions offered by Hong Kong Chief Executive Carrie Lam Cheng Yuet-ngor, such as withdrawing the extradition bill that sparked months of unrest in the city, which she has said she would do, or even setting up an independent inquiry " two of the protesters' five demands " would "only delay the goal of achieving full democracy".
Hong Kong people must seize the opportunity and push for that goal, the 25-year old said.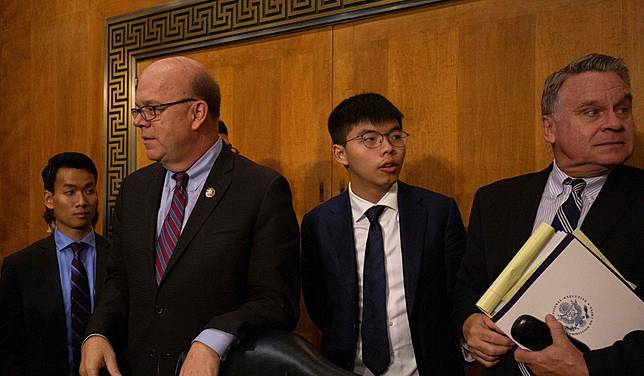 "It's really about fighting for something that we have been guaranteed," he said, referring to Article 45 of the Basic Law, the city's mini-constitution, that promises selection of its chief executive and members of the Legislative Council by universal suffrage.
Leung was touring the United States with fellow activist Joshua Wong Chi-fung to rally support for the protest movement that was triggered in early June by the controversial bill that would have allowed criminal suspects to be sent to mainland China, where critics say there is no guarantee of a fair trial.
In an apparently leaderless movement, Leung quickly emerged as one of its most recognisable faces after he took off his mask, revealing his identity, when hundreds of protesters stormed the Legco chamber on July 1 " the day that marks the return of Hong Kong to Chinese sovereignty in 1997.
It was the first time the city's legislature had been forcibly taken over by protesters, who broke glass doors and windows, vandalised the building and damaged its fire prevention and security systems. Legco president Andrew Leung Kwan-yuen has said it would cost more than HK$40 million (US$5.1 million) to repair the damage they caused.
While the protesters said the incident did not result in any injuries, Hong Kong police issued a statement, including photos, claiming 14 officers were injured before they withdrew from the building, fearing more casualties.
In the months of protests since then, violence has escalated to unprecedented levels.
Leung said he preferred a more peaceful way to fight for their cause. "I support all kinds of non-violent means of protest " by non-violent I mean non-bodily harm," he said.
But he said sometimes it was necessary for protesters to use violence to protect themselves.
"Self-defence is a condition for you to … engage in some sort of use of force," he said. "Some protesters … use petrol bombs to make room for escape, allow them to … leave and you know, create a buffer zone between the police and themselves," he said. "It makes sense in the context of acting out of self-defence."
Leung added that he held the government, rather than the protesters, responsible for any escalation. "They resort to nothing but brute force … and I think that's only going to stir up more confrontation."
But he admitted that he was not familiar with all the violent incidents since leaving Hong Kong " he left soon after July 1 " and could only comment on the cases he knew.
Leung also clarified that the protesters were not pushing for Hong Kong independence, which was never part of the Sino-British Joint Declaration between China and Britain that led to the city's return to Chinese rule. Instead, he said they were just fighting for the "full democracy" promised in the Basic Law. Despite the recent escalation in violence, Leung said the protesters must remain united and persistent in pursuing that goal.
Recent polls show that many Hongkongers would be satisfied if the government set up an independent commission to investigate alleged police brutality. Leung, however, said such a commission would only serve to "defuse the political crisis" in the short term, and an investigation's findings would ultimately result in the government losing more public support.
He was the only protester involved in the storming of Legco to remove his mask, a gesture to encourage others to stay on and fight. But he fled the city soon after, fearing arrest. At least 12 protesters who stayed in Hong Kong have been arrested for their alleged part in the incident.
Leung is now living in the United States, where he has been enrolled in a doctoral programme in political science at the University of Washington for the past two years.
The student activist's unmasking of himself made him a focus for those condemning the storming of Legco, who accused him of instigating violence before escaping responsibility by fleeing to the US. One of his fiercest critics is former Hong Kong chief executive Leung Chun-ying, who has offered HK$500,000 for information that could lead to the activist's arrest and conviction.
Hong Kong and the United States have an extradition treaty, but so far no action has been taken against Brian Leung and it is unclear whether the Hong Kong government intends to seek his extradition. Leung has also not decided whether to formally seek political asylum in the United States.
He said he had no regrets and would continue his support for the protests by becoming "a voice of the movement" " writing opinion pieces, speaking to students and other groups, and lobbying US lawmakers to take a tougher stance on Hong Kong.
"I don't feel a sense of guilt but rather a greater (sense) of responsibility," he said, when asked if he felt guilty about being in the US while other protesters faced trials and jail time.
"Not being able to come back to Hong Kong, I think, is also a price that I have to pay. I think people started to realise, actually, different protesters are paying different kinds of prices," he said. "It's incumbent on me to do more, to make their sacrifices count."
Copyright (c) 2019. South China Morning Post Publishers Ltd. All rights reserved.