Group of 45 former students at city leader's alma mater say they are prepared to go to court over the offending motion
A body representing all graduates set to vote on deposing Lam for 'causing unforgivable havoc' to Hong Kong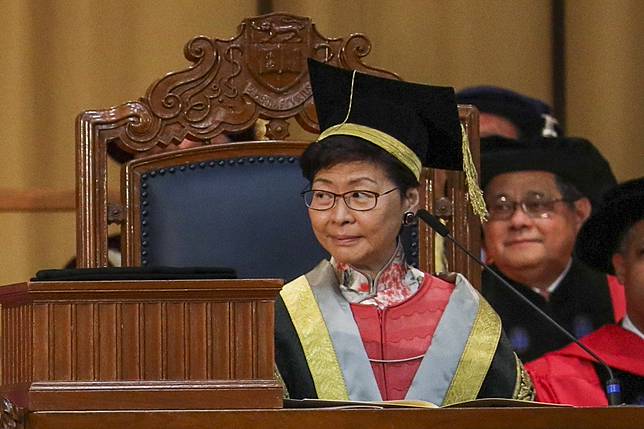 Dozens of former University of Hong Kong students have threatened to take legal action against a statutory body representing all its graduates and teaching staff if members vote to unseat the city's leader as varsity chancellor.
The group of 45, made up of pro-Beijing figures and a former senior official, said a motion to be discussed by the HKU Convocation on Saturday to remove Carrie Lam Cheng Yuet-ngor from the role violated rules.
It said it would launch a judicial review or seek an injunction if the representative body supported it.
The non-binding motion urges Lam, an HKU graduate herself, to be held accountable for "having caused unforgivable havoc to Hong Kong by seeking to introduce the controversial extradition law".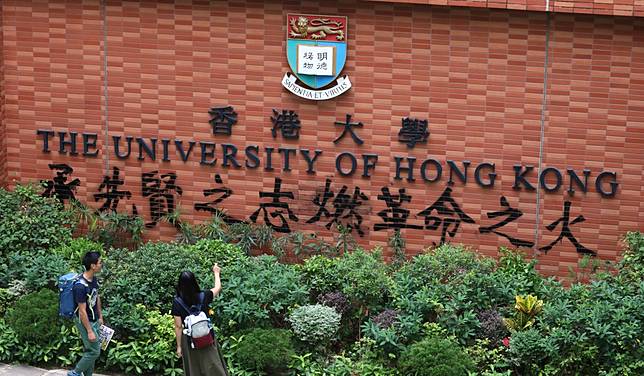 It refers to the now-withdrawn extradition bill, which would have allowed the transfer of criminal suspects to mainland China and other jurisdictions with which Hong Kong lacks an agreement, and ignited months of protests that have shaken the city to its core.
The convocation at the city's oldest university is also expected to vote on a second non-binding motion on Saturday to urge the university administration to protect the legal rights of HKU students injured at previous protests.
The alumni threatening legal action include former permanent secretary for financial services and the treasury Au King-chi, former pro-establishment lawmaker Choy So-yuk, ophthalmologist Dennis Lam Shun-chiu, and veteran local newspaper editor Shek Kang-chuen.
Murder suspect at centre of extradition bill crisis asks Lam for help to turn himself in to Taiwan
They argued it was beyond the convocation's remit to even discuss Lam's role in the extradition bill row, adding a section of the first motion that said Lam must be held "responsible for having caused unforgivable havoc" should be removed.
"The standing committee should have rejected it as a proposed resolution by deleting the offending part," they told the convocation.
Choy said the meeting should have no effect, adding: "The convocation is not a suitable platform to discuss the matter … that is something beyond HKU."
A full-page advertisement was also published in a Chinese newspaper on Friday, accusing certain convocation members of hijacking the platform for political purposes, but it was unclear if the group of 45 were behind it.
HKU Alumni Concern Group, which tabled the two resolutions, said the discussion of university affairs should not be subjected to the threat of legal action.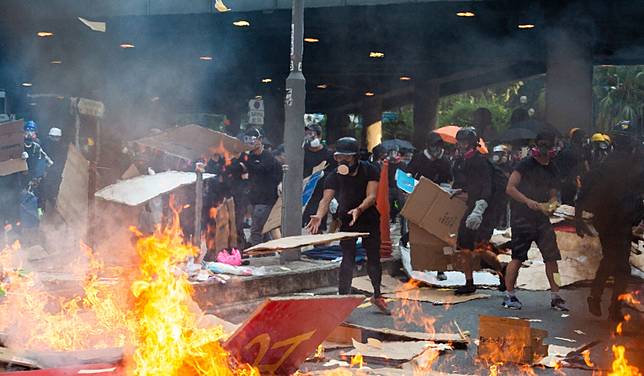 Lawyer David Hui Tin-fook, who was one of those proposed the motions, urged the alumni to attend the meeting and contribute to the debate, saying it had provoked a lot of interest from graduates, including those concerned about student well-being.
"Even if a vote is carried urging Lam to resign as chancellor, it is only an expression of opinion and would not even be binding. So why don't the group of alumni just come to the meeting and express their opinions?" he said.
Hong Kong leader misses opportunity to break impasse, analysts say
According to the 108-year-old institution's governing ordinance, the school's top position of chancellor is by default the city's chief executive.
Though largely ceremonial, the chancellor has the power to appoint seven non-student or staff members to the 24-member governing council, including the chairman.
Copyright (c) 2019. South China Morning Post Publishers Ltd. All rights reserved.