Washington celebrates our rioters while foreign protesters imitate their tactics. But the only reason they get away with it is the sheer incompetence of our officials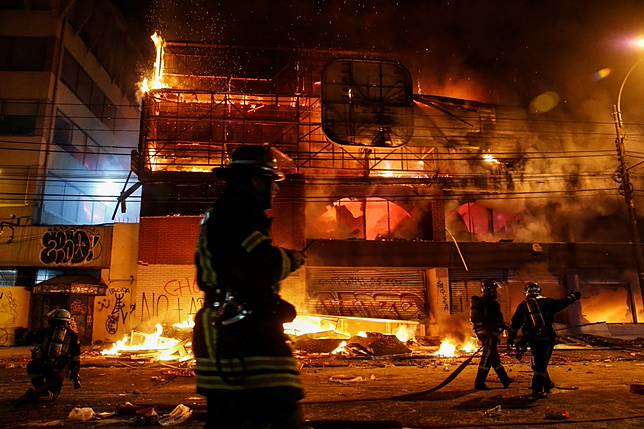 A friend from one of Europe's richest and freest countries who is also a long-time Hong Kong resident makes this observation.
"CHILE: The president declared a state of emergency as rioters destroyed rail services.
"UK: Curfew was set at 9pm for protesters and a record 2,800 radical protesters arrested only after a few days of citywide protests.
"SPAIN: The president ordered the cutting off of the app Telegram widely used by protesters and issued a no-bail for those arrested radicals."
What has our chief executive done after more than four months of mayhem? Well, Carrie Lam Cheng Yuet-ngor has done something, like banning the wearing of masks during protests. That becomes another excuse for more protesters to wear masks and cause more destruction across the city.
China accuses West of double standard over Hong Kong protests
But didn't Apple shut down an app used by rioters to track police deployment after being asked politely by the government and police to do it? They might reactivate it, though, because US senators Ted Cruz, Ron Wyden and Marco Rubio and Representative Alexandria Ocasio-Cortez, among others, have been pressuring the tech company, just so rioters can wreak more havoc in Hong Kong " all in the cause of freedom and democracy!
Didn't Washington force tech giants such as Apple to leave back doors in their products for US law enforcement and intelligence agents to break into when "necessary", however defined? What American politicians call law enforcement and national security becomes persecution and oppression in Hong Kong. Got that?
Many foreign protesters have been celebrating our rioters and imitating their tactics. But sorry, the only reason they get away with it is the sheer incompetence and pussyfooting of our officials; you can't count on that with your government.
Protests, often violent and deadly, have sprang up across continents " in Barcelona, Paris and London; from Chile to Iraq and now Lebanon. You think Hong Kong's unrest may have something to do with this global wave of mass discontent, and the volatile state of the world and its economy?
Compared to the severe responses of many of those governments, Lam and her police chief have been about as scary as pussycats. That's why the protests drag on and get more violent by the week. Yet, Washington picks on Hong Kong alone, accuses it of committing atrocities and repression and is about to pass a law to penalise the city and its government " just to encourage more protest violence.
Copyright (c) 2019. South China Morning Post Publishers Ltd. All rights reserved.