It uses 'big sticks' such as sanctions to bully countries, he says, days after US' Hong Kong Human Rights and Democracy Act moved closer to becoming law
But Wei's speech is less hawkish than one he made at the same security forum last year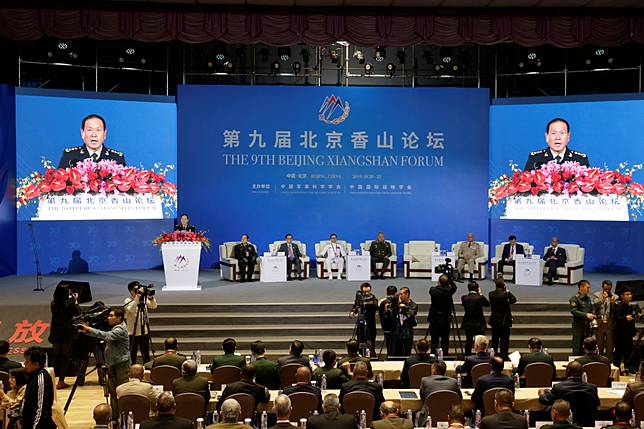 Chinese Defence Minister Wei Fenghe has taken a veiled swipe at the United States for "instigating colour revolution" in other countries and using "long-arm tactics" to influence China's internal affairs.
Speaking in Beijing at Monday's opening ceremony of the Xiangshan Forum, China's annual conference on security and defence issues, Wei told an audience of foreign military officers that nations should handle their differences through dialogue and mutual respect, and that China would never give in to foreign pressure.
"Wanton interference in other countries' affairs will never win," Wei said. "Interfering in other countries' domestic affairs, instigating colour revolution or even attempts to subvert the legitimate governments of other countries are the real causes of wars and unrest in different regions (around the world)."
Although Wei did not specify the targets of his criticism, China has been at odds with the US over a wide range of geopolitical issues including Iran, Syria and Venezuela. It has also accused US politicians of supporting the ongoing anti-government protests in Hong Kong, which Beijing has described as a "Hong Kong version of colour revolution".
Without directly mentioning the US, Wei condemned major powers who "wield their big sticks", such as sanctions, to exert "maximum pressure" on other countries to accede to their demands.
The US House of Representatives last week approved the Hong Kong Human Rights and Democracy Act, moving it a step closer to becoming law. It could pave the way for diplomatic action and economic sanctions against the Hong Kong government.
"Wielding the big sticks or resorting to long-arm jurisdiction cannot solve any problems, and sanctions are never effective to achieve any results," Wei said. "The Chinese people don't buy such intimidation and we are not afraid (to fight)."
The minister also reiterated Beijing's long-held position on Taiwan, and warned "external forces" against "interference". Beijing views the self-ruled island as a renegade province to be united with the mainland by force if necessary.
"China is committed to promoting peaceful development of cross-strait relations, and to pushing for peaceful reunification (with Taiwan)," Wei said. "But we will definitely not stand idly by in allowing Taiwan independence forces (to split the country), nor do nothing to stop external forces from interference."
He added: "Reunification with the motherland is the only way, and (all attempts) to split the country will lead to dead ends."
The remarks by Wei were less hawkish than a similar speech he gave at the same forum last year, in which he condemned the US for damaging relations with China and denounced attempts by Washington to form anti-China alliances with other nations.
Zhang Tuosheng, director of the foreign policy research centre at the China Foundation for International and Strategic Studies, said Wei's latest speech was less critical because Beijing had decided that, while it needed to manage its differences with Washington, it was more important to identify common goals shared by the two countries.
"This position was set a year ago when President Xi Jinping visited Argentina," Zhang said, referring to the meeting between Xi and US President Donald Trump at the G20 summit.
Alexander Neill, a senior fellow for Asia-Pacific security at the International Institute for Strategic Studies in Singapore, said that Wei's warning about colour revolution was "a clear reference to Hong Kong protesters".
Jiang Xinfeng, a military researcher from the Academy of Military Sciences, the Chinese military's top research body, said Wei was unmistakably referring to the United States.
"While Wei did not name the US, it is a well-known fact that the US has taken to colour revolution to subvert other countries and promote its own ideology," Jiang said, giving the view consistently expressed by Beijing.
Cao Yanzhong, another researcher from the academy, said Wei's comments indicated the degree of concern over how order could be restored in Hong Kong.
"We are very worried about the current situation in Hong Kong, what the future of Hong Kong is and how the city can settle down," Cao said.
"Hong Kong must be highly vigilant about interference by foreign countries, especially any deliberate attempts at instigation."
Copyright (c) 2019. South China Morning Post Publishers Ltd. All rights reserved.