Vice-President Mike Pence will no longer meet the islands' leader after it becomes the latest country to isolate Taipei by changing allegiance to Beijing
Solomons opposition leader condemns 'mercenary' switch that he fears was rushed through before Beijing's 70th anniversary celebrations on October 1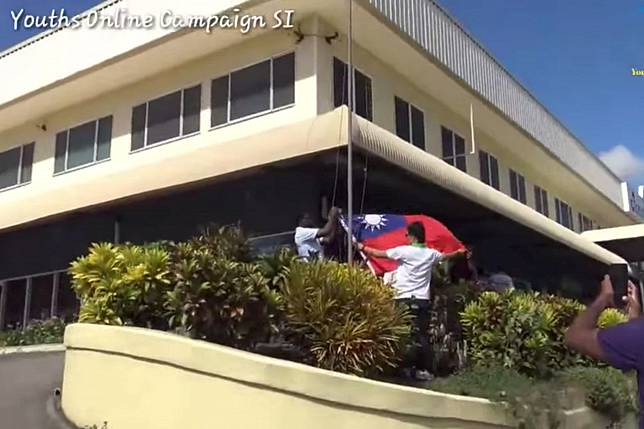 The planned meeting between US Vice-President Mike Pence and Solomon Islands Prime Minister Manasseh Sogavare later this month has been cancelled after Washington said it was "disappointed" by the Pacific nation cutting diplomatic ties with Taipei to recognise Beijing.
Chad Morris, public affairs officer for the US embassy in Papua New Guinea, said on Wednesday that Pence had been due to meet Sogavare during the United Nations General Assembly (UNGA) in New York, but had a "quite challenging" schedule and "heard the PM may not attend the UNGA at all". "As a result, the meeting was cancelled," Morris said.
The confirmation followed a Reuters report on Wednesday that Pence had cancelled the meeting, quoting an unnamed senior administration official as saying that the Solomon Islands' decision to make the diplomatic switch "has consequences".
After months of deliberation, the Solomons chose to end its 36-year diplomatic relationship with Taiwan, leaving the island with only 16 diplomatic allies.
The American Institute in Taiwan (AIT), the de facto American embassy in Taiwan, said in a statement that the US was "deeply disappointed" in the Solomons' decision to end ties with Taipei, adding that countries that establish ties with mainland China hoping for economic growth and infrastructure development "often find themselves worse off in the long run".
"China's active campaign to alter the (cross-Taiwan Strait) status quo, including by enticing countries to discontinue diplomatic ties with Taiwan, are harmful and undermine regional stability," the AIT statement said.
"The United States supports the status quo in cross-strait relations, which includes Taiwan's diplomatic ties and international space, as (being) important to maintaining peace and stability in the region. The United States is exploring a variety of options with regard to how to respond."
Catherine Elbert-Gray, the US ambassador to Papua New Guinea, Solomon Islands and Vanuatu, added in a statement that the US was "disappointed" by Beijing's efforts to starve Taiwan of space in the international arena.
"The US recognises the prerogative of every country to determine its diplomatic ties, as the Solomon Islands has here," she said. "We are nonetheless disappointed by Beijing's continued campaign to shrink Taiwan's international space and change the cross-strait status quo through coercion, in violation of Beijing's commitments to engage peacefully with Taiwan."
Solomons opposition leader Matthew Wale accused the country's government on Wednesday of a "mercenary" attitude by establishing ties with Beijing without considering national interests, adding that it was "highly irregular" that negotiations with Beijing involved only verbal rather than written commitments.
"I am rather dumbfounded that the leverage has been given away by doing a switch without any written commitments, so how they intend to leverage the Solomon Islands' interests in that relationship I have no idea," he said.
Wale said Sogavare had rushed the decision, apparently in time for celebrations marking the 70th anniversary of the founding of the People's Republic of China on October 1.
Beijing offers fund if Solomon Islands cuts diplomatic ties with Taipei
However, Wale also criticised those in the US who sought to punish innocent Solomon Islanders for their government's decision.
"The Solomons is not doing anything different from the US in that matter," he said. "It would be utterly hypocritical of the United States to express any punitive measure or demonstrate displeasure towards the Solomons. I don't support the decision the Solomons government has taken, but it would be wrong for the US government to overreact."
Sogavare's press secretary, Alex Akwai, ended a phone call with the South China Morning Post after it identified itself and did not respond to emailed questions.
In recent years, Beijing has ramped up its efforts to exclude Taiwan from international spheres as well as lobbying the island's remaining allies to switch diplomatic allegiance to the mainland government.
Beijing claims sovereignty over democratic, self-ruled Taiwan, and has said it must be unified with the mainland by force if necessary.
The Solomons decided on Monday to become the sixth country in the past three years to make the diplomatic switch from Taipei to Beijing, following El Salvador, Burkina Faso, Panama, the Dominican Republic, and Sao Tome and Principe.
Beijing targets Haiti as bid to isolate Taiwan heads to the Caribbean
Cross-strait relations have frozen since the 2016 election of Taiwanese President Tsai Ing-wen, which Beijing blames on her administration's refusal to accept the "1992 consensus" " an understanding that there is only "one China", with each side using its own interpretation of what that is.
Washington, which is engaged in a strategic and trade rivalry with Beijing, has long supported Taiwan as an unofficial partner including through a mutual defence treaty, despite the US switching its official diplomatic allegiance from Taipei to Beijing in 1979.
The US has sold arms to the island and conducted naval patrols through the Taiwan Strait, despite Beijing's protestations. After El Salvador ended ties with Taiwan last year, the US said it would "review" its relationship with the Latin American nation.
US politicians have also spoken out against the Solomon Islands' decision. Senator James Risch wrote on Twitter that he was "disappointed" by the move and that David Stilwell, the US Assistant Secretary of State for East Asian and Pacific Affairs, would address the "important topic" during a Wednesday congressional hearing about US policy in the Indo-Pacific.
Another senator and China hawk, Marco Rubio, tweeted that he would begin "exploring ways to cut off ties" with the Solomon Islands, including ending financial assistance and restricting access to US dollars and banking.
Copyright (c) 2019. South China Morning Post Publishers Ltd. All rights reserved.