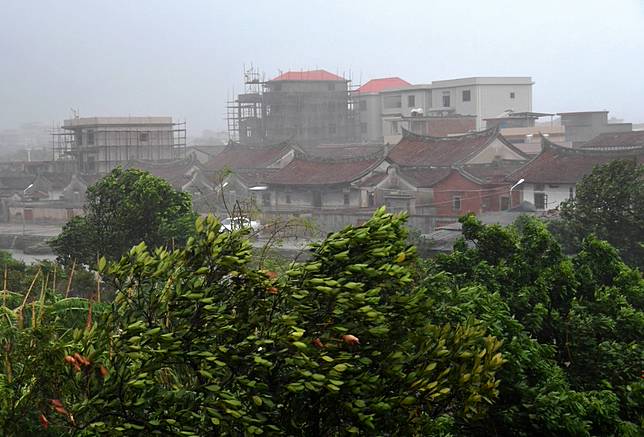 Trees are seen in strong winds brought by Typhoon Mekkhala in Zhangpu County of Zhangzhou, southeast China's Fujian Province, Aug. 11, 2020. (Xinhua/Wei Peiquan)
ZHANGZHOU, Aug. 12 (Xinhua) -- Typhoon Mekkhala, the sixth this year, made landfall at around 7:30 a.m. on Tuesday in Zhangpu County, east China's Fujian Province, bringing gales of up to 33 meters per second near its eye, according to local meteorological authorities.
Heavy rains lashed more than 80 cities and counties in Fujian. From 6 a.m. Monday to 11 a.m. Tuesday, Zhangpu County saw over 170 mm of rainfall.
Thousands of rescue workers have been put on standby for potential disaster relief.
Mekkhala was the second typhoon that landed in coastal areas of east China over the past week. Last Tuesday, Hagupit, the fourth typhoon of this year, landed in east China's Zhejiang Province, packing winds of 38 meters per second near its center.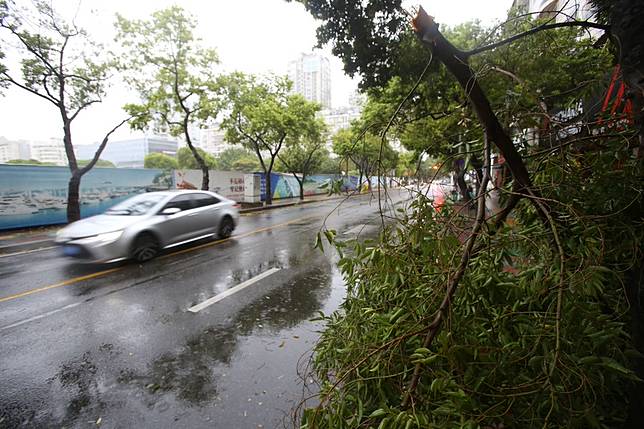 A car runs past a fallen tree in Xiamen, southeast China's Fujian Province, Aug. 11, 2020. (Photo by Zeng Demeng/Xinhua)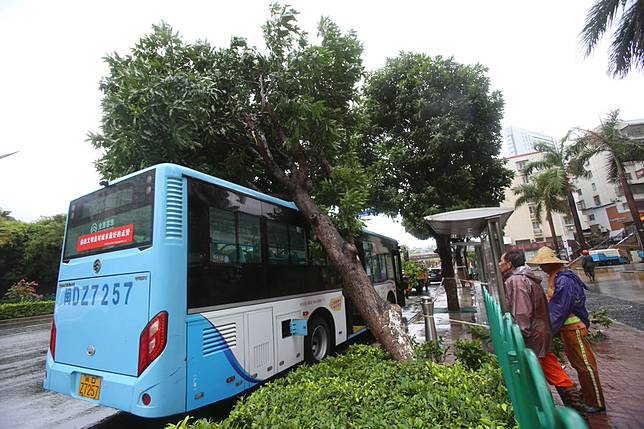 A bus is hit by a fallen tree in Xiamen, southeast China's Fujian Province, Aug. 11, 2020. (Photo by Zeng Demeng/Xinhua)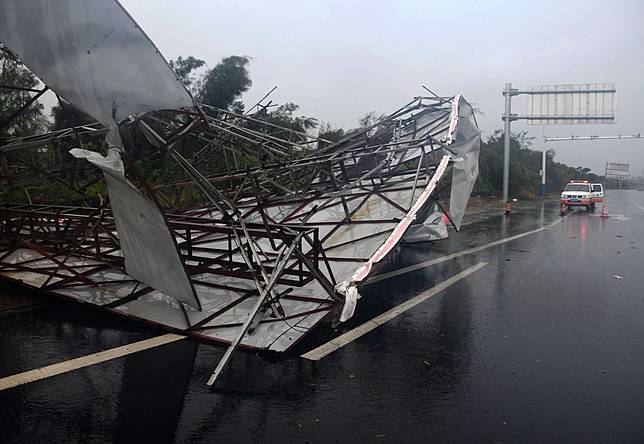 An advertisement board is blown down by strong winds brought by Typhoon Mekkhala on a road in Zhangpu County of Zhangzhou, southeast China's Fujian Province, Aug. 11, 2020. (Xinhua/Wei Peiquan)
Trees are seen in strong winds brought by Typhoon Mekkhala in Zhangpu County of Zhangzhou, southeast China's Fujian Province, Aug. 11, 2020.  (Xinhua/Wei Peiquan)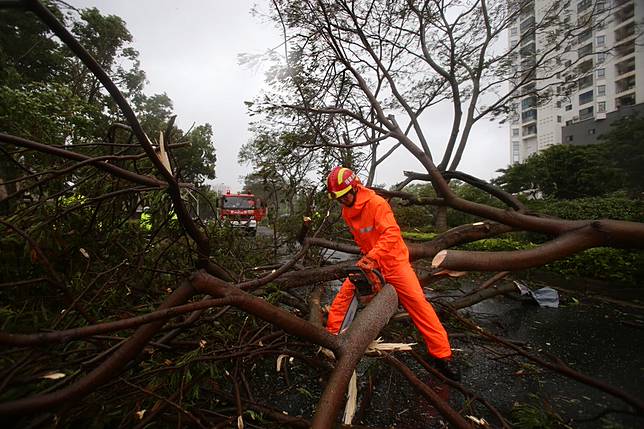 A firefighter clears fallen trees on a street in Xiamen, southeast China's Fujian Province, Aug. 11, 2020.  (Photo by Zeng Demeng/Xinhua)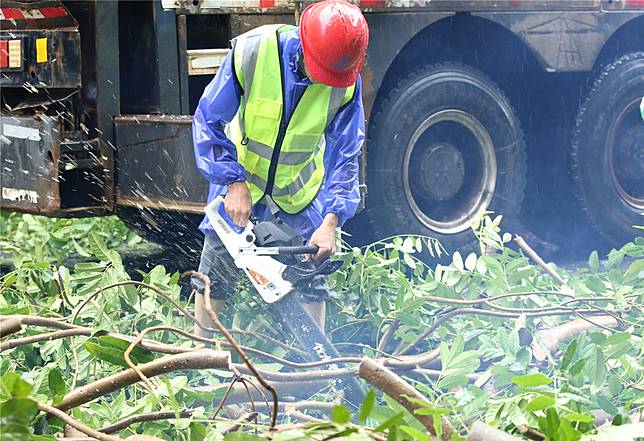 A worker clears fallen tree branches on a street in Sui'an Town of Zhangpu County, Zhangzhou, southeast China's Fujian Province, Aug. 11, 2020.  (Photo by Qiu Feng/Xinhua)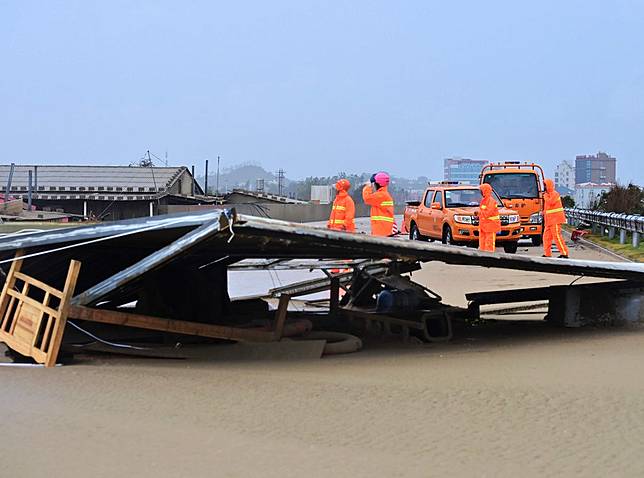 Advertisement boards are blown down by strong winds brought by Typhoon Mekkhala at Zhangpu County of Zhangzhou, southeast China's Fujian Province, Aug. 11, 2020. (Xinhua/Wei Peiquan)
Photo taken on Aug. 11, 2020 shows waves in Qianting Town of Zhangpu County, Zhangzhou, southeast China's Fujian Province, Aug. 11, 2020.  (Xinhua/Wei Peiquan)
Advertisement boards are blown down by strong winds brought by Typhoon Mekkhala in Qianting Town of Zhangpu County, Zhangzhou, southeast China's Fujian Province, Aug. 11, 2020. (Xinhua/Wei Peiquan)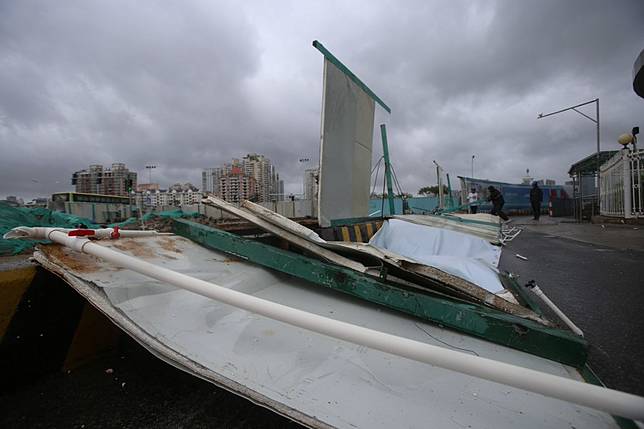 Fences are blown down by strong winds brought by Typhoon Mekkhala in Xiamen, southeast China's Fujian Province, Aug. 11, 2020.  (Photo by Zeng Demeng/Xinhua)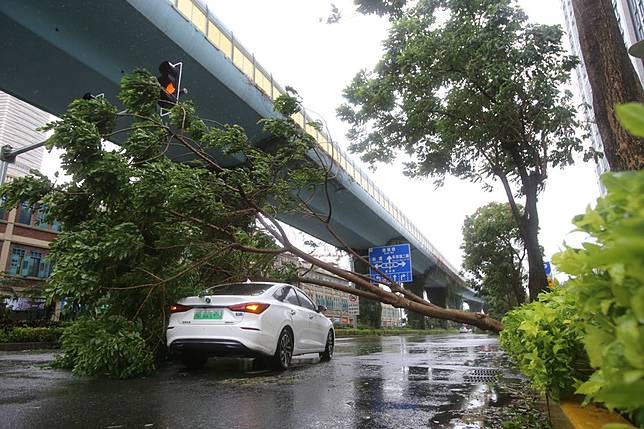 A car is covered under a fallen tree in Xiamen, southeast China's Fujian Province, Aug. 11, 2020. (Photo by Zeng Demeng/Xinhua)
A fallen tree is seen on an expressway in Zhangpu County of Zhangzhou, southeast China's Fujian Province, Aug. 11, 2020. (Xinhua/Wei Peiquan)■