By evening, 18 MTR stations were closed with more closures coming and other transport services suspended or delayed
Transport Department says 22 cross-harbour bus routes suspended as well as 84 non-harbour bus routes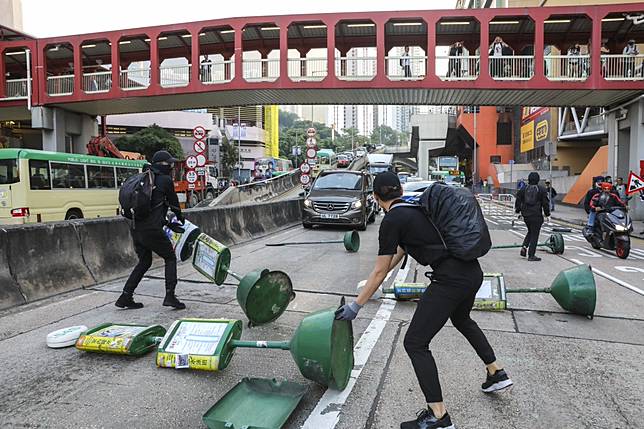 Transport disruptions were expected to persist across Hong Kong on Monday as defiant protesters vowed to keep fighting after a student was critically wounded by a police live round.
By Monday evening, 18 MTR stations have been closed: Kwai Fong, Kwai Hing, Kwun Tong, Whampoa, Sai Wan Ho, Tsueng Kwan O, Hang Hau, Sha Tin, Fo Tan, University, Tai Po Market, Tai Wo, Fanling, Sheung Shui, Lo Wu, Lok Ma Chau, Ma On Shan and Tung Chung..
The MTR added that, after conducting a risk assessment with the government, the following stations would be closed from 9pm: Yau Ma Tei, Mong Kok, Wong Tai Sin, Causeway Bay, Siu Hong, Long Ping, Sha Tin Wai, and Heng On.
Service at other stations could be cut short if those facilities were vandalised in the evening, the railway giant said.
The Transport Department said 22 cross-harbour bus routes had been suspended as well as 84 other non-harbour bus routes.
"The MTR network has been subjected to persistent violent acts, disturbances and vandalism, especially throwing petrol bombs at passenger-loaded trains and some stations, throwing objects onto the rail tracks and pushing open the emergency escapes," an MTR spokesman said.
"We express our indignation and strongly condemn such acts."
Protesters came out in force during peak morning hours, hurling objects on railway tracks and setting up barricades on roads, as the anti-government protests entered their sixth month.
Protesters vandalised facilities at the Hang Hau MTR station and set a ticket counter on fire. Some protesters communicating on the messaging app Telegram, calling for a rest after a long day of protesting so they could continue their actions as night sets in.
Demonstrators emerged across Hong Kong after a police officer shot a teenager in Sai Wan Ho in the morning. A source said the bullet had been removed but that it had ruptured the teen's right kidney and liver. He remained in a critical condition and was being treated at Eastern Hospital.
As of Monday afternoon, service between Whampoa and Ho Man Tin on the Kwun Tong MTR line was suspended, as was service between Yau Tong and Tiu Keng Leng. Trains were running at six-minute intervals between Ho Man Tin and Yau Tong.
On the Tseung Kwan O line, service between Yau Tong and Po Lam, as well as Lohas Park, was suspended, with trains running at eight-minute intervals between Yau Tong and North Point.
On the East Rail line, trains were not running between Fo Tan, Lo Wu or Lok Ma Chau. Trains were running at five-minute intervals between Hung Hom and Fo Tan and no trains were stopping at Sha Tin station.
The MTR said services would end at 11.30pm on Monday.
After 7pm, the Airport Express will only run between the Hong Kong station and the airport, skipping Kowloon and Tsing Yi.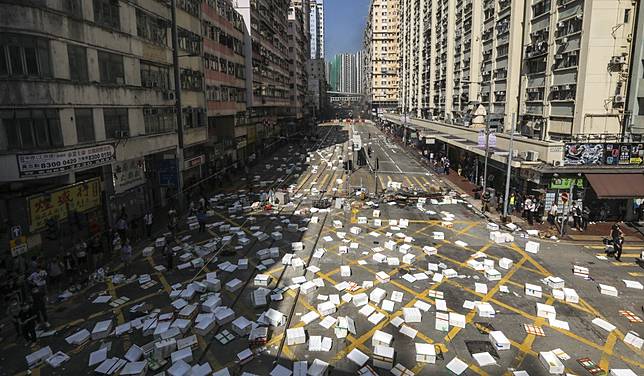 "In-town check-in service at Kowloon Station will be suspended from 6pm until close of service today, while in-town check-in service at Hong Kong Station will remain normal," the Airport Authority said.
"Only bona fide passengers with a valid air ticket or boarding pass for a flight in the next 24 hours and a valid travel document will be allowed to enter the terminal buildings."
Trams on the Shau Kei Wan Terminus-Finnie Street route, as well as the Admiralty-Western Market Terminus route, were not running on Monday afternoon.
Despite widespread irritation over the transport disruptions, some Hongkongers were supportive. A high school student surnamed Luk realised on Monday morning that she could not find a tram back to her school in Sai Wan Ho so she decided to join the calls for a citywide strike.
"It is our exam week so I didn't take leave although I wanted to join the strike. But because the road was blocked, I told the school that I could not go back," she said.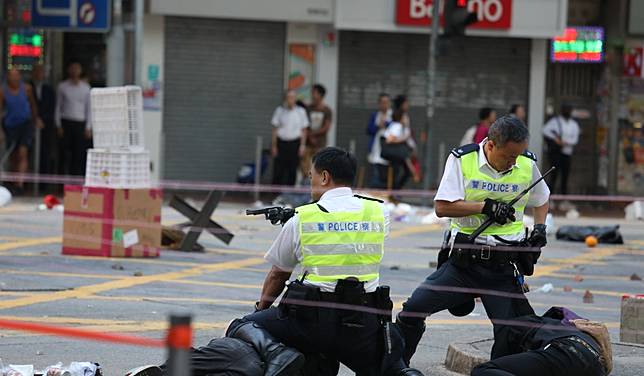 In Sha Tin, dozens of residents on Tai Chung Kiu Road have decided to walk to Sha Tin MTR station because the road was blocked by protesters. Others disembarked from buses to join them.
Local resident Johnny Chan, a 30-year-old officer worker, said he was not too bothered by the disruption because he could still take the train at the nearest station.
"I already left home 30 minutes earlier, but this time they carried out their action with timing worthy of military precision. I understand why they are doing this, though, as we need more radical protest actions, like a general strike, after Chow Tsz-lok's death," he said, referring to the student who recently fell to his death at a Tseung Kwan O car park.
Copyright (c) 2019. South China Morning Post Publishers Ltd. All rights reserved.