US President Donald Trump gives the settlement his approval, Bloomberg reports
US tariffs of 15 per cent on US$160 billion of Chinese goods, scheduled for Sunday, will be postponed, news outlets say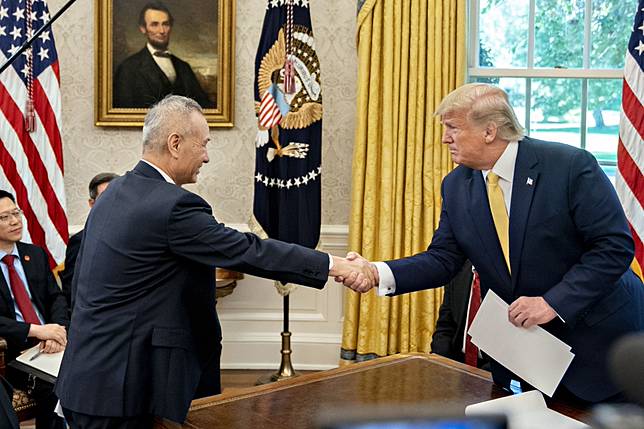 The United States and China have reached consensus on the terms of a "phase one" trade deal, multiple US media outlets reported on Thursday.
Intended to be the first in a series of incremental agreements to resolve the trade war, the deal has the approval of US President Donald Trump, Bloomberg reported, citing several unnamed people briefed on the matter.
As part of the agreement, the US would not only postpone tariffs on around US$160 billion of Chinese goods scheduled to go into effect on Sunday, but also make cuts in duties already in place, Myron Brilliant of the US Chamber of Commerce told CNBC, citing US administration sources who had briefed him on the plans.
Neither the White House nor the Office of the United States Trade Representative responded to requests for comment on the status of the agreement.
China has yet to confirm whether it will push ahead with postponing its own tariffs of between 5 and 10 per cent on US goods, also set to go into effect on Sunday. Over the course of negotiations, Beijing has maintained that a suspension of future tariff increases and a rollback of existing duties should be part of any agreement.
The US tariffs originally scheduled for Sunday would have targeted the remaining Chinese goods yet to face trade war duties, including consumer items such as smartphones and laptops.
The US is keen to avoid anything that would act as a drag on consumption, markets and the wider economy, as Trump gears up for a re-election campaign in 2020.
Furthermore, the Trump administration fears that further tariffs, had they gone ahead, would force Beijing to institute its "unreliable entities list", which would penalise US firms working in China, the South China Morning Post reported on Tuesday.
China's economy is slowing, and 15 per cent tariffs on goods that had previously been spared would have further dampened exports and depressed producer prices, which have been falling for months.
On Thursday morning, Trump tweeted that the US is "Getting VERY close to a BIG DEAL with China. They want it, and so do we!"
Talks have continued at the deputy level throughout December, sources said, while top-level negotiators " including US Trade Representative Robert Lighthizer, US Treasury Secretary Steven Mnuchin and Chinese Vice-Premier Liu He " are expected to resume discussions to tackle areas of the dispute not covered by the phase-one deal.
Brilliant, the chamber's executive vice-president and head of international affairs, said that the final two sticking points of the phase-one deal had been the specifics of the tariff cuts, as well as the details of an expected commitment by Beijing to purchase vast amounts of US agricultural produce.
Trade war fallout among factors influencing the next decade, analysts say
Citing several sources briefed on the matter, Politico reported that Chinese negotiators had offered a commitment to buy US$200 billion of US goods and services over the course of two years. In exchange, the US had offered to call off Sunday's added duties and reduce existing tariffs on around US$250 billion worth of imports.
Sean King, a former official in the US Department of Commerce, said Washington appeared to have "sacrificed" tariff leverage over Beijing in exchange for the promise of "low-hanging fruit" such as agricultural imports.
The US has active tariffs on roughly US$375 billion of Chinese goods; China has duties on about US$110 billion of US products.
Retailers said on Thursday that the news was welcome, but the trade group Retail Industry Leaders Association said in a statement: "While this deal offers some relief, what retailers ultimately want is a deal that rolls back all tariffs and provides more certainty and predictability heading into the new year."
At a news conference in Beijing last week, the Ministry of Commerce spokesman reiterated a long-standing position: that if the two sides were to reach an interim trade deal, "tariffs should be reduced accordingly".
As recently as Tuesday night, Peter Navarro, Trump's director of trade and manufacturing policy, implied that the president had yet to make up his mind on tariffs, but that the decision would rest with him alone.
"If we get a great deal, we'll be in a good place as well. But it will be the president's decision. It will come soon," Navarro said.
This followed comments on Monday from Agriculture Secretary Sonny Perdue, who said that the new tariffs were unlikely to be enacted. "We have a deadline coming up on December 15 for another tranche of tariffs, I do not believe those will be implemented and I think we may see some backing away," Perdue said in Indianapolis.
Sources in China have also briefed frequently that they did not expect the tariffs to go ahead, despite the geopolitical tensions flaring between the two superpowers in recent weeks.
Trump signs Hong Kong human rights bill, ignoring China's warnings
The recent passage of US bills addressing perceived human rights violations in Hong Kong and Xinjiang infuriated Beijing. Signing one of the bills " the Hong Kong Human Rights and Democracy Act " into law last month just before Washington emptied out for the Thanksgiving holiday, Trump was careful to note that he hoped the move would not derail trade talks.
Beijing's willingness to strike a deal suggested it had "found a way to overlook President Trump's signing" of that legislation, said King, now senior vice-president at the business advisory firm Park Strategies.
John Sitilides, geopolitical strategist at Trilogy Advisors in Washington, warned that the agreement did not herald the revival of US-China relations.
"(The deal) does not halt or even suspend the US-China trade dispute, which is strategic in nature and will continue in ongoing phases for years if not decades so long as Beijing flouts the free, open and rules-based global trading system that has propelled it to the top ranks of the world economy," he said.
Additional reporting by Lee Jeong-ho
Copyright (c) 2019. South China Morning Post Publishers Ltd. All rights reserved.