Demonstration staged at St Paul's Co-educational College over apparent decision to bar activities espousing opinions on protest crisis
Blanket ban introduced after school said to have treated events from opposing camps differently
An elite school in Hong Kong has been accused of restricting free speech by barring pupils from holding activities that express views on the city's protest crisis.
More than 150 pupils and alumni of St Paul's Co-educational College staged a silent demonstration before classes on Monday over what was said to be a blanket ban on airing political opinions on campus, introduced after events organised by opposing sides of the debate were apparently treated differently by management.
According to the SPCC Anti-Extradition Association, a concern group made up of students and graduates supportive of the anti-government movement during the long-running social unrest, the school had approved a music concert held on October 2 containing messages rallying behind Hong Kong's anti-government movement.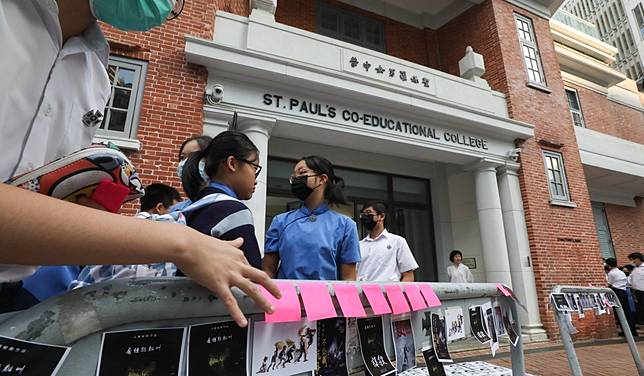 But it said the school in Mid-Levels then rejected a forum proposed by other pupils who wanted to make clear their opposition to the ongoing protests, which were sparked in June by the now-withdrawn extradition bill.
Senior staff eventually banned all pupils from holding activities on campus that expressed political views, to avoid clashes among pupils, the concern group said.
Angered by the decision to stop them from holding events, the anti-government group organised Monday morning's silent protest via messaging app Telegram.
"I think both sides, whether they are supporting or opposing the anti-government movement, they should have a voice in the school," said an alumnus surnamed Law, an engineering student.
"We hope that students can freely express their political views without any punishment from the school's disciplinary team."
The city has entered the 20th straight week of often-violent protests, which have developed into a wider anti-government movement after starting out in opposition to draft legislation that would have allowed for extraditions to mainland China.
Most students who joined the morning sit-in covered their faces, in reference to the mask ban during demonstrations introduced by the government earlier this month.
The Education Bureau has sent a letter to all head teachers asking management to remind students not to wear masks inside or outside school, except for religious and health reasons.
Some alumni who joined the demonstration, which included the formation of a "Lennon Wall" adorned with political messages, also said they had been on the front lines of protests.
Teachers come under attack as more students join Hong Kong protests
A pair of Form Five students sitting on the student union, who did not give their names, said they were at the sit-in representing the body to "listen to what the sentiment is and reflect that to the school authorities".
"What we've gathered today is that students hope for clear communication with the school," one of them said.
"There's a lot of confusion on whether the school supports freedom of speech among students.
"Whether or not the school is actually suppressing students, this is something that the school needs to make clear. And I'm confident that they will."
Students boycott classes to urge government to meet protesters' demands
Alumni are discussing whether to create a mobile Lennon Wall where students can express their views in writing instead of holding events.
According to a post on Instagram by the concern group, two meetings were held last week between the decision-making body and the concern group, one of which was held last Friday.
During the meeting, the group said it was informed that "the school's decision-making body had reached a consensus after discussion, and no one in the school will be allowed to hold activities that express specific political positions or opinions".
In the comments attributed to the school by the concern group, the school said while it "will not block students from discussing the social incidents privately", some within the school felt "uneasy, anxious and emotional" about the holding of political events, including the formation of a human chain outside the school and a concert held during lunch break.
Schools pledge to not expel pupils arrested in Fanling protests
The school also emphasised that students could "boycott classes only after obtaining parental consent", according to the concern group's post on Instagram.
A 21-year-old social science student said: "If students are being repressed on campus, former members of SPCC should stand up and safeguard their freedoms."
The Post has contacted school for comment on Monday's protest.
Copyright (c) 2019. South China Morning Post Publishers Ltd. All rights reserved.