Roads around Tsim Sha Tsui are blocked, pavements destroyed, and the smell of tear gas lingers as charred remains of petrol bombs are strewn everywhere
Sino Group chairman Robert Ng and son Daryl Ng among those to roll up their sleeves in bid to get neighbourhood back to normal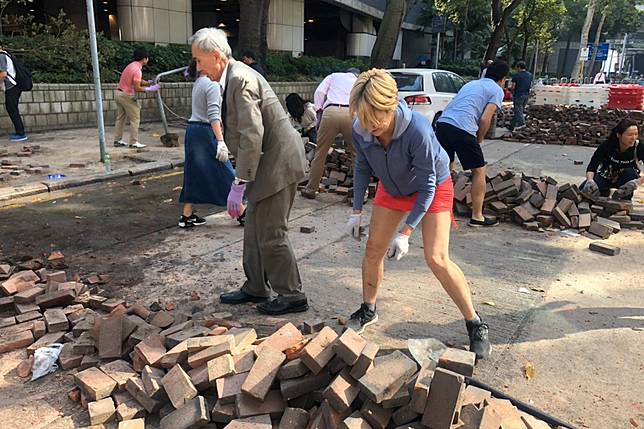 Businesses and residents in a Hong Kong tourist district picked up the pieces on Tuesday, a day after petrol bombs, tear gas, and water spray flew through the air during intense clashes between radical protesters and police.
Heaps of rubbish, bricks and barricades littered the roads of Tsim Sha Tsui East, cutting off access to the area.
Roads on the scenic waterfront were ripped open on Monday as radicals unearthed bricks, leaving nothing but dusty and barren pavements in their wake.
Some members of the public began to remove barricades on Tuesday, among them property developer Sino Group chairman Robert Ng Chee Siong, 67, and his son Daryl Ng Wing-kong, 41. The pair rolled up their sleeves, put on gloves, and removed bricks with brooms and by hand. The company's headquarters is in the neighbourhood.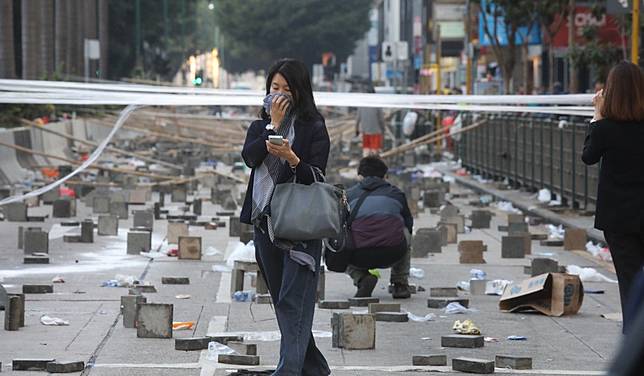 On a section of Granville Road opposite to the Science Museum, which was the epicentre of the clashes, most of the shops and restaurants remained shut.
"We closed at around 2pm yesterday because a lot was going on outside," said Wong Siu-ying, 30, owner of the Golden Chinese Hamburger restaurant. "We'll close earlier again today if the police and protesters start fighting again."
Wong said the store was closed for nearly the whole of last week because there was no transport as many roads were blocked, and all the bricks were pried loose so it was very hard to walk around nearby.
He said the metal shutter on his store stopped tear gas from getting indoors on Monday, when the neighbourhood descended into chaos, and a fiery battle broke out between hundreds of radicals and police.
Construction vehicles start clearing bricks along Jordan Road on Tuesday morningVideo: SCMP/Chan Ho-him pic.twitter.com/16bF9JBAvG

" SCMP Hong Kong (@SCMPHongKong) November 18, 2019
Police said officers in the Yau Tsim district received multiple reports of a large number of dangerous items, including corrosive fluid and petrol bombs, being found on the street.
"It's been quite messy in Tsim Sha Tsui over the past few days. I don't really support either side, but I don't think it needs to be this way. I hope the situation ends soon, it can't go on like this for much longer," said Chung, a hotel worker in his 40s.
Restaurants such as the City Chiu Chow Restaurant, Sportful Garden Restaurant, and Cafe 98, on Granville Road had their gates closed tightly as of noon, and currency exchange, pharmacies and jewellery stores were all closed, leaving the normally busy street deserted.
On the usually bustling Nathan Road in Jordan, a district next to Tsim Sha Tsui, some shops including department stores and a money exchange reopened on Tuesday morning, despite most stores remaining closed.
Clashes took place on the roads nearby as multiple rounds of tear gas had been fired in the area on Monday, and government workers were clearing bricks on Jordan Road with construction vehicles.
Among the shops which reopened was department store, Yue Hwa Chinese Products Emporium.
However, most of the bricks on the pavement outside its entrances had been removed and the air was filled with dust in the morning.
Few shoppers were seen inside the store, and those that did venture out wore masks, as did the staff. Ms Li, 39, looked at jewellery with her mother, and both wore particulate respirator masks. Li said she lives in Tsim Sha Tsui and was passing by after taking her mother, who is in her 70s, to a doctor's appointment earlier.
"We are not too worried," she said.
A salesman of Chinese medicine and health care products in the department store said he could not be sure if the tear gas would affect their products, but said most were sealed, and expensive and valuable traditional Chinese medicine would be moved away from the shelf at night.
A vegetarian restaurant on Jordan Road near Nathan Road reopened at 8.30am on Tuesday, selling dim sum to residents nearby.
A female employee, surnamed Poon, said the restaurant had undergone a thorough cleaning before reopening on Tuesday, and its floor, tables and chairs were all disinfected.
Monday's leftovers had also been thrown away and dim sum had been freshly made on Tuesday morning, said Poon, who travelled two hours to work from Sha Tin.
More than 10 staff were present at work on Tuesday as the owner did not instruct them not to go to work, she said.
But business at the restaurant had been hit badly since protests began in June, she said, with revenue down an average of about 70 per cent compared to before the protests.
Daily profit was just more than HK$1,000 (US$127) over the past two weeks, compared with before the protests began.
"Business has declined disastrously … with a daily revenue of just over HK$1,000 a day it is impossible to cover the costs, let alone our salary. There are at least 3 staff handling dim sums, some waiters and also those who work in the kitchen," she said.
But she said she was "not too worried" about not being paid, adding that the restaurant would try to remain open whenever possible.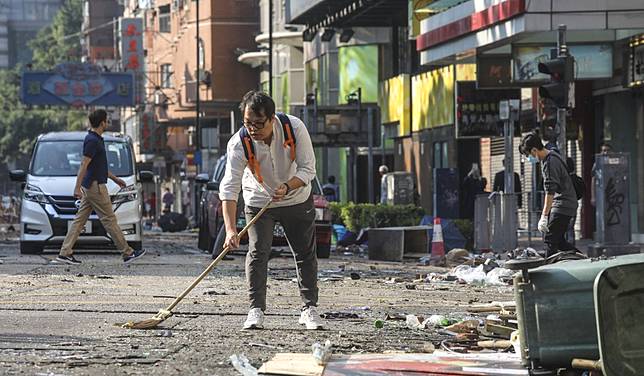 At Park Shing Building on Jordan Road near Parkes Street, a newspaper stand outside the building was reportedly reduced to ashes at around midnight on Monday, while one of the building's entrances was also partly scorched.
A resident in that building, surnamed Wong and in her 30s, said the blaze started at 11.45pm on Monday. Wong, who lives with her elderly parents, said the fire was getting bigger after it started burning, so they decided to evacuate before the fire alarm was triggered.
The "smoke and residue from tear gas" caused her and parents to cough, and she more than 100 residents, most of them elderly, evacuated as police and firefighters arrived and put out the fire by about 12.30am.
"I still feel a shortness of breath this (Tuesday) morning," she said.
She said she "did not dare" go onto the streets since clashes started on Sunday night, and went out for the first time on Monday afternoon.
'Cold and hungry' radicals surrender as Lam tells police to let minors go home
At the Yau Ma Tei wholesale fruit market, some fruit stalls opened as usual, although many were closed and not many shoppers were spotted. Rumours circulated online that fruit at the market had been "polluted" by tear gas, and people were urged not to buy any fruits over the coming week.
The owner of one stall said the rumours were false, but it was difficult to persuade people otherwise.
"Of course there would be people believing them," he said. "That's always the case, and they are free to choose not to buy any fruits from us."
Another stall owner said most of the stalls were closed when tear gas was fired, and produce was not left exposed to open air. Although he said some fruit may have been contaminated.
"If tear gas residue fired nearby really got blown towards the fruit market, there's nothing we can do about that," he said.
The stall owners have seen a 50 per cent drop in revenue compared to before June, the owner said, but income from wholesaling had not been affected much as market demand for fruit remained consistent.
Additional reporting by Lilian Cheng
Copyright (c) 2019. South China Morning Post Publishers Ltd. All rights reserved.