Sophia Chan says 'no irregularities' in environmental indexes after about 5,000 canisters fired in the city since June
City professors warn chemical agent can linger for long periods, criticise 'absence' of government monitoring, decontamination and advice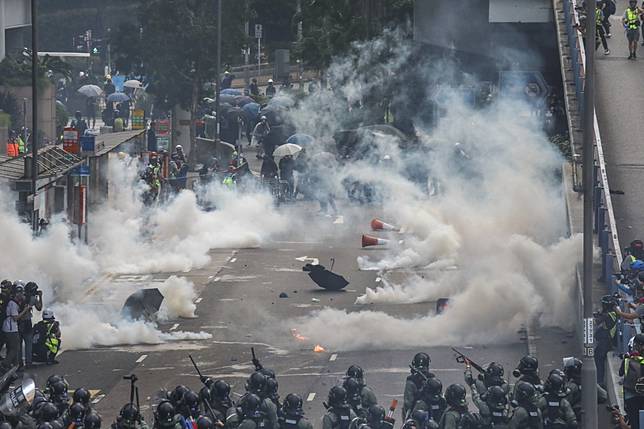 Water and air quality in Hong Kong have not been affected by the firing of tear gas at protests that have plagued the city for nearly five months, a government minister has said amid growing concern over its health impact.
Secretary for Food and Health Sophia Chan Siu-chee sought to allay fears after local medical professors warned in The Lancet that deployment of tear gas in subtropical environments such as Hong Kong could expose people to high concentrations of chemical irritants over a prolonged period.
The professors also raised concerns in the leading medical journal of what they believed was the absence of government-led decontamination, and urged the administration to invest in health surveillance and long-term environmental monitoring.
Thousands of tear gas canisters have been fired by police since the protests erupted in the summer, which were ignited by the now-withdrawn extradition bill but have developed into a wider anti-government movement.
On a radio programme on Tuesday morning, Chan said the government had not found any problems with the city's air and water quality.
"According to the air quality index recorded by the Environmental Protection Department, there are no irregularities from June till now," she said, adding the Water Supplies Department reported similar findings.
Chan said the chemicals in tear gas had a limited diffusion range. She also said the Food and Environmental Hygiene Department had issued guidelines for cleaners on handling affected areas, including wet markets.
She sidestepped calls to introduce long-term surveillance and broad guidelines, saying only that directions had been issued for cleaners.
"We appeal to the elderly to shut windows and use wet towels covering the window sides … these are all ways to reduce the impact," Chan said.
Writing in The Lancet article published last week, the medical team led by Professor Emily Chan Ying-Yang, of Chinese University, said one of the main public health controversies was the "apparent absence of government-led decontamination efforts and the absence of official guidelines and self-help advice on health protection against the side-effects of tear gas".
The CUHK professor said she was concerned about tear gas deployment in enclosed spaces, such as busy railway stations and near commercial shopping centres, as well as high-density residential areas, that sit in the "hot and humid subtropical environment of Hong Kong".
The tear gas used by police contains o-chlorobenzylidene malononitrile, an irritant that interacts with mucocutaneous sensory nerve receptors, according to the medical team.
Citing a published systematic review of 5,910 people exposed to chemical irritants, the team said two had reportedly died and there were cases of permanent disabilities including blindness, vegetative state from traumatic brain injury, amputations and loss of limb function, as well as persistent respiratory complaints, among 58 others.
"However, data on long-term sequelae, carcinogenicity, and environmental consequences in the urban context are scarce," the team wrote.
Hong Kong police break down the cost of Sunday's night of violence
Police have fired about 5,000 tear gas canisters during demonstrations that have gripped the city since June.
Meanwhile, health minister Chan said, with the flu peak season approaching, the government would still urge the public to wear masks as a preventive measure, despite the anti-mask law, which came into force earlier this month and banned the covering of faces during public assemblies.
Her appeal came as more parents had expressed concerns over the Education Bureau's earlier directive relating to the ban.
Hong Kong police buy tear gas canisters, including same model used by PLA
The bureau had issued a notice to all head teachers that students should not wear masks inside or outside schools, unless for religious or health reasons, adding those who were ill should stay at home.
"Receiving vaccines is the best way to prevent flu, but we will also appeal to the public to wash their hands, wear masks, and avoid crowds," the health minster said, adding she believed schools would understand if parents wish to protect their children from catching flu.
Copyright (c) 2019. South China Morning Post Publishers Ltd. All rights reserved.