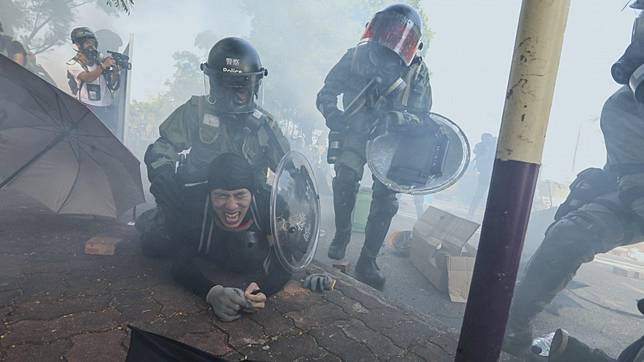 Police in Hong Kong have fired tear gas on university campuses for the first time as they battled protesters, sometimes for hours.
One local institution, the Chinese University of Hong Kong, was turned into a smoking battlefield where student protesters and officers were locked in a tense stand-off for seven hours on Monday. Clashes resumed on Tuesday.
A widespread traffic disruption caused by anti-government protesters calling for a citywide strike prompted 11 universities to cancel classes on Monday. All but one of them suspended classes on Tuesday.
Students have often been at the forefront of the ongoing anti-government protests, which began on June 9.
On Monday morning, police entered the Chinese University of Hong Kong (CUHK), the Hong Kong Polytechnic University (PolyU) and the University of Hong Kong (HKU) to take action against protesters.
The confrontation at CUHK in the neighborhood of Sha Tin started at 8am, after objects were seen thrown onto subway tracks at a nearby station. Police then entered the campus through a bridge and set up a defensive perimeter there.
Another group of officers, who were clearing barricades, fired the first volley of tear gas into the campus at 11am. Dozens of students guarded the entrance along that road, shielding themselves with umbrellas.
Throughout the day, more than 100 tear gas rounds, sponge grenades and rubber bullets were fired by police, while protesters hurled bricks and petrol bombs. At least three people were arrested at CUHK.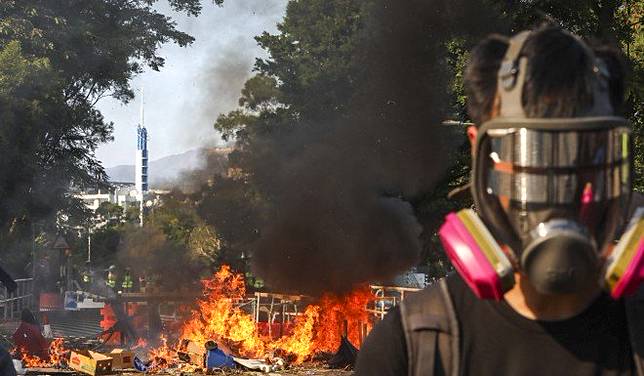 A young male student protester from the university said he was angry with the use of firearms by police.
"They already shot a few rounds at Sai Wan Ho earlier today. When I saw that, I cried," he said, adding that the shooting of a 21-year-old demonstrator in the abdomen had brought more people to the streets.
A CUHK staff member in his mid-20s, who did not want to be named, said it was absurd that police had entered the campus without a warrant.
"Once police are out, there will be conflict," he said, adding that protesters were only trying to keep officers off the campus.
Towards the end of the stand-off, Democratic Party lawmaker Roy Kwong arrived at the scene to the cheers of some students.
Police justified their actions at an afternoon press conference.
"Are they CUHK students? I hope not … They threw petrol bombs and objects at officers. No university campuses should be havens for criminals," said Chief Superintendent Kelvin Kong Wing-cheung.
Last month, police sparked controversy by entering the Sha Tin campus, allegedly without the school's consent, to track down and arrest five students who were putting up protest-related posters.
At the time, CUHK expressed concern and urged police to contact university management before entering.
It remained unclear whether police had entered the campus on Monday after notifying management. The South China Morning Post has approached CUHK for comment.
Chaos also erupted at the PolyU campus in the Hung Hom district, where protesters set plants and trash on fire. Glass panels on a major building were broken, and multiple entrances to the university were blocked with plants and metal barriers.
On a footbridge near campus, protesters threw chairs onto the roads below, which led to the Cross-Harbour Tunnel. The tunnel connects two major parts of Hong Kong.
One person threw a petrol bomb from the bridge, causing a fire. Police responded with tear gas, and an officer raised a crowd-control gun at protesters.
PolyU, in a statement, expressed "deep regret" for what happened on its campus. The school noted that riot police gave chase to protesters suspected of blocking roads. It "strongly condemned" the violence and said it "reserves the right to take appropriate actions."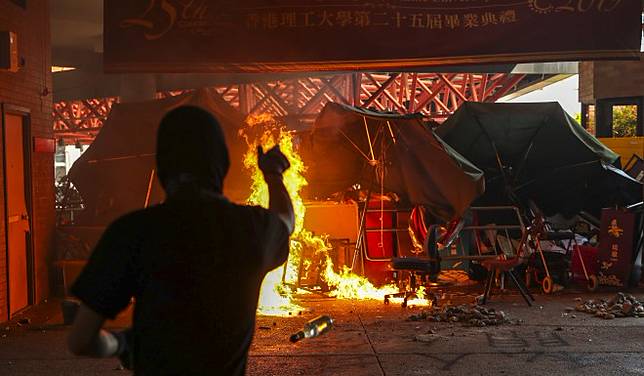 At HKU, the entrance to the nearby subway station was set on fire in the morning. Police fired at least one round of tear gas. Students set up barricades at the gates of the school.
Police said officers entered HKU to try to arrest rioters who had retreated there. During their operation inside the campus, protesters gathered and threw bricks and petrol bombs.
HKU later confirmed in a statement that five of its students has been arrested. Its vice-chancellor had written to the police commissioner to ask that their rights be protected.
The university said it was told by police that they had been responding to 999 calls. Police are allowed on campus to answer emergency calls.
"We understand that these are times when emotions are running high everywhere. We are also very saddened to see the casualties and loss of life arising from the protests," HKU chief Zhang Xiang said.
The pro-establishment Federation of Education Workers condemned the disruptions by protesters, saying the actions had impeded their education.
Last Friday, college student Chow Tsz-lok, 22, died after suffering brain damage from a fall, which happened during a clash between police and protesters.
Copyright (c) 2019. South China Morning Post Publishers Ltd. All rights reserved.