Petrol bombs, tear gas and rubber bullets fly as police deny rumour they raided campus and say 'dispersal and arrest operation' is ongoing
Force confirms that three shots were fired in Tsim Sha Tsui when a group of radicals helped 20-year-old woman escape custody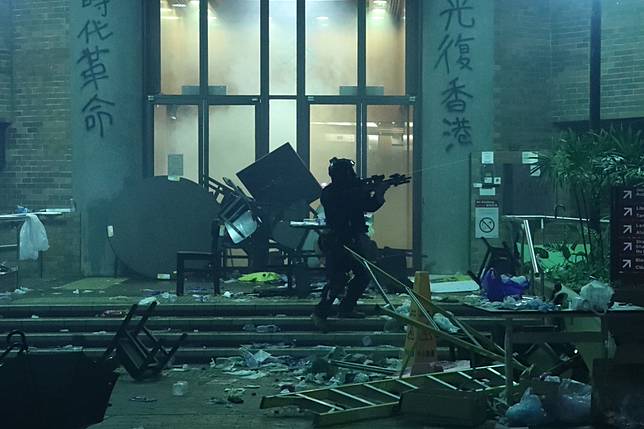 Masked radicals attempted to escape from the Hong Kong university campus where they have been battling police on Monday, but were forced to retreat as officers fired tear gas at several locations.
The two sides have been involved in an increasingly intense conflict at Polytechnic University since Sunday, with radicals shooting police with arrows, using catapults to launch rockets and petrol bombs, and setting fire to buildings and bridges.
Following a day of fierce battles in Hung Hom, police on Sunday ordered everyone to leave the school campus or risk "taking part in a riot", an offence punishable by 10 years in prison. But dozens of people who left the school, including first aiders, were immediately arrested.
They also warned rioters to stop using petrol bombs, arrows, cars or other lethal weapons to attack police, or officers would use "minimum force" " including live rounds " in response.
On Monday morning, some managed to escape at around 8am, but others were forced back into the campus buildings. Police sealed off key roads and approaches to the university, preventing anyone from going in or out.
At the nearby Urban Council Centenary Garden, riot police repeatedly dispersed and ran after onlookers who refused to leave, and pepper sprayed those that did not move. At least seven people were detained and led away by police, with a least one suffering a head injury.
The day began with the intense stand-off between protesters and police officers continuing, with demonstrators vowing to stage traffic disruptions across in the city.
Clashes that occurred sporadically overnight escalated at about 5.30am when riot police appeared to try to enter the campus.
Radicals were seen setting fire to the school's main entrance on Cheong Wan Road and hurling petrol bombs from above officers, who fired multiple rounds of tear gas and rubber bullets from the rooftop of the adjacent Hong Kong Museum of History.
A man was seen being removed from the university campus by a first aider on a stretcher.
Earlier, police confirmed in a Facebook post that three live rounds had been fired in Tsim Sha Tsui at around 3am on Monday when a "mob of rioters" assaulted officers and helped a 20-year old Chinese female protester escape custody.
Police said the woman, who had suffered a head injury, had been arrested for unlawful assembly at the junction of Nathan Road and Jordan Road, and was being taken to hospital by a police escort when they were attacked.
The force said a group of masked people threw bricks and splashed an unidentified liquid on the officers. One officer, who faced "grave danger and threat to his life", fired three shots from his service revolver, but police do not believe anyone was hit.
"Police express utmost condemnation in the rioters' flagitious act of assaulting police officers and aiding the arrested person to escape," the statement read, adding the arrested person was now "wanted" by police.
"We stress that 'assisting an offender' is a serious offence and the maximum sentence upon conviction after trial is 10 years of imprisonment."
At about 7am, hard-core protesters occupying the podium at the university's main entrance stopped firefighters from putting out the blaze, while throwing objects into it to keep it burning.
One was heard telling his peers that riot police would rush in once the fire was extinguished.
But in a statement, police said it was totally false to suggest they had "raided" the premises on Monday morning, claiming they were only continuing their "dispersal and arrest operation".
They said "a large gang of rioters" had gathered at Cheong Wan Road since midnight, where they hurled petrol bombs, and caused fires in which multiple explosions were also heard.
"Fire were observed in various locations in the PolyU premises. Explosives, flammable substances and dangerous goods also pose threats to anyone therein," the statement read. "Police appeal to everyone inside the campus to leave immediately."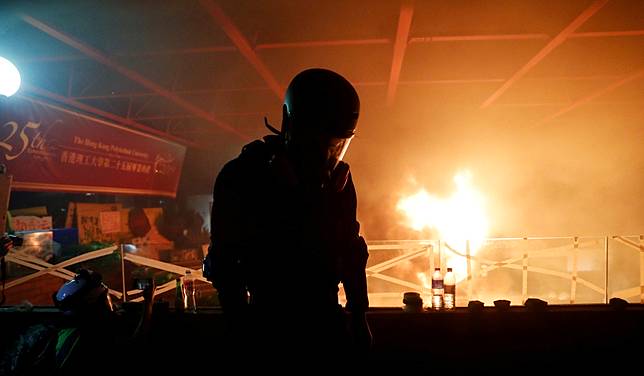 In a pre-recorded video sent to the media after police tried to storm the campus, PolyU president Teng Jinguang called on the radicals to leave.
"I have been communicating closely with the police since last evening," he said. "We have now received an assurance from the police of a temporary suspension of the use of force under the condition that, if the protesters do not initiate the use of force, the police would not initiate the use of force.
"In addition, we have also received permission from the police for you to leave the campus peacefully."
Teng said he would "personally accompany" anyone who left to the police station to ensure their cases would be fairly processed, adding the university's office of counselling and wellness would also provide the necessary support to its students.
Shortly before 2am, a group of pan-democratic lawmakers, and auxiliary bishop Joseph Ha Chi-shing, offered to enter PolyU and take away those who were willing to leave, but were turned down by police.
Civic Party leader Alvin Yeung Ngok-kiu said police had later shone bright lights at them and warned they were also taking part in a riot.
Hong Kong police use controversial anti-riot sound device for first time
Meanwhile, protesters pledged to continue their strategy of bringing the city to a partial standstill on Monday morning by blocking major thoroughfares and disrupting public transport services in a bid to divert police manpower.
Some also responded to calls to head to Hung Hom to rescue their peers in PolyU.
Train services between Hung Hom and Mong Kok East stations on the East Rail line have been suspended by the city's railway operator.
Copyright (c) 2019. South China Morning Post Publishers Ltd. All rights reserved.