She will not face charges for now but must report back to the police station, her mother is quoted as saying
The girl was trapped at the campus on Sunday while fleeing from riot police and had not taken part in protests, according to her parents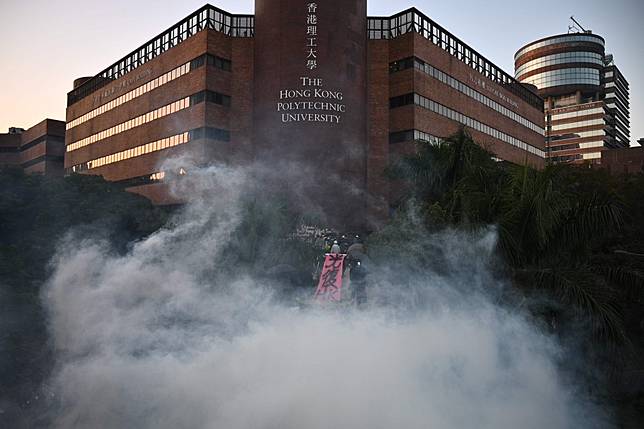 A Taiwanese high school student who spent hours trapped at Hong Kong Polytechnic University, the site of a violent stand-off between anti-government protesters and police, was released on bail without charge on Wednesday.
The Form Five student, surnamed Tai, was released from Kwai Chung police station early Wednesday morning and returned safely to her home in the city, Taiwan's Mainland Affairs Council (MAC) said.
Tai had left the Polytechnic University campus on Tuesday morning, and was taken to the police station.
"Tai's mother and lawyer were able to personally go to the Kwai Chung station on Tuesday afternoon, where Tai was accompanied by the lawyer in completing the relevant processes," the council " the Taiwanese agency responsible for cross-strait matters " said in a statement.
"Tai's body and mind are both tired and resting, and our representative office (in Hong Kong) will continue to care for her, and provide relevant legal assistance."
Tai was among the hundreds inside the besieged campus, where up to 100 masked protesters remained on Wednesday, the fourth day of an impasse following violent clashes with police who surrounded the site seeking to arrest those inside.
Police surround occupied campus after day of fierce clashes with radicals
More than 1,000 people had either surrendered or been arrested by police after clashes involving tear gas, petrol bombs and rubber bullets.
Amid concerns that the situation could become a humanitarian crisis, Hong Kong Chief Executive Carrie Lam Cheng Yuet-ngor pledged on Tuesday that minors would be allowed to go home after their personal details were taken by police, with the force reserving the right to arrest them later. Police said that those at the university could face charges of rioting, which can carry a jail sentence of up to 10 years under Hong Kong law.
Taiwan's Central News Agency (CNA) quoted Tai's mother as saying her daughter had been released on a HK$2,000 (US$255) bail, and would temporarily not face charges but had to report back to the police station in December.
The girl was not banned from leaving Hong Kong or given a curfew or other restrictions, and police provided her with food, clothing and blankets while she was in the station, according to her mother.
CNA said the family would stay in Hong Kong until at least January.
Earlier, Tai's parents said their daughter had ended up in the chaos on the Polytechnic University campus on Sunday while fleeing from riot police in neighbouring Tsim Sha Tsui, but had not taken part in protests.
Hong Kong police respond to menacing mob attacks with more lethal weapons
The MAC has repeatedly urged Taiwanese citizens in Hong Kong to avoid protest areas and be aware of their safety, as well as calling for peaceful and rational dialogue to resolve the crisis.
More than five months of escalating protests in Hong Kong " triggered by a now-withdrawn extradition bill before broadening to include calls for universal suffrage and accountability for police abuses " have plunged the city into its worst political crisis since the former British colony returned to Chinese rule in 1997.
Copyright (c) 2019. South China Morning Post Publishers Ltd. All rights reserved.