Duncan Scott refuses to join Chinese star on the podium for pictures at world championships in South Korea
Sun reacts angrily, shouting and pointing his finger at Scott following the medal presentation of the 200 metres freestyle final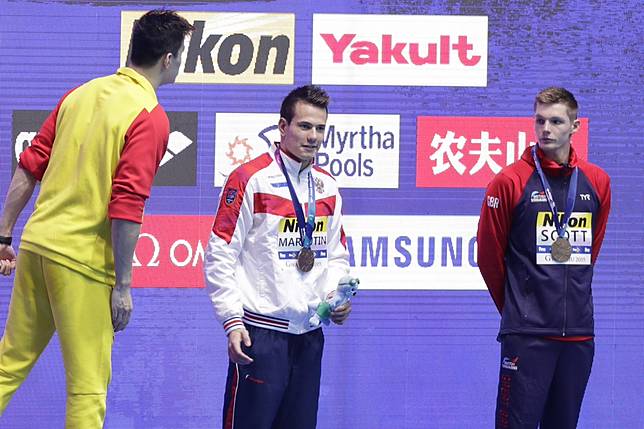 Sun Yang told rival Duncan Scott "you loser, I'm winning", in an extraordinary outburst after the British swimmer refused to take pictures with him on the podium at the Fina world championships.
The Chinese swimming star, who served a three-month doping ban in 2014, walked over to Scott just before the Chinese national anthem following the 200 metres freestyle final in Gwangju, South Korea.
Scott stood apart following the medal presentation and declined to stand on the top step to take pictures with Sun, who reacted angrily, shouting and jabbing his finger in Scott's direction while he shook hands with joint bronze medallist Martin Malyutin of Russia and Matsumoto Katsuhiro of Japan, who won silver.
Olympic 200m freestyle champion Sun had been promoted to the gold medal after Lithuania's Danas Rapsys was disqualified for movement on the blocks, while Scott finished third. It was Sun's third medal in a row in Gwangju and second straight gold.
Sun Yang was more demonstrative shouting at Scott just before the Chinese anthem. pic.twitter.com/Q1e7vmNlNC

" Nick Zaccardi (@nzaccardi) July 23, 2019
Most at the Nambu University Municipal Aquatics Centre booed Sun, though his vocal contingent of Chinese fans cheered him, and both swimmers were issued a warning by governing body Fina.
The 27-year-old Sun faces a hearing at the Court of Arbitration in Sport in September that could see him handed a lifetime ban, but Fina has allowed him to compete in Gwangju.
Sun Yang to Duncan Scott: "You're a loser. I'm a winner." pic.twitter.com/W1AhD6XekV

" Nick Zaccardi (@nzaccardi) July 23, 2019
That has seemingly upset some of his fellow competitors " his long-time rival, Mack Horton of Australia, reignited their feud earlier in the week when he refused to stand with Sun on the podium after finishing runner-up to him in the final of the men's 400m freestyle.
Horton and Swimming Australia received warning letters from Fina on Tuesday, with the 23-year-old " who called Sun a "drugs cheat" before beating him to 400m freestyle gold in a shock upset at the 2016 Rio de Janeiro Olympics.
The Australian is reported to have received a standing ovation after arriving back at the athletes village following his snub of Sun on Monday, while Chinese media and fans have accused him of being a sore loser.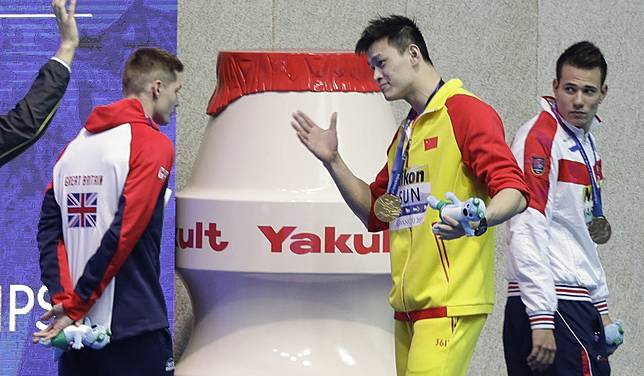 British swimmer Adam Peaty, the Olympic 100m breaststroke champion, said Scott's actions were "completely right".
"If people are booing him (Sun) it's for a reason," Peaty said. "He should be asking himself now should he really be in a sport when people are booing him? But I know how they are and I know how he is. I was swimming (against Sun) I wouldn't even get on the podium."
"The most important thing as a sports person is you have a right to a voice," Peaty said. "Duncan shared his voice and so did the crowd, so it's completely fair. It's completely fair that whatever is going on behind the scenes now is not going right, because if the fans aren't wanting it then why is he even here?"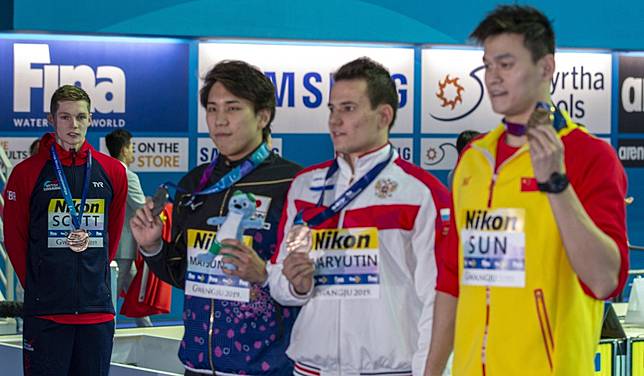 Sun has denied reports he destroyed vials containing his blood samples with a hammer in front of testers last year. Australia's Daily Telegraph last week posted a 59-page leaked report of the Fina doping panel's hearing with Sun.
"He does quite a good job of making sure everyone continues to know about it," Scott said of Sun's pending doping case. "So I guess that's all I've got to say about that."
Copyright (c) 2019. South China Morning Post Publishers Ltd. All rights reserved.