Demonstrators protest over the death of George Floyd in Chicago, the United States, on May 30, 2020. (Photo by Christopher Dilts/Xinhua)
Floyd's death has sparked international outrage as protestors head to the streets to voice support around the globe.
BEIJING, June 2 (Xinhua) -- Following the death of African American George Floyd, thousands of protesters have gathered for demonstrations across U.S. cities as well as around the world to show solidarity.
Floyd, 46, died after Minneapolis police officer Derek Chauvin kneeled on his neck for almost nine minutes. Two separate autopsies released Monday both found Floyd's death to be a homicide.
CURFEW IMPOSED
Floyd's death on May 25 triggered nationwide protests against racial discrimination and police abuse - some of them turning violent, prompting mayors and governors to impose curfews in more than 40 cities, while thousands of people have been arrested around the country.
In Minneapolis, thousands of people swarmed the city on another day of protests despite an 8 p.m. curfew imposed at the nation's center of protests.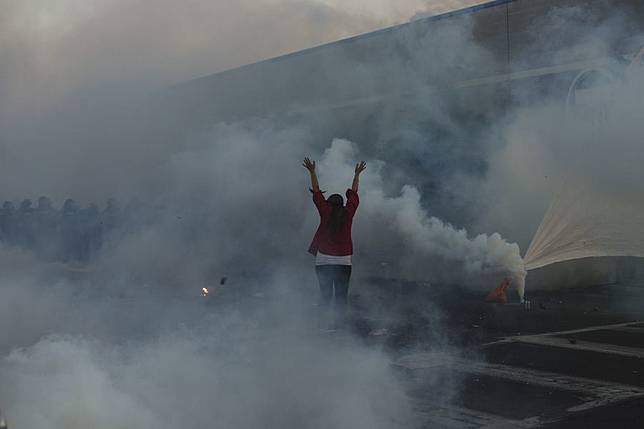 A woman raises her arms as riot police fire tear gas during a protest outside the 5th Police Precinct in Minneapolis, the United States, May 30, 2020. (Photo by Angus Alexander/Xinhua)
Washington D.C. Mayor Muriel Bowser said on Sunday night she was imposing a citywide curfew amid rising tensions between protesters and police outside the White House.
The curfew lasted from 11:00 p.m. on Sunday (0300 GMT Monday) until 6:00 a.m. on Monday. Bowser also activated the D.C. National Guard to support local police.
With helicopters hovering above Lafayette Square, U.S. President Donald Trump on Monday declared himself "president of law and order" and an "ally of all peaceful protesters." Just as he spoke, protesters gathering near the White House were being dispersed by police using tear gas and rubber bullets.
New York City was also put under a curfew on Monday night to curb violent protests, according to a joint statement by Mayor Bill de Blasio and New York State Governor Andrew Cuomo on Monday.
The curfew runs from 11 p.m. Monday to 5 a.m. Tuesday, according to the statement.
"While we encourage people to protest peacefully and make their voices heard, the safety of the general public is paramount and cannot be compromised," said the governor in the statement.
GLOBAL SOLIDARITY
Floyd's death has sparked international outrage as protestors head to the streets to voice support around the globe.
Despite the ban of mass gatherings in Britain, thousands of people gathered Sunday in London and Manchester to protest over the death of Floyd.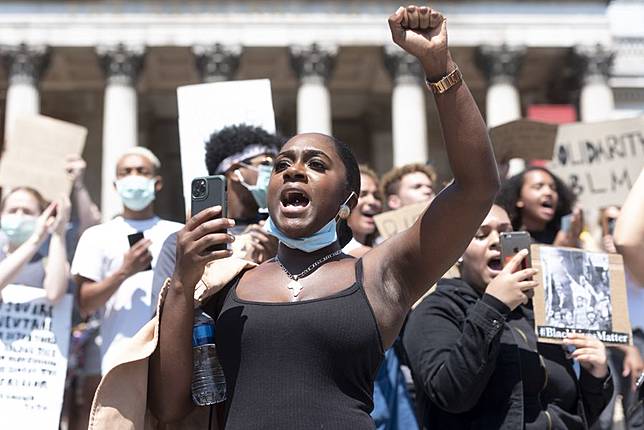 People take part in a protest over the death of George Floyd at Trafalgar Square in London, Britain, on May 31, 2020. (Xinhua)
Chanting "no justice, no peace," protesters gathered in London's landmark Trafalgar Square shortly after 1 p.m. before marching through Westminster to Downing Street.
Videos posted on Twitter showed people shouting Floyd's last words "I can't breathe" on the square. Taking to their knees, they also chanted "George Floyd," as some of them held banners reading "Black Lives Matter."
Protests were also held in Manchester and outside the U.S. Embassy in London.
Two separate protests were held in Dublin on Sunday, reported Irish national radio and television broadcaster RTE.
One was held outside the U.S. Embassy in Ballsbridge, an area in Dublin where many diplomatic missions are located, while another was carried out outside the official residence of the U.S. ambassador to Ireland inside Phoenix Park, the largest public park in the country, according to the report.
About 100 people took part in the protest outside the U.S. embassy, said the report.
In Greece, hundreds of members of the youth wing of the Greek Communist party KKE protested peacefully on Monday outside the U.S. Embassy in Athens and the U.S. Consulate in the northern city of Thessaloniki.
Raising banners of "I can't breathe," protesters outside the U.S. embassy chanted slogans such as "No to a system giving birth to crises, wars, and racism."
"We join Greek peoples' voice with the voices of all people across the world against barbarity … We join our voice with the U.S. people who are struggling these days for their rights, to be able to breathe," KKE General Secretary Dimitris Koutsoumbas said earlier.  ■