Video: Burnout Fugue. Choreographer and dancer: Nicholas Palmquist; Music: Alexandra Stréliski.
When choreographer and dancer Nicholas Palmquist finished teaching one of his classes in Shanghai, a Korean dancer came up to him, obviously quite moved by the experience. She told him: "I have been following you on Instagram for three years. I never thought I would be able to dance in your class. I am truly happy."
I had an egotistical moment right there. My brain went off and shouted: "I did this!" I felt a sense of accomplishment as I was the one who had invited New York-based Nicholas to Shanghai this past August, for a media interview with Numero China and to teach a series of contemporary jazz dance classes. I was proud not only to see how full his classes were but to see that the effort helped make a difference in someone's life.
There is a little story behind how Nicholas and I met. 
I first saw his Burnout Fugue video (above) on Instagram at the end of March and it was one of his most viewed videos. At that time, I had just set up my own company, sml Dance Limited, to curate dance performances across platforms and to inspire people to reconnect within themselves and to feel, move and expand more. I was moved by the generosity, tenderness and humility in his dance movements and choreography. I read interviews he had given and felt such an affinity to his values. A lightbulb went on in my head: "Hey, maybe I can write to him and see if he wants to work with me."
As soon as I had that thought, an avalanche of self-doubt came crashing down.
"Why would he work with you? You haven't made anything yet with your company. Do you really think someone as respected as he is would reply to your message? He has Jennifer Garner as one of his followers. You are not even known in the dance industry. Are you serious, Patsy?"
I thought I had grown out of self-doubt, but obviously I hadn't, even though it used to be much worse when I was younger. When something went wrong, the first question that popped up in my head was usually, "Was this my fault?", followed by "Why weren't you a better person? You shouldn't have said that. You are just not good enough". It was like a broken record in my mind.
I decided to press the "delete" button on self-doubt. I also decided to change my mindset about "asking". I would ask without expecting a "yes". If the answer was a "no", I would still be grateful and move on. I decided to embrace the "no".
I can't explain in words the peacefulness I felt when I saw the positive reply from Nicholas. 
Five months later, when we finally sat down face to face, I asked him why he accepted the invitation: "Had it not cross your mind that I could be a psychopath or just a horrible person?" 
He replied: "I didn't get that feeling from you when we spoke on the phone and in our correspondence. You were always clear that whatever happens has to work for the both of us. And psychopaths don't work like that. So I didn't feel that way.  Besides, I have gone on trips that were not the greatest. Yet, even on those trips, I learnt something from them."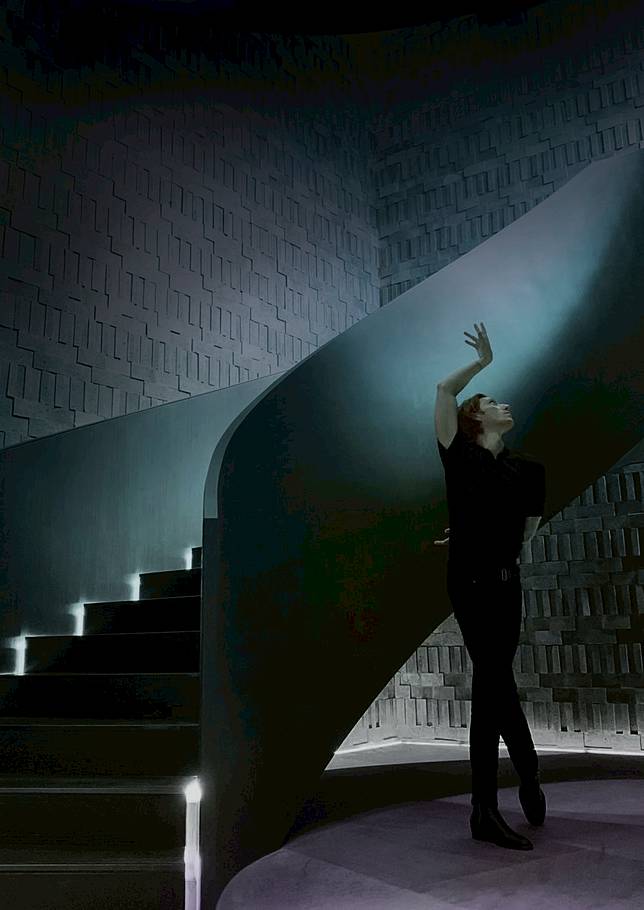 A photo I took of Nicholas Palmquist (Instagram @napalmquist) at The Middle House, Shanghai, in August 2019. Art direction by Fran Lam.
I am happy that I did not let the old fear of "no" stop me from reaching out to Nicholas, as that would have meant passing on the chance to meet his beauty in person. He is someone who believes that dance needs to come from the heart and has inspired many to dance. Someone who lights up the studio when he enters and captivates you with his movements. And as a teacher, someone who truly wishes to see you succeed and speaks only encouraging words.
"Okay, if you can't do the movements I just showed you, then just move your feet and move your shoulders like this, just move them… I am not judging you," he said during one class. "Every one of you could have been doing something else tonight, yet you have chosen to be here in this class. That itself is an achievement. No matter what happens, I am proud of you. Just keep moving and keep trying."
Thank you for those words, Nicholas. (And cheers to plenty more in the future!)