The nation is firmly on track to overtake the United States as the world's leading retail market and a further opening up of the economy, as promised by President Xi Jinping, will benefit all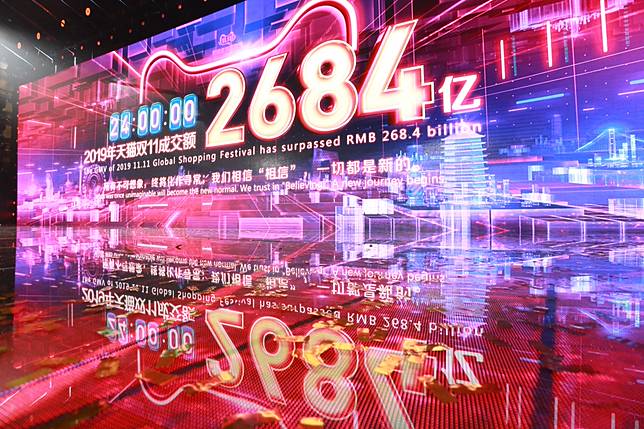 There is no better indicator of consumer confidence in mainland China than Alibaba's annual Singles' Day shopping extravaganza. Coming amid the trade war between Beijing and Washington and a gloomy global economic outlook, it is also a barometer of whether government policies aiming to shift the economy away from exports and investment to consumption and innovation are working. The numbers reveal success: the 24-hour buying spree set a record, up almost 26 per cent on last year to 268.4 billion yuan (US$38.3 billion). But most telling was that the figure was driven by increased demand from smaller cities and less developed parts of the country, proof that incomes are on the rise in rural areas and shining a light on the market's potential.
Boosting domestic consumption has been Beijing's economic growth strategy for five years, but the trade war has given greater impetus to these efforts. President Xi Jinping highlighted the need at the recent second China International Import Expo in Shanghai, speaking of the benefits of a robust market and how demand can be spurred by bringing in more foreign goods. More than 3,800 enterprises took part and at least US$71 billion in deals were signed. Competition is good for local producers and gives wider choice to consumers, while encouraging innovation and creativity.
Consumers from China's smaller cities lift Alibaba to Singles' Day record
Singles' Day every November 11 provides an adrenaline driven online outlet for spending through the millions of bargains on offer. Alibaba, the parent company of the South China Morning Post, originally conceived of the idea to console single people by encouraging them to splurge on themselves, but the event has quickly grown to become the nation's " and indeed the world's " biggest shopping spree. A driver has been the innovation of e-commerce companies in their use of online platforms to promote and sell products and the convenience offered by digital payment systems. The 1.29 billion items sold, almost one for each Chinese person, requires a vast network with hi-tech prowess to ensure prompt delivery and that payments are made accurately.
China's economic growth for the third quarter fell to 6.0 per cent, the lowest since 1992. But retail sales, a key indicator of consumption, were up 7.8 per cent in September on a year earlier, showing that the middle class and its spending power continue to expand. Alibaba's Singles' Day data showed that it is not only in the prosperous cities of eastern and southern provinces where consumer demand is strong. Its platform targeting lower-tier cities such as Guilin and Sanya recorded 7,000 items with more than 1 million orders, revealing what was termed a "willingness to pay". Such demand bodes well for China and the world. The nation is firmly on track to overtake the United States as the world's leading retail market. A further opening up of the economy, as promised by Xi, will benefit all.
Copyright (c) 2019. South China Morning Post Publishers Ltd. All rights reserved.