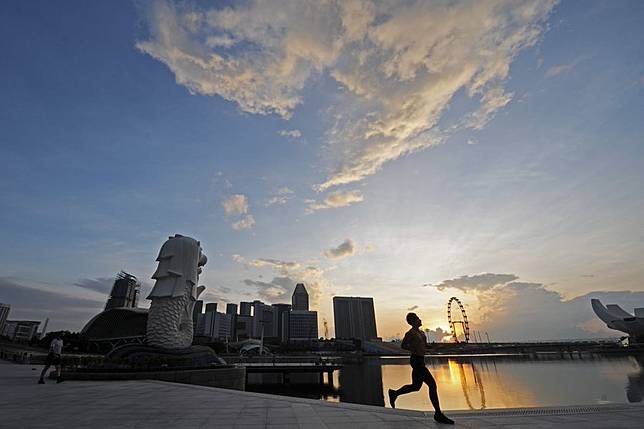 A resident does morning exercises at the Marina Bay area in Singapore, May 20, 2020. (Photo by Then Chih Wey/Xinhua)
As the pandemic of COVID-19 imposed panic and even painful memories to people worldwide, there are a few silver linings from the perspectives of Singaporeans, who have just embarked on a phrased reopening from a "circuit breaker" period.

SINGAPORE, June 3 (Xinhua) -- As the pandemic of COVID-19 imposed panic and even painful memories to people worldwide, there are a few silver linings from the perspectives of Singaporeans, who have just embarked on a phrased reopening from a "circuit breaker" period Tuesday.
All non-essential workplaces were closed and students tuned in to home-based learning and later a school break during the circuit breaker, introduced by the Singaporean government to curb the spread of the deadly coronavirus from April 7 to June 1. Starting from Tuesday, Singapore will gradually reopen economic activities in three phases.
FAMILY RELATIONSHIPS
Lee Chih Horng, a local media practitioner, found that working at home offered him more family time than before. He could savor the coffee brewed and served by his younger daughter, or play cards or games with his family in the twilight.
For Liu Aiqin, an insurance agent, preparing meals for her family every day became a favorite past-time recently, even though the family has a domestic helper who could do all the cooking.
"I love cooking. What's more, my two daughters and my husband all love the food I cook," she said. She also enjoyed posting photos of her food and recipes on the social media from time to time.
During the 50-odd-day circuit breaker period, food provided by local restaurants or hawker centers could only be taken away by or delivered to the customers, which in some way propelled the popularity of cooking and even baking at home. Long queues were seen outside stores selling baking ingredients.
Luckily, more family time often resulted in better relations.
Improved family well-being was one of the main beneficiaries of the COVID-19 pandemic in Singapore, with respondents reporting stronger domestic ties across the board, as shown by the Cigna COVID-19 Global Impact Study released on May 28.
In terms of the amount of time people were able to spend with their family, 45 percent said this has increased, compared to 33 percent in January, while the quality of time spent with family has also increased, from 31 percent to 38 percent.
On the other hand, family-related stress has also decreased, from 13 percent in January to 8 percent in April, said the study, conducted by the Cigna's International Markets business in partnership with Kantar.
April Chang, CEO and country manager of Cigna Singapore, said, "it is encouraging to see that family and other relationships have improved during the pandemic, which could be the result of people spending more quality time together, whether virtually or in person. What is of particular interest is how this coincides with a reduction in family-related stress and a decline in feelings of isolation."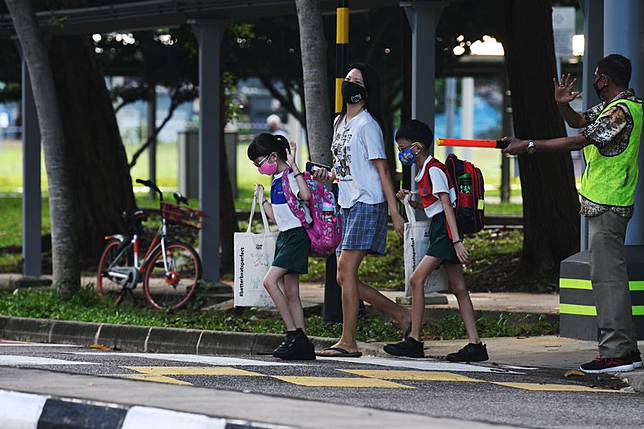 Primary school students wearing face masks are seen on their way to school in Singapore on June 2, 2020. (Photo by Then Chih Wey/Xinhua)
HEALTY LIFESTYLES
During the circuit breaker period, gyms and fitness studios across the island were ordered to shut, but that did not seem to affect the sports-lovers.
Lee and his family used the one-hour time, saved by not having to commute, to do jogging outside.
Associate professor of the Lee Kuan Yew School of Public Policy at the National University of Singapore Gu Qingyang was happy exercising Taiji by himself in the courtyard of his house.
Some others took to Yoga which could be done indoors.
Besides groceries and food, indoor exercise equipment and gaming tools emerged as the most popular categories for online shopping, according to a report published by the local English-language newspaper the Straits Times on May 25.
What Singapore consumers were searching for online also revealed the new ways they were adapting to life with the coronavirus, the report said.
The Cigna study also disclosed that the physical well-being of people in Singapore did not appear to have been negatively impacted by COVID-19. "People are reporting better sleep, more energy and an increase in physical activity," it said.
In terms of sleep, 32 percent said they were getting sufficient sleep, compared to 26 percent in January, 25 percent said they were exercising on a regular basis, up from 23 percent in January, while 23 percent were reporting good energy levels, a 2-percent increase from January. Interestingly, 36 percent of respondents said they were managing to avoid getting sick, up from 32 percent in January, according to the study.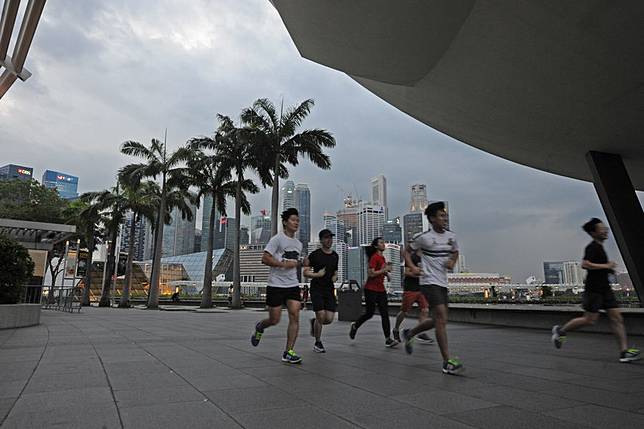 People jog along the promenade outside Singapore's Marina Bay Sands on April 1, 2020. (Photo by Then Chih Wey/Xinhua)
BUSINESS OPPORTUNITIES
While some businesses were severely hit by the virus, other businesses flourished.
Supermarket operator Sheng Siong Group announced on April 28 that its first quarter net profit grew 49.9 percent year-on-year to 29 million SG dollars (about 21 million U.S. dollars). Its revenue went up 30.7 percent to 328.7 million SG dollars (about 234.8 million U.S. dollars), attributed mostly to the impact of COVID-19 and better-than-expected Chinese New Year sales.
The company said its employees, excluding directors, would be given an extra month of salary for working hard during the period of greater demand.
In another development, the Life Insurance Association Singapore (LIA Singapore) reported on May 22 that Singapore's life insurance industry recorded a total of 965.8 million SG dollars (about 689.9 million U.S. dollars) in weighted new business premiums for the first three months this year, a 10-percent rise from the same period in 2019.
Khor Hock Seng, president of LIA Singapore, noted that the industry continued to make headway in bridging protection gaps in the first quarter as more consumers took action to secure their financial future in view of COVID-19's drastic impact on global and local markets.
The industries of disinfection and medical supplies also possessed growth potentials in the wake of the COVID-19 pandemic, while the demand for digital devices and services may be also on the rise as people under the social distancing measures rely more on the technical solutions to get connected. ■