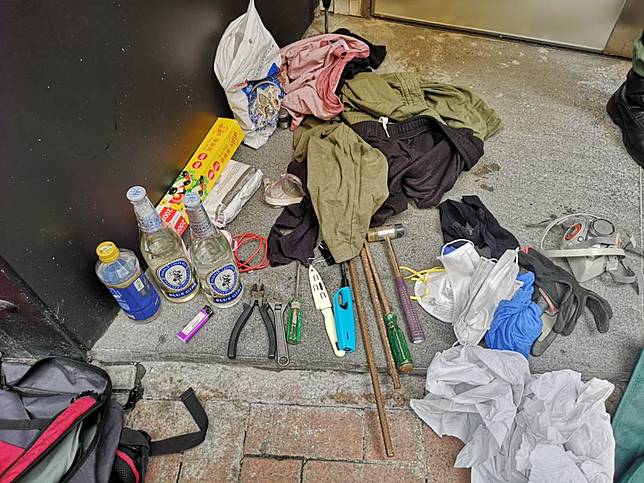 Weapons including petrol bombs, knives and hammers were found as police officers intercepted a male in Hong Kong, China, May 27, 2020. (Photo credit: Hong Kong Police)
Rioters threw hard objects onto the railway, disrupted road traffic and set fire during morning rush hours in Hong Kong, in a bid to obstruct a Legislative Council meeting scheduled in the day during which the Second Reading debate on the National Anthem Bill will resume.
HONG KONG, May 27 (Xinhua) -- Rioters disrupted metro train services and road traffic across Hong Kong during rush hour on Wednesday morning, in an attempt to obstruct a meeting of the Hong Kong Special Administrative Region (HKSAR) Legislative Council (LegCo).
Mass transit railway (MTR) train services were suspended on Wednesday morning as some people intentionally placed hard objects at the train door in different stations, said the police. The services resumed normal after removal of the objects by MTR staff.
The police also said that at around 5:00 a.m. local time, rioters threw barriers onto the railway at Kwai Hing MTR station, causing obstruction. Fortunately, there was no passing train or else, the consequences would be dire, the police said.
Road barriers were thrown onto the railway by rioters to disrupt metro train traffic in Hong Kong, China, May 27, 2020. (Photo credit: Hong Kong Police)  
Since around 5:30 a.m. local time, rioters have blocked roads in different areas with rubbish in an attempt to paralyze the traffic. Nails were found scattered on a street in Hung Hom, said the police.
In Kwai Hing, over 10 black-clad rioters gathered at around 7:00 a.m. and set fire to rubbish bin and trash on the streets, said the police.
At around 8:30 a.m., some drivers staged a drive-slow protest at the Hong Kong Island exit of Cross-Harbor Tunnel, causing serious obstruction to traffic, said the police.
Police officers attended the scene to intercept the vehicles concerned and diverted traffic in an effort to maintain road safety for commuters and students who resumed class on Wednesday after school suspension due to the COVID-19 epidemic.
Two men aged 26 and 40 respectively were arrested for dangerous driving, the police said. The 40-year-old was also suspected of possession of instruments fit for unlawful purposes as police officers found hammers and goggles in his car.
The police said such disturbances have posed a grave threat to road safety, warning the rioters to stop all unlawful acts and urging members of the public to budget sufficient travelling time and pay attention to the latest traffic arrangement.
The extensive disruptive acts aimed at obstructing a LegCo meeting scheduled on Wednesday during which the Second Reading debate on the National Anthem Bill will resume.
Police officers stepped up enforcement action in various areas on Wednesday morning to stop rioters from disrupting public peace.
Several people were intercepted in different locations by police officers and were found in possession of gears such as helmets, goggles and respirators or weapons such as petrol bombs. ■