The contemporary, luxury restaurant in Hong Kong's Central district has been given a revamp by owner Bonnae Gokson
A new ceiling installation involves 100,000 silk flowers and 36 chandeliers, each 1.7 metres long, made of 76,000 multicoloured pieces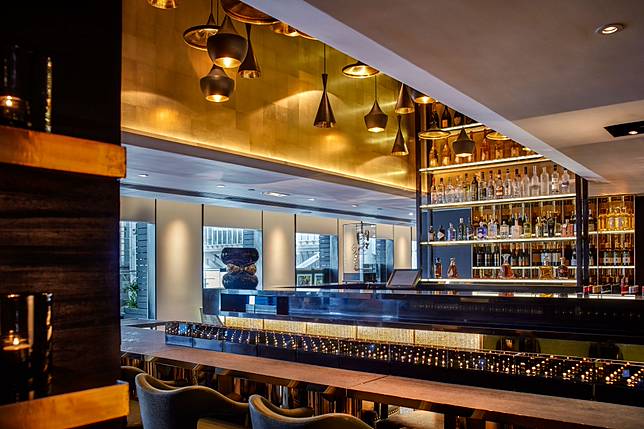 On June 3, Sevva, a restaurant in Landmark Prince's Building in Hong Kong's Central district, closed its doors and began renovation work. On October 3, it reopened. In between, the city had undergone its own makeover.
"We are not used to these protests," says one of the staff, on October 4, a few hours after Hong Kong Chief Executive Carrie Lam Cheng Yuet-ngor imposed a ban on masks. Twenty-five floors below, angry crowds are gathering.
Not that you'd know it from here.
Sevva, like Holly Golightly's vision of the luxury jewellery store in Breakfast at Tiffany's, is a place that wants you to believe nothing bad can happen inside. One of its cocktails may be called Liquid Courage and its signature cake may be known as the Crunch but, within its 22,000 square foot (2,000 square metre) interior, the new reality of the city does not intrude.
Regular customers will be relieved to learn that the revamp is less comprehensive than it sounds.
"It's a refresher," says Bonnae Gokson, who founded Sevva in 2008 and is the midwife for what her press release calls "an icon reborn".
A luxurious co-working space in grungy Hong Kong industrial building
She looks, as she always does, fabulous " though perhaps a little fraught. Astrological word has it that October will be a difficult month. For her? "For the world." Today, she's in white with touches of crimson, including a dainty ruby necklace. In Vedic, or Hindu, astrology, as she later explains, Friday is the day to wear red.
Eleven years ago, when Bonnae was still Bonnie (the vowel change is the result of a Kabbalah formation for good health; Kabbalah is the ancient Jewish tradition of mystical interpretation of the Bible), she and architect Calvin Tsao worked together to create Sevva.
As Tsao later wrote in Gokson's book Butterflies and All Things Sweet, Gokson had the "gorgeous frosting" appeal of the cakes she is famous for, but "like their rich flavours, the depth of her character lies much deeper". Together, they created the perfect recipe for a new dining hotspot.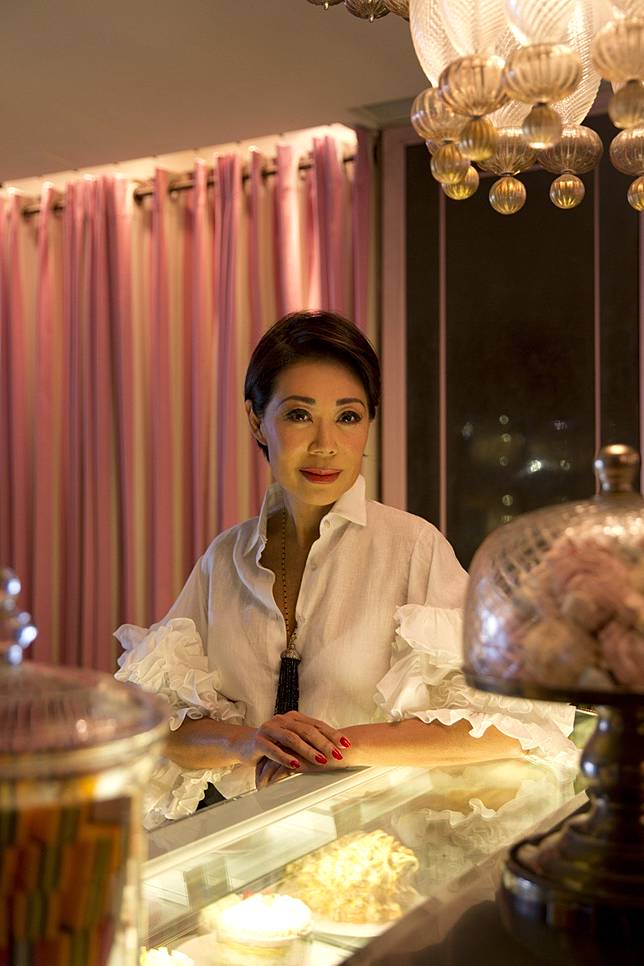 "Don't forget, this is a 1960s building," says Gokson. "It was office space, and we had to work with its architectural structure. We negotiated with the government, not with (landlord) Hongkong Land."
In the end, two restaurants emerged " named Harbourside and Bankside, depending on the view " with a long lounge connecting both. Unusually for the time, it had a green wall of living ferns, which is still there.
"People said it couldn't be done, there'd be worms coming out, but we kept it for 11 years," she says.
The renovation was a completely stripped-to-the-bones job " she has the video to prove it " so how did the ferns ("from Belgium, not China") survive?
"My saving grace was my sister," Gokson says. That would be Joyce Ma, founder of Hong Kong fashion retailer Joyce, a pioneer who changed the luxury retail landscape in Hong Kong.
"I was actually in tears when we closed (Sevva)," she continues. "I'm very attached to this green energy. Luckily for me, Joyce has a very large home. (American architect) Ed Tuttle built it for her. It has 365 days of air con " that's how we were able to maintain (the ferns)."
I'm pretty good with colours. But how do you match them if you don't have the fabrics? That was my challenge. I had to use my gut feelingBonnae Gokson
Other survivors of the renovation include the four huge photographs by German photographer Candida HOfer in Bankside and, at the entrance, the floor-to-ceiling drawings by fashion illustrator Gladys Perint Palmer. Along with the illustrator's name cards, coasters and mats, the drawings help set Sevva's tone of whimsical sophistication. Perint Palmer, a fashion-world icon in her own right, lived in Hong Kong during the 1970s, when she met the sisters.
"I've known her my whole life," says Gokson. "Her strokes (on the artworks) are so strong that when people see them they know it's Sevva."
For her part, Perint Palmer " who now lives in Canada " has fond memories of meeting Gokson, who back then was married and living on The Peak before then becoming a follower of meditation teacher Gurumayi Chidvilasananda in India and discovering communal labour.
"I remember how she raved about the joys of washing up and drying a glass," recalls Perint Palmer in an email.
What does she want her Sevva illustrations to convey? "Food, beautiful people " and Bonnae, of course."
Seven dining deals to lure you out amid Hong Kong protests
These, then, are the enduring stalwarts. In fact, quite a lot of Sevva still looks familiar. "Don't forget, this is a refresher," says Gokson, a little testily. "Have you been here before?"(Later: "But if you just came here for tea, you wouldn't know.")
As she remarks, however, the "insane" cost of replacing leaky pipes and typhoon-bashed decking " never mind the architectural limitations of a commercial space " meant that she had to fall back on her own abilities.
Her credo is quoted in the press release: "Always remember, creativity is intelligence, a gift that keeps on giving, and I live my life every day with these values in mind."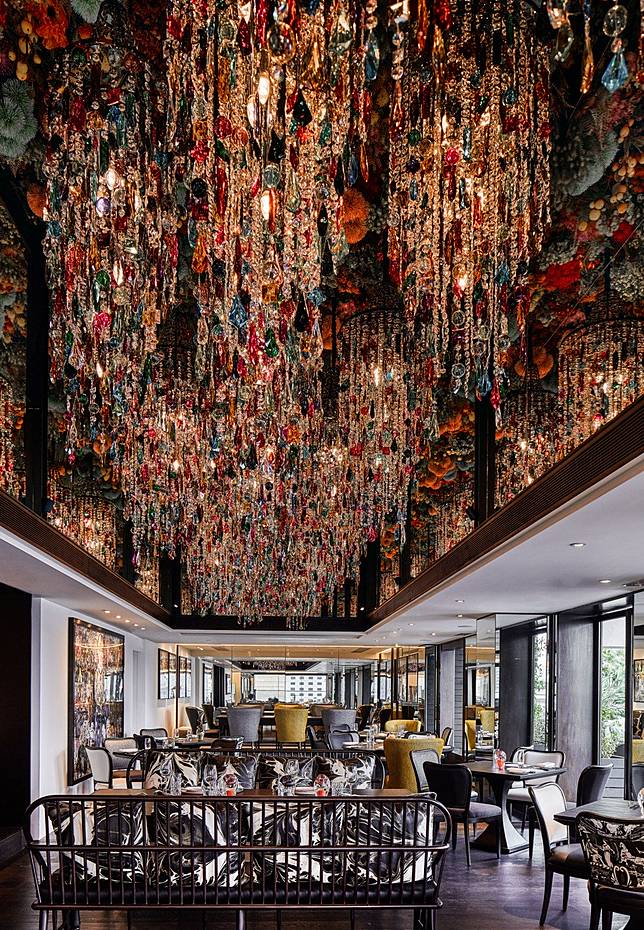 In the summer, she went to London with her sister in search of fabrics for the renovation.
"I'm pretty good with colours," Gokson says. "But how do you match them if you don't have the fabrics? That was my challenge. I had to use my gut feeling. Sometimes you get really scared " a pitch too dark, a pitch too light, and it doesn't work." Luckily, she's come through, right down to the tiniest detail on the reupholstered furniture.
Regulars who come for more than tea will also notice the enlarged Taste Bar with gold-leaf trim, lit by the bar's original lights from British designer Tom Dixon. "Everybody talks about him now. I had his lights 12 years ago. Hello!"
Most impressive of all, though, is the new installation in Harbourside.
When Sevva first opened, the six-metre-high ceiling contained a lighting installation. "Then, we gradually built in flowers. Now what am I going to do? Friends say, 'You do flowers so well, it's iconic.' OK, but if I keep the flowers it's boring. Do you know Nick Cave?"
Of Australian rock band Nick Cave and the Bad Seeds? "No, the artist. I saw one of his installations and I thought, 'Wow.' I really wanted to do this thing, a floral thing with chandeliers. I love kaleidoscopes."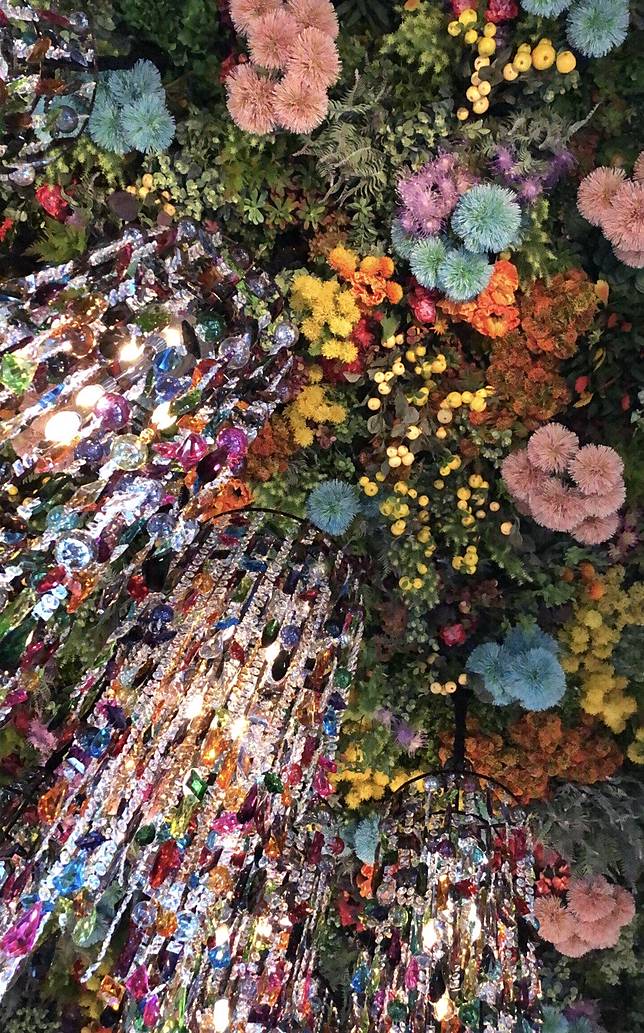 As there wasn't the budget to commission Cave or import crystal from Prague, in the Czech Republic, Gokson worked with a company in China and with florist Phillip Corps in London. The result is 100,000 silk flowers and 36 chandeliers, each 1.7 metres long, made of 76,000 multicoloured pieces.
The effect is certainly spectacular, even during the day. By candlelight, it must feel like dining beneath a magically inverted garden with strange glints between its borders. That clash of textures is very Gokson.
In a dining booth to the side, there are also sketches of Russian ballet dancers on the wall and marbleised cowhide on the chairs. "I wanted to put some strength in here, not pretty-pretty," she says. "It's yin and yang, probably like my own character. A bold thing and pretty."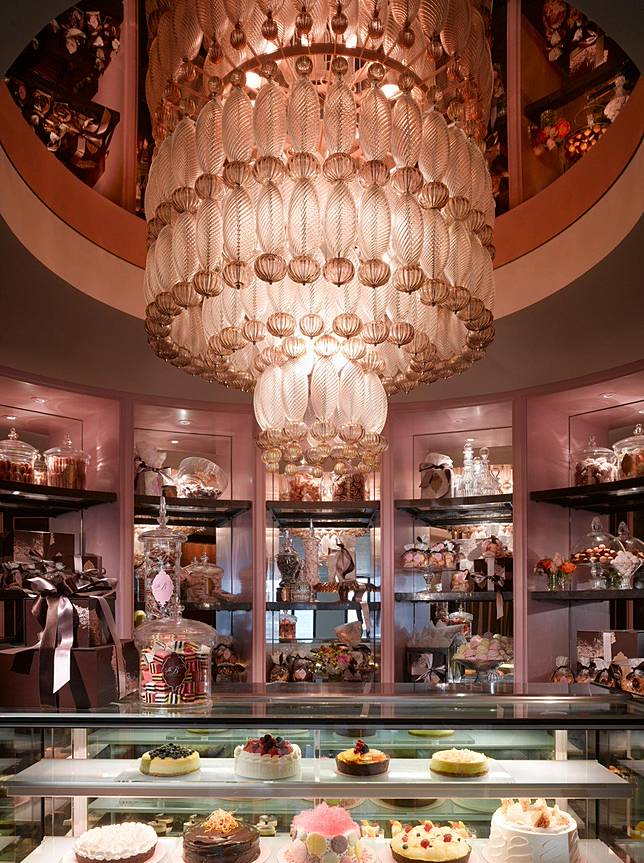 Naturally, Gokson's famously elaborate cakes continue to be available, such as her Marie Antoinette's Crave (pistachio chiffon, rose-petal jam, whipped cream, raspberries, rainbow macaroons, dragees, candyfloss).
Out on the Terrace, which was gutted and relaid, there's a new German "concert-level, state-of-the-art" sound system. Music is important to Gokson " in the '90s, she used to have her own radio jazz programme, In The Mood, on Hong Kong station FM Select (now Metro Finance).
Here, as you listen to a curated soundtrack and watch Hong Kong light up as the sun goes down, you feel far away from the shifting city below. Sevva is pronounced "savour" and that is its motto: savour the moment.
"For me, I do not like totally trendy," Gokson says. "It gets copied immediately and it becomes passe so fast. I prefer a timeless chic."
Copyright (c) 2019. South China Morning Post Publishers Ltd. All rights reserved.