The three-time Pakistan champion fled his homeland after being kidnapped by militants who disapproved of his fighting career
He is now in the Philippines but his visa expires in mid-January and he is desperate to find a country that will adopt him
Ezatullah Kakar would sneak out of the refugee holding centre on Manus Island at night, board a boat for the one-hour journey to the main town of Lorengau, buy supplies for his fellow detainees and return to the camp.
The three-time Pakistan kick-boxing champion from the troubled Balochistan province would do this every other night, risking arrest by the Papua New Guinea navy which was trying to cut off essential supplies to force the 400 men remaining in the centre to move into new quarters.
For Kakar and his fellow detainees, a new camp " despite better conditions " was just another prison. They wanted a country to adopt them. Many of their friends had been accepted by the United States. Up to eight of them never made it out, having taken their own lives or were killed.
Kakar " a former world kick-boxing silver medallist " just wanted to fight. Not so much for a country but for his fellow detainees, many suffering from severe mental health problems, to show them what can be achieved if they remained strong.
I can't forgethow the #AUS_GOVT treat us and Still.I was toke my life risk every night to keep all my friends alives bring the Medicines food for 400 ppl everyday, and i threatened from #PNG Navy can shoot me but i survived.Let me free from the political game#manus#nauru pic.twitter.com/6xmPueNWSa

" Ezatullah kakar (@EzatullahKakar) December 3, 2019
"I am a fighter and I want to fight for my friends on Manus Island and Nauru," Kakar said from Manila, Philippines, where he is training and fighting until mid-January before his visa expires. "I have to stay strong and think positive.
"I was in the camp for many years but now I want a country to adopt me, any country, so I can fight for them and show them what I can do.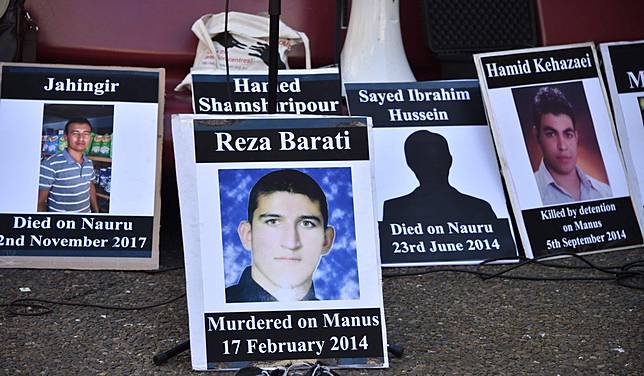 "I have seen many things in my years at the detention centre. It has been difficult for everyone. Many men are suffering from mental health problems. We have seen our friends take their own lives, they couldn't take it any more. I want to give them hope, show them what can be achieved."
Kakar said he was forced to flee Pakistan after being kidnapped by militants following his silver medal at the World Martial Arts Festival in Iran in 2012. They disapproved of his fighting career.
His journey took him to Malaysia, Indonesia and finally Australia's Christmas Island before being sent, in late 2013, to the Manus Regional Processing, which was Australia's offshore holding camp for refugees and asylum seekers.
The human cost of Australia's offshore detention centres, where freedom does not equal opportunity
After the camp officially closed in October 2017, many of the detainees were forcibly removed to locations in Lorengau but Kakar was among around 400 who refused to budge, citing safety fears from hostile locals who had a history of violence against the refugees.
By December, there was no one left in the centre. Kakar, though, managed to escape, with the help of Australian freelance journalist Michael Green, and ended up in Port Moresby, where he fought a number of bouts, including a victory over PNG's Solomon Tiamani to win the country's cruiserweight title.
PNG officials wanted him to fight for them but he refused because of the country's treatment of the Manus Island detainees. Since arriving in the Philippines, Kakar said he has been unbeaten " overcoming local fighters with early-round knockouts.
He has been working with the local MMA Promotions and has had help from a Manila gym, where he trains. What little money he has is donated by former detainees who have managed to find a new life for themselves in the United States. "I've borrowed thousands of dollars," he said.
But in one month's time, his visa expires and he has to leave, hoping a big organisation such as ONE Championship can help him pursue his career and find him a country to fight for.
Despite overwhelming odds against him, Kakar, who is active on social media, remains upbeat about his future. Green, who accompanied Kakar on one of his supply runs during his Manus days, said the 27-year-old's optimism could light up a darkened room.
After 3 knockouts fights in #Philippine challenge to all Philippine for P500k, would love to prove my self to all dirty politicians they are still keeping my life under politics.Let me freeI want my freedom7yrs too longMikeTysonic.twitter.com/XQopXj2FhJ](https://t.co/XQopXj2FhJ)
["When I was on the boat with Ezat, everyone was very nervous " except him," said Green. "He seemed electrified by it, by the fact that he was doing something to help himself and everyone else.
"Those supply runs were incredibly important for all the detainees. There were hundreds of men refusing to leave the abandoned centre. For them to stay, they needed food and medical supplies. Eventually they set up other supply channels, but for a number of days, those secret journeys were providing their means of survival.
"I found it very moving to see the way Ezat and the other men detained there on Manus Island supported each other. They've been through so much and they seem to be able to cope because of their deep sense of solidarity and their commitment to fight together for their rights.
](https://t.co/XQopXj2FhJ)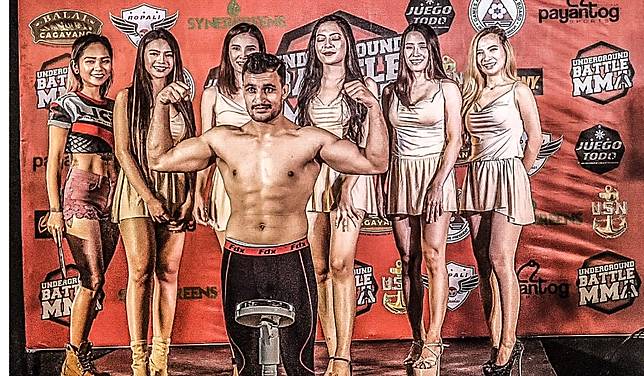 ["That was very inspiring to witness. I have also really enjoyed seeing Ezat's presence on social media " the motivational quotes and memes and hero-shots he posts of himself training. It isn't the typical stereotype of a refugee, so I think that helps to show the complexity of the people caught in this nightmare."
Craig Foster, a former Australian international football player who is now a human rights activist, has called on MMA organisations to give the Pakistani a chance.
"Ezatullah's story is a harrowing but inspirational tale. It just needs an appropriate ending," said Foster, who played a major role in highlighting the case of Bahraini Hakeem Al Araibi, a former refugee footballer who was released from a jail in Thailand in January after almost three months in detention.
](https://t.co/XQopXj2FhJ)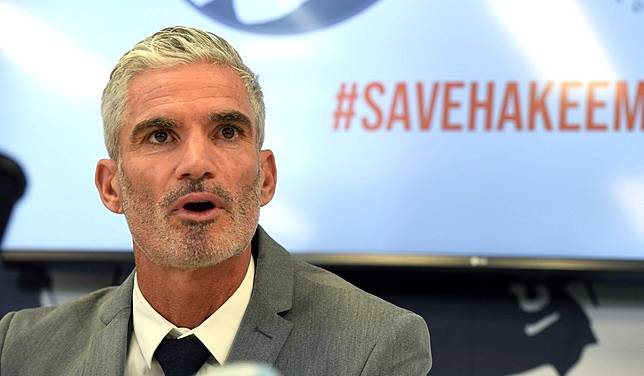 ["For a young man to have suffered so much trauma, to have battled back, alone from a major knee injury incurred in fleeing persecution, to become a champion again is extraordinary.
"It's one of the truly great sporting stories of perseverance, courage, dedication and an unquenchable dream. He fights for his fallen friends from Manus Islamd, they're his strength and each punch is theirs.
"But he just needs a chance at freedom and a life he deserves. Fighting is about chasing a dream, a whole genre is testament to the power and appeal of this desire. Ezatullah can be world champion. His sport needs to step up and help him make it real."
](https://t.co/XQopXj2FhJ)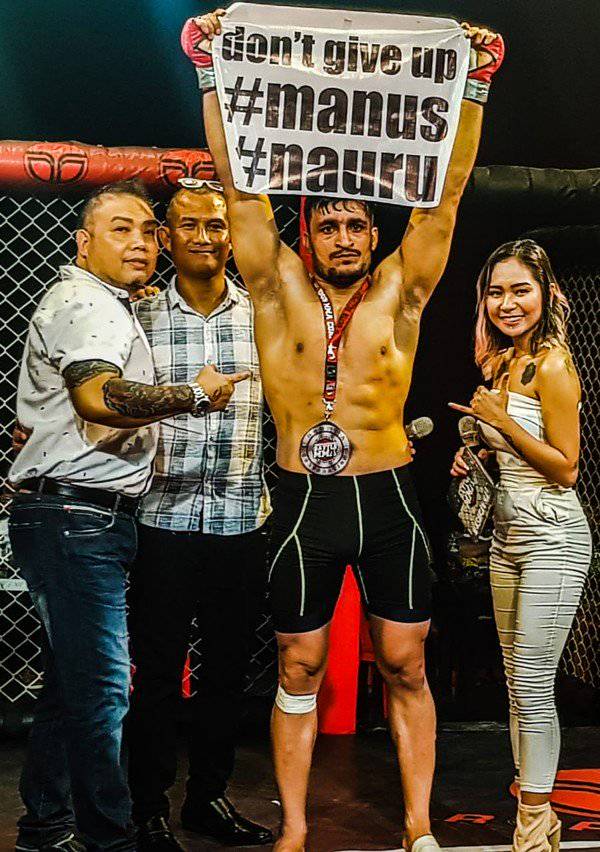 [Green said Kakar's passion for his sport is deep, augmented by his desire to inspire his fellow refugees. He also called out Australian policies on the refugees and asylum seekers.
"He's very committed to his craft," said Green. "He's very single-minded. Whenever I spoke to him, he always talked about his desire to be fit, to get back to his best, and keep getting better. The fact that he's been able to start fighting again, despite his ongoing lack of freedom, suggests that he's never going to give up.
"Australia is violating international law with its offshore detention regime. That's what the UN says, that's what legal experts say. But the Australian government does not accept that it needs to change. So Ezat and everyone else has been imprisoned in an unjust system, through no fault of their own."
Copyright (c) 2019. South China Morning Post Publishers Ltd. All rights reserved.
](https://t.co/XQopXj2FhJ)