Aviation history was made when the Dreamliner touched down in Sydney after completing the world's longest flight
Qantas flight 7879 touched down at Sydney airport at 7:30 a.m. local time on Sunday after completing a record breaking 19-hour flight from New York's John F. Kennedy international airport. The commercial flight had taken off from New York at 9:27 p.m. on Friday night, with just 49 people on board, including six pilots, six members of cabin crew (including a chef), the airline's chief executive, Alan Joyce, a group of journalists and reporters, and six frequent flyers, all brought on board to test the physical and mental effects of extremely long haul flights. The flight path covered 16,200 kilometres—about 900 kilometres more than the current longest commercial flight from Singapore to New York.
The Dreamliner was restricted to such a small amount of passengers to ensure it was light enough to make it from New York to Sydney with just a single tank of fuel. All the passengers were seated in business class and were allowed very minimal luggage.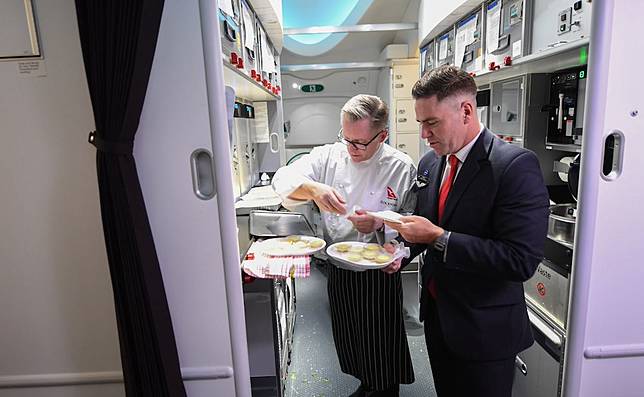 "We know ultra-long-haul flights pose some extra challenges, but that's been true every time technology has allowed us to fly further. The research we're doing should give us better strategies for improving comfort and wellbeing along the way," Joyce said in an on-board interview, as reported by The Guardian.
The passengers, pilots and cabin crew were each subjected to scheduled wellbeing checks, which were designed to test the effects of long haul flying. The crew members wore activity monitors and completed sleep diaries for the duration of the flight.
"The flight was very successful from two components," Qantas captain Sean Golding said. "The first one was research. And also the feat of distance—that flight last night was 16,200 kilometres. We were airborne for 19 hours and 16 minutes, and we landed here in Sydney with a comfortable 70 minutes of fuel."
The brand new Boeing 787-9 Dreamliner named Kookaburra was the first of three separate test flights that will each test extreme long haul commercial aviation. Qantas will continue the tests with a direct flight from London Heathrow to Sydney, which will take approximately 19.5 hours from take off to landing.
"This is the last frontier in aviation, being able to fly from the east coast of the United States to the east coast of Australia." Joyce said.