Struggling brokers are finding they can no longer rely on their traditional rescuers – mainland Chinese buyers willing to pay a healthy premium to get a foothold in the local market
Ten small brokers have had to shut their doors since the start of the civil unrest that has slashed their revenues by almost a third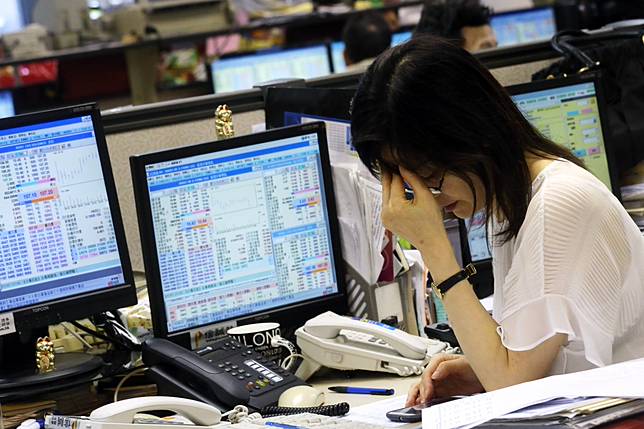 The civil unrest that has shaken Hong Kong to its foundations is taking a toll on small stock brokerage firms, forcing them out of business in unprecedented numbers, data from the stock exchange suggests.
With market turnover slashed by almost a third, struggling brokers are finding they can no longer rely on their traditional rescuers " mainland Chinese buyers willing to pay a healthy premium to get a foothold in the local market.
Of 13 brokerages that have shut up shop this year, 10 have done so since June 9, when massive pro-democracy protests began, according to figures from the Hong Kong stock exchange. That compares to seven closures in the whole of last year, and 11 in 2013, a record at the time.
"The unprecedented anti-government protests led market turnover down over 30 per cent year on year and hence commission has dropped by the same level," said Tom Chan Pak-lam, chairman of the Institute of Securities Dealers. "The minimum cost to run a local brokage firm is at least HK$300,000 per month. If the protests continue and market turnover continues to go down, more small players may leave the market."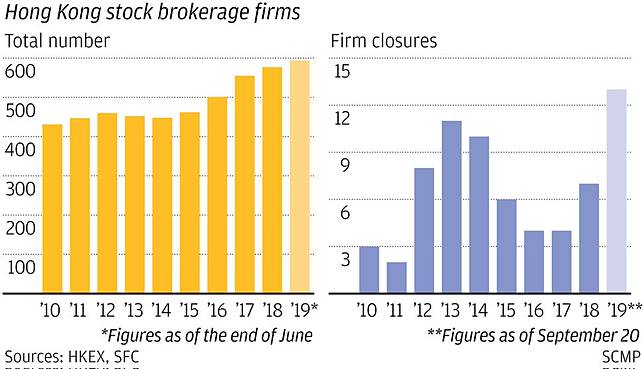 It was already a battle for survival among small brokerages. Of the 594 brokers operating in Hong Kong, the 65 largest enjoy market share of over 90 per cent, leaving only a small pie for the remaining players to fight over.
Many of the hardest hit firms decided their only option was to shut down when they found there was no longer any hope of selling their business at a decent price to mainland investors. In previous years there had been no shortage of Chinese buyers " mainly property developers with cash to burn " ready to snap up brokerages as a short-cut to enter the local stock market, according to Gordon Tsui Luen-on, chairman of the Hong Kong Securities Association, another industry body.
"Many wealthy mainlanders consider owning a Hong Kong-based brokerage firm to carry a prestigious social status " some are willing to pay as much as HK$20 million for a firm," Tsui said.
Their buying spree helped drive up the total number of local brokerage firms from a record low of 406 in 2006 to 594 at the end of June, before the recent protest-related closures.
Hong Kong unveils plans to repair damaged image as financial hub
But a combination of domestic policies making it hard for them to shift money out of the country, and the protests making Hong Kong a less attractive market, have all but killed the trend.
"Since China has imposed capital controls, fewer mainlanders have been able to get money out of the country to buy small brokerage firms in Hong Kong," Tsui said.
The asking price for a brokerage firm licensed to provide stock trading services, financial advice and asset management has now dropped to about HK$5 million, just a quarter of the peak level of HK$20 million in 2014 and 2015, according to Teresa Li, who works in a local brokerages she did not wish to identify.
"I have heard of several companies like ours put their licences on sale in the past weeks, and the asking price has been as low as HK$5 million. But still, it is very difficult to find a buyer," she said.
In order to entice a buyer, some local brokerages would need to add in other assets, businesses or licences, such as a mainland private-equity licence, to make themselves more attractive, she added.
The mainland buyers with an eye on local brokerage firms are usually Chinese property developers, who used to have easy access to capital and a keen desire to diversify their business in the offshore market, said Li. However, Beijing's policy tightening in the property sector has added stress to the developers' cash chains, pushing them to cut spending and rein in their offers for local brokerage firms.
Buying an existing brokerage with licences already in place has been a handy short-cut to avoid the lengthy process of getting approval from regulators " something that can take up to six months.
"Some people could not wait, so would rather pay the premium to get a firm that is ready to do business," said Daniel Wu, a senior officer with a brokerage firm.
Copyright (c) 2019. South China Morning Post Publishers Ltd. All rights reserved.