Lam to chair steering committee overseeing measures to cope with virus outbreak
Most kindergartens, primary and secondary schools will not reopen until February 17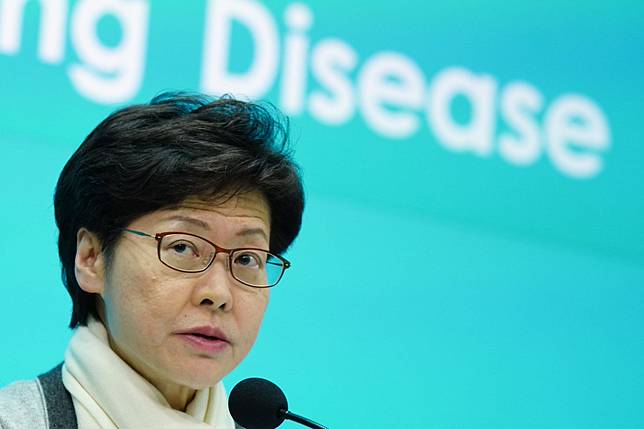 Hong Kong's leader Carrie Lam Cheng Yuet-ngor has declared the Wuhan coronavirus outbreak an emergency, raising the government's response from serious to its highest level.
She also confirmed an earlier Post report that schools in the city would remain closed for an extra two weeks and also that the Standard Chartered Hong Kong marathon would be cancelled. All flights and high-speed trains from Wuhan to Hong Kong would be suspended indefinitely to control the spread of the virus, she added.
Lam, who returned to the city on Saturday morning following a week's visit to Davos, Switzerland for the World Economic Forum, said she would personally chair an interdepartmental steering committee, that will issue strategic and other measures as soon as practicable.
The announcements came following mounting criticism over the past week on the necessity for these measures, which the government had been accused of being slow to implement. As of Friday, five confirmed cases of the coronavirus infection had been identified in Hong Kong. All patients had been to Wuhan, the epicentre of the outbreak in mainland China.
Lam also announced health declaration requirements would be extended to all entry points into Hong Kong, including the border crossings at Lo Wu and Lok Ma Chau.
"A false declaration will be punishable by six months in prison or a fine of HK$5,000," Lam said.
She said the government would also look to impose temperature checks for outgoing travellers, with priority given to those heading to Shenzhen and Macau.
Standard Chartered Marathon confirmed the cancellation of the race on its Facebook page, with about 70,000 participants affected.
"To support the government's epidemic prevention efforts, the organiser has decided to cancel the Standard Chartered Hong Kong Marathon originally scheduled for February 8 and 9," it said, adding all entry fees would be fully refunded.
Most kindergartens, primary and secondary schools in the city that were to resume on February 3 will now not restart classes until February 17.
Four experts, include Gabriel Leung, Keiji Fukuda, Yuen Kwok-yung and David Hui Shu-cheong, were named on an advisory group that would directly report to Lam.
Leung warned the virality of the new coronavirus was "no weaker" than (severe acute respiratory syndrome) Sars in 2003.
"There is no sign of a local outbreak in Hong Kong, only imported cases," Leung said. "Any foreign cases should be contained to stop them from infecting others through close contact."
Top microbiologist Yuen, of the University of Hong Kong, on Saturday warned the new coronavirus could be highly infectious and this was Hong Kong's last window to stop the outbreak from the border.
"Hong Kong or Macau or other world cities could easily become another Wuhan or another 2003 Hong Kong," Yuen said in an online message, referring to the Sars outbreak in 2003 that killed about 200 people, including eight medical staff.
Pro-democracy camp lawmakers and medical sector legislator Pierre Chan Pui-yin had earlier urged the government to stop traffic to and from Wuhan.
According to the MTR Corporation, two high-speed trains a day " one coming from Beijing and one from Tianjin " would pass through Wuhan on their way to Hong Kong via Shenzhen.
The railway giant said on Thursday the trains would stop only to allow passengers to get off.
There had also been no flights from Wuhan to Hong Kong since the mainland city was put on a lockdown on Thursday morning.
Meanwhile, Macau officials announced on Friday morning that the Lunar New Year holiday should be extended by a week for all schools except higher institutions until February 10, as it also urged private institutions to follow similar arrangements. Some 10 higher education institutions also said they would extend the holiday until February 11.
Copyright (c) 2020. South China Morning Post Publishers Ltd. All rights reserved.