Sunday's ugly battles end with police blocking campus exits, ordering radicals to leave
Campus a disaster zone as mob hurls petrol bombs at police, sets PolyU entrance ablaze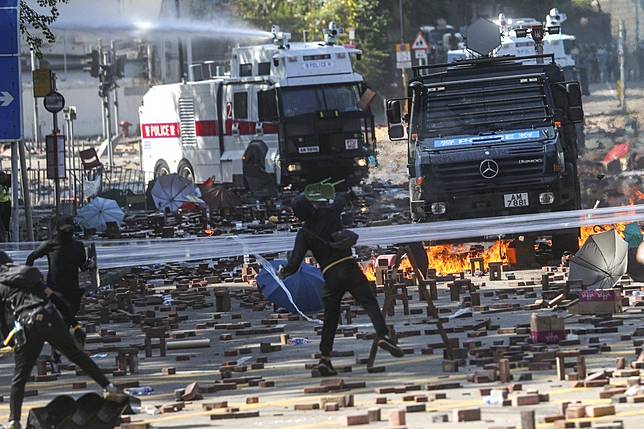 As late as Sunday afternoon, masked radicals and their supporters could still reach the campus of Hong Kong Polytechnic University in Kowloon, walking over from nearby Jordan MTR station.
By evening, however, all roads to the campus were blocked by riot police.
When the hundreds of radicals on campus realised that they had been boxed in, the reality of their situation hit home.
Some were panic-stricken, knowing it was now too late to get out without facing arrest for rioting, an offence that could mean 10 years behind bars.
Others felt they had no choice but to dig in and press on, hurling more petrol bombs at the police. But even they knew their supplies were running low.
"I am worried about my safety, but there is no way out now. I have no choice but to stay till the end," a 20-year-old said on Sunday night, after learning that police had blocked all exits.
Radicals took over the campus days earlier. It was a disaster zone through much of Sunday evening. Loud explosions could be heard. They threw a large number of petrol bombs at police, who responded with tear gas and water cannons. Footbridges were set on fire as radicals tried to block officers.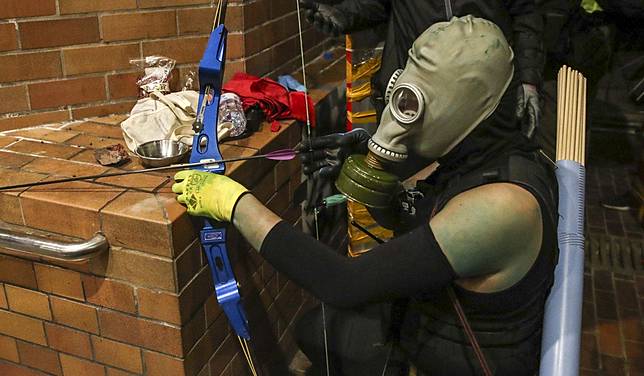 A police armoured vehicle at a flyover next to the campus was set on fire. The driver had to put the vehicle in reverse, rumbling away from the crowd who kept pelting it with petrol bombs.
At 8.30pm, police announced over Facebook that anyone who chose to stay on campus faced being arrested for rioting. An hour later, police said everyone leaving the campus had to go through Block Y of the Lee Shau Kee Building.
It did not say if those who left would be arrested.
"This is the last chance for you to come out," an officer at Block Y shouted to those inside.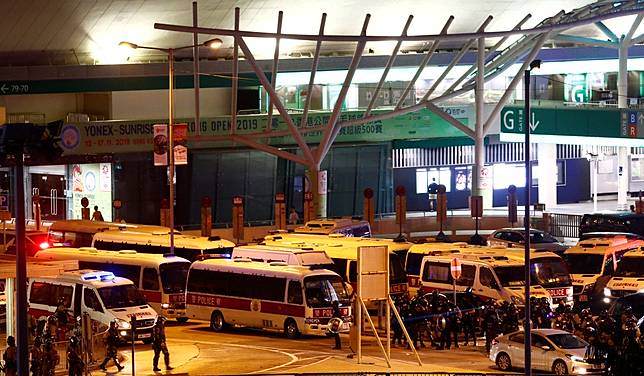 Among the first to go through Block Y were some first-aid volunteers, who had earlier tried getting out via other exits, only to find them all blocked. Some journalists who were on campus also emerged.
Police officers at the block ordered them all to raise their hands, get in line and walk for about five minutes to a police checkpoint.
Are Hong Kong's universities becoming 'weapons factories' as claimed by police?
An officer at the scene shouted: "Arrest them for aiding in rioting!"
Four journalists from online media and two people in paramedic vests were seen being arrested at the checkpoint. Only mainstream journalists were allowed to go.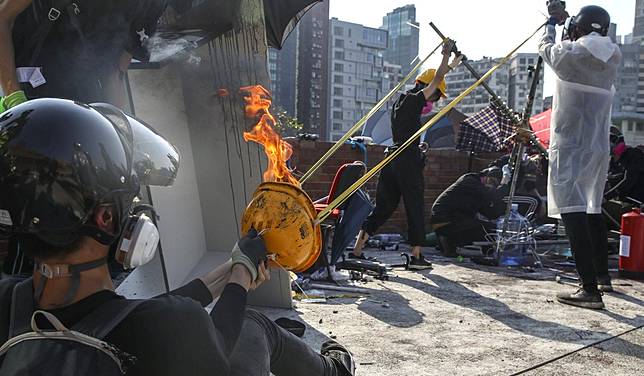 The Hong Kong Journalists' Association then intervened and successfully lobbied police to let journalists from online media and student publications leave too. Police allowed the first-aid volunteers and journalists to leave through Science Museum Road, near Concordia Plaza.
Among those who got out was a human rights observer, who was frisked and had his bag searched.
"I left soon after seeing the police armoured vehicle getting hit by petrol bombs on the bridge," said the man, who asked not to be named.
It is not known if any radicals tried to leave through these two exits on Sunday night.
A message spray-painted on a building said: "Some people moved on. But not us."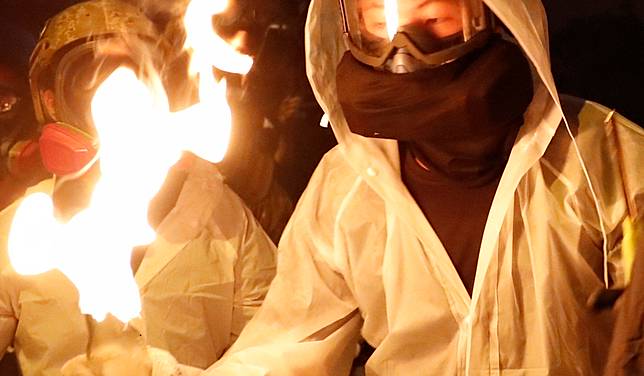 Overnight, those still on campus were desperately making petrol bombs.
Clashes occurred sporadically, then escalated at about 5.30am on Monday when water cannons were used on radicals guarding the campus entrance on Cheong Wan Road. Police then fired multiple rounds of tear gas and rubber bullets at the mob.
Riot police then suddenly charged and subdued several people.
Fearing that police would storm the campus, radicals threw numerous petrol bombs at the campus entrance, setting it ablaze.
More than 400 radicals arrested as they try to escape from university campus
"Police have been taking action against us since 10pm," a masked radical said in the early hours of Monday. "We are all very exhausted. Our resources are also running low. I am feeling desperate."
Wearing a yellow helmet and gas mask, a woman said: "I am prepared to be arrested. Everyone here thinks the same."
At 8am on Monday, about 100 radicals tried to leave the campus through Science Museum Road but police fired tear gas at them. Others tried in vain to get through the police cordon at Austin Road and Chatham Road South.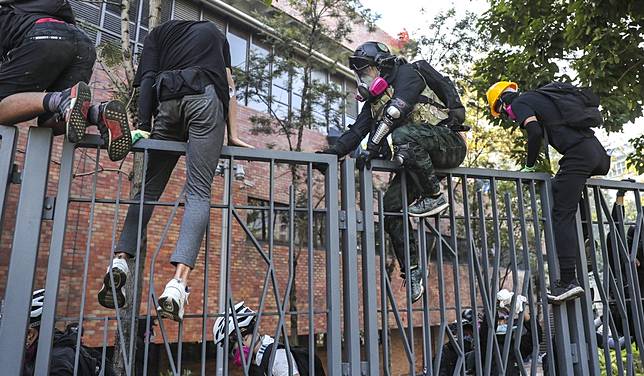 About four hours later, a group of radicals ran out of the university's main entrance on Cheong Wan Road. Police again responded with tear gas and water cannon. Several were arrested while others clambered over fences to get back inside the campus.
"Half of us want to leave, half of us want to stay," a PolyU alumnus surnamed Chan said from inside. "It's not that we don't want to leave, but there is no way out for us. There will be arrests whether you leave or not. We are staying behind … to buy time."
How a Hong Kong university morphed into a base for protesters
Ken Woo Kwok-wang, acting president of the PolyU student union, said there were still about 700 people inside the campus on Monday. He thought one person managed to escape in the morning.
"Hong Kong police are creating a humanitarian crisis inside PolyU," he said. "There is insufficient food and the number of injured is on the rise and the hygiene situation is getting worse. They are trying to push the students to a dead end, forcing them either to surrender or resist by putting their lives at risk."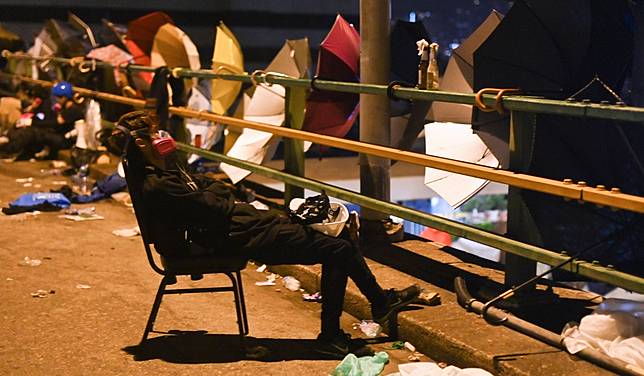 There were also about 50 first-aid volunteers inside the campus.
According to police, 51 people who could not provide journalist or first-aid accreditation were arrested on Sunday. Since the social unrest erupted in June, 4,491 people aged 11 to 83 have been arrested.
Throughout Monday, supporters and family members of those still inside the campus were gathered nearby, waiting for news.
Anxious mother Cindy Hui was worried about her 17-year-old son, but said she understood why he was staying inside.
"He really wants to come out. A lot of them are really tired, but they can't, leave" Hui said, adding that those inside knew they would be arrested if they went through the exit manned by police.
She revealed that she quarrelled with her son when he went to the PolyU campus last Thursday.
"I told him, if you go to PolyU then don't ever come back. I won't bail you out," she said. Then she added: "Maybe I should have come to get him out on Saturday. He is still my son, although he has his own way of thinking."
A mother with two daughters on campus was in tears as she said: "It has been tough raising them as a single mother. I don't understand why the police have to suppress students this way."
Chief Superintendent Kwok Ka-chuen of the Police Public Relations Branch said the force was looking for a peaceful way to end the PolyU stand-off and get the radicals out.
"If they will drop their weapons, follow police instructions and shoulder their legal responsibilities, police will not use force," he said.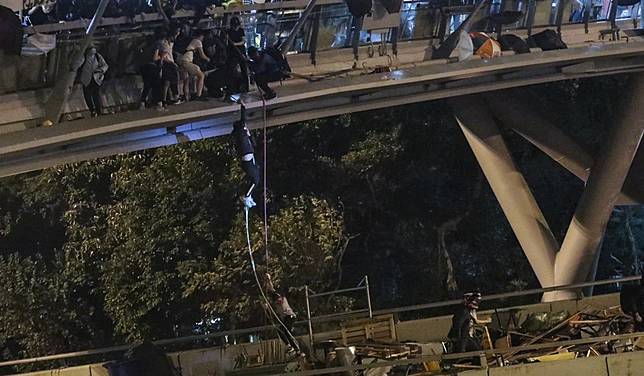 At about 9pm on Monday, dozens of radicals managed escaped by abseiling down to a highway from a campus footbridge, with their window to freedom lasting only about five minutes before police sealed off the area, according to sources.
Copyright (c) 2019. South China Morning Post Publishers Ltd. All rights reserved.