Five-time major winner says he would like to play another one-on-one contest with Masters champion Woods
Pair had a match play duel last year, which attracted much attention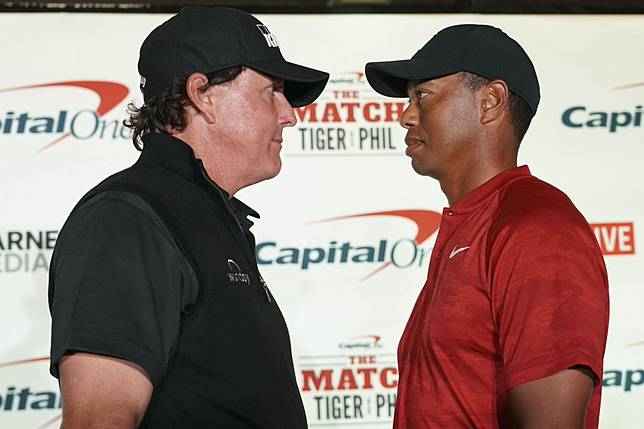 Five-time major champion Phil Mickelson says he wants to run back his 2018 head-to-head duel against Masters champion Tiger Woods, and suggested the duo could be joined by "other athletes" in a pairs format next time around.
"I really enjoyed it," Mickelson said. "I hope that Tiger and I will do more events like that in the future with partners, because we didn't have enough talking between us and I think that a partner will have more interaction.
"(The partners) could be other athletes, that would bring a certain element too," added Mickelson, who enjoys a warm friendship with Golden State Warriors basketball star Stephen Curry and with whom he recently partnered in a pro-am event.
The 49-year-old said the pair's hectic schedules had proven to be a stumbling block in organising the rematch so far but was hopeful it would happen.
"This year was an awkward year because (Woods) is captain of the President's Cup team, he has his tournament in Bermuda, it would have been difficult going back and forth," Mickelson said.
Speaking in Macau on Tuesday, the five-time major champion said he believes the format could also play an important role in the future development of the sport.
I think it's a great opportunity if we can put golf on prime time " when it's not normally viewed " and in a unique situation that gets interestPhil Mickelson
"Over four rounds, you sometimes lose interest, or you don't have the players that you want to follow going head-to-head for the tournament title. So having one round match play like that, you have the players that you want going head-to-head for the trophy."
Mickelson was victorious in the inaugural edition played in November last year when he secured the US$9 million winner's cheque on the fourth sudden-death hole with the pair all square through 21 holes.
The 2018 clash was held at Shadow Creek in Las Vegas and was a ratings hit, broadcast across the world on pay-per-view, though some criticised the spectacle for failing to live up to the hype.
Gambling played a prominent role in the event with Mickelson and Woods agreeing a series of play-related wagers throughout the contest with the proceeds going to charity.
Phil Mickelson on how a bad diet led to him developing arthritis and how his new regime is paying off
Mickelson, who led a Sands China youth coaching clinic in Macau along with Chinese No 1 Li Haotong on Monday, highlighted the potential of the head-to-head format to provide a prime time TV platform for golf and appeal to a younger generation.
"I think it's a great opportunity if we can put golf on prime time " when it's not normally viewed " and in a unique situation that gets interest, because golf has a hard time gaining extra interest from those that aren't your normal golf fan watching it on Sunday. I think it opens it up to a new market."
Copyright (c) 2019. South China Morning Post Publishers Ltd. All rights reserved.