Lawmakers write to Secretary for the Civil Service Joshua Law, claiming Sergeant Lau Chak-kei gave 'political speech' and breached code
Police and Civil Service Bureau choose not to comment on the case but say their staff enjoy the same rights as any other Hongkonger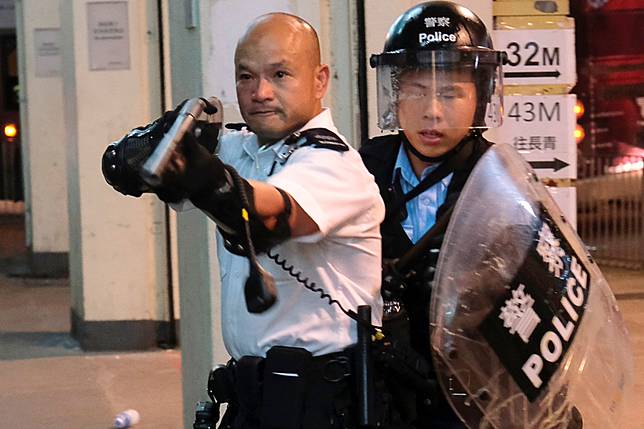 Pan-democrat lawmakers in Hong Kong have hit out at a police officer celebrated across the border for "political comments" he made on Chinese social media against the city's government and judiciary officials.
Sergeant Lau Chak-kei became a celebrated figure in mainland China after he raised a shotgun at anti-government protesters, who threw objects at him, at Kwai Chung in July.
Lau, who opened his account on Weibo in 2011, saw a surge of new followers there following the incident, rising to more than 867,000 people on Tuesday.
He was also among some Hong Kong police officers invited to the celebrations of the 70th anniversary of the founding of the People's Republic of China in Beijing.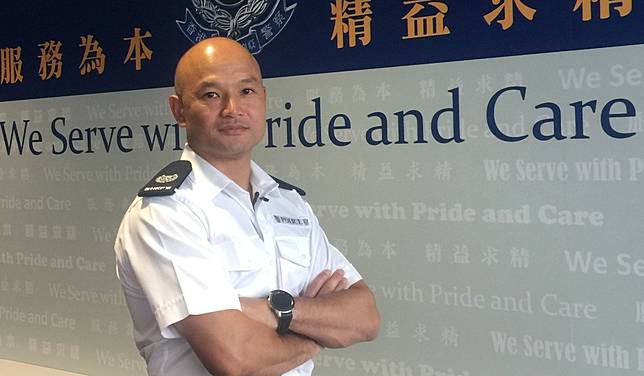 In a letter to Secretary for the Civil Service Joshua Law Chi-kong on Tuesday, 24 pan-democrats said Lau often gave "political speech" on Weibo and questioned if the practice was in conformity with the Civil Service Code and the Police General Orders. They also referred to his comments which described protesters as "cockroaches".
Chapter six of the Police General Orders says police officers should not take part in political activities, including "speaking publicly … on matters of a political nature other than in the course of official duties".
On Monday, Lau commented on Secretary for Home Affairs Lau Kong-wah's claim that he and Chief Executive Carrie Lam Cheng Yuet-ngor had spent four hours engaging in an "in-depth dialogue" with people, including hard core protesters.
Petition calls on Hong Kong university chief to 'condemn police brutality'
Lau wrote he found it "unimaginable" that officials would meet "rioters".
"Is this still the rule of law? How will I enforce the law in the future?" he wrote on Weibo.
A government source said Lam took part in two closed-door dialogue sessions with the city's young people from various sectors in September.
"More than a dozen people, including some who had taken part in anti-government protests, were invited to the sessions," the source said.
"But they are peaceful demonstrators, not radical frontline protesters. Some of them served as first-aiders during protests."
Earlier this month, Lau shared a media report that mentioned police officers were having difficulties obtaining search warrants from Hong Kong's magistrates.
The claim has not been confirmed by the judiciary, but Lau said the magistrates had acted in a way that was "no different from encouraging rioters to break the law".
"A fair judiciary? Laughable!" he wrote.
Police officer who pointed shotgun at protesters featured on Chinese state television
The lawmakers questioned whether Lau had not breached his codes of service ethics, adding: "(If he has breached the codes,) will he face any punishment?"
The Civil Service Code stipulates that employees on public payroll, including police officers, shall remain politically neutral while discharging their duties.
Both police and the Civil Service Bureau did not comment on the sergeant's case, or make clear if there has been any breach of the codes.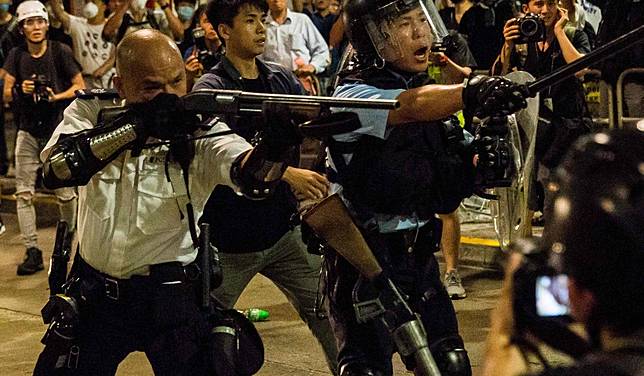 Police said they had issued guidelines to officers on using social media, adding that their staff had the same rights as the people of Hong Kong.
The bureau said civil servants were required to make sure the views they expressed did not give the impression that they would divert from the principle of political neutrality when exercising the duties.
Former Independent Police Complaints Council member and legal scholar Eric Cheung Tat-ming said the sergeant's comments were "problematic".
Policeman who pointed shotgun at protesters among officers invited to Beijing celebrations
"The Police General Orders limit the actions and speech of police officers, as you cannot affect the public perception that officers carry out their duties with political neutrality," Cheung said.
Lau was not the only officer who had a Weibo account and Cheung said the force seemed to have no control over its officers' speech.
Meanwhile, lawmakers have got time until December 4 to scrutinise the controversial mask ban. If the law is not repealed or amended before that, it will continue to be in effect.
The Legislative Council subcommittee scrutinising the bill got off to a chaotic start on Tuesday, as pro-democracy lawmakers raised points of orders before the vetting could proceed.
They were protesting against a presentation slide from Mimi Lee Mei-mei, the deputy secretary for security, who showed pictures of protests descending into violence and arson at railway stations.
"Just cut the crap and go straight to business! Don't waste time!" Tanya Chan, the convenor of the pro-democracy bloc, said.
Hong Kong rejects Taipei's 'totally unacceptable' offer on murder suspect
Sonny Au Chi-kwong, the undersecretary for security, said the mask ban was only a temporary measure to quell the violent protests.
"When the violent incidents die down to a point where there is no reason to continue with the law, we will ask the Chief Executive in Council to repeal it," Au said.
But he said the law was justified for the moment to deter demonstrators from joining violent protests and masking their identity from criminal liability.
Additional reporting by Gary Cheung
Copyright (c) 2019. South China Morning Post Publishers Ltd. All rights reserved.