One soldier says action has nothing to do with the Hong Kong government
More than 400 soldiers were deployed just over a year ago to help clear-up operation following Typhoon Mangkhut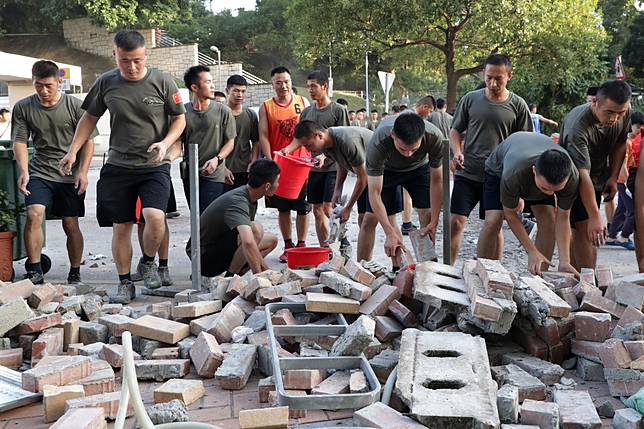 Soldiers from the Chinese army have been deployed for the first time in more than five months of civil unrest in Hong Kong, as dozens marched from their Kowloon garrison on Saturday to help clear roadblocks.
It was also the first time in more than a year that the People Liberation's Army local garrison had been involved in public community work. In October last year, more than 400 soldiers were also sent in batches to Hong Kong's country parks to help remove trees felled during Typhoon Mangkhut a month earlier.
The soldiers, mostly in green T-shirts and black shorts, and carrying red buckets, ran out of the PLA's Kowloon Tong barracks at about 4pm to clear obstacles on Renfrew Road, near Baptist University's campus.
A soldier said their action had nothing to do with the Hong Kong government.
"We initiated this! 'Stopping violence and ending chaos' is our responsibility," he said, quoting a phrase coined by President Xi Jinping.
Firefighters and police officers also joined in later to help.
Before the soldiers showed up, about 20 people were clearing the roadblocks. They brought with them trolleys to move bricks and other objects onto the pavement.
The People's Liberation Army is seen clearing barricades outside Baptist University. #HongKongProtestsVideo:SCMP/Victor Ting pic.twitter.com/qi9Miwndnl

" SCMP Hong Kong (@SCMPHongKong) November 16, 2019
Last year, Secretary for Security John Lee Ka-chiu said the PLA could freely decide on whether to send soldiers in to perform volunteer services outside military sites and the local government had no record of how many times this had happened.
Under the city's Garrison Law, and the Basic Law, the city's mini-constitution, the PLA must not interfere in local affairs but troops can be called out to help with disaster relief or maintain public order if requested by the local government.
Such a request has never been made since the city returned to Chinese rule 22 years ago.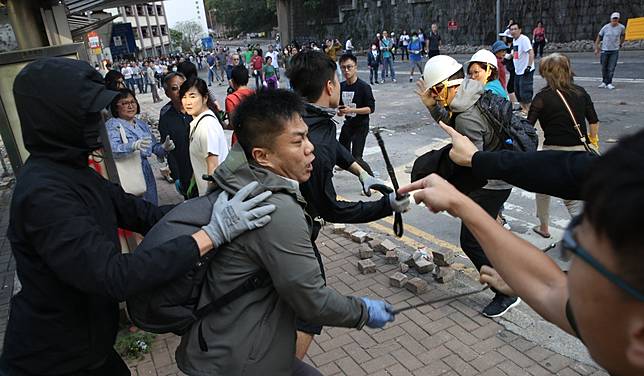 The Garrison Law also states the Hong Kong government should be notified if the army plans to conduct any military activities, such as training exercises, which may affect the public interest.
Security veteran and Democratic Party lawmaker James To Kun-sun said he believed the move by the PLA was not ordered by the chairman of the Central Military Commission. He called on the government to explain if the soldiers were out because officials had made a request based on the Garrison Law or on other legal grounds.
"This time, it doesn't look like voluntary service," he said, referring to the soldiers' previous participation in tree planting. "It's more like assisting the maintenance of public order."
He said if the operation was not based on the Garrison Law, then the soldiers should not come out to clear bricks. "It could be dangerous," To added, referring to potential clashes between them and protesters.
"They may say PLA soldiers have been attacked … then they can use heavy weapons. This is the most worrying thing."
To said he felt the soldiers were trying to make an impression on the public and allow people to get used to them carrying out activities outside the barracks.
Executive councillor Regina Ip Lau Suk-yee, also a former security minister, said she believed the soldiers were only working as volunteers to help Hong Kong citizens clear the road.
"They are not carrying out military duties. Their help was greatly appreciated and welcomed by the people," she said.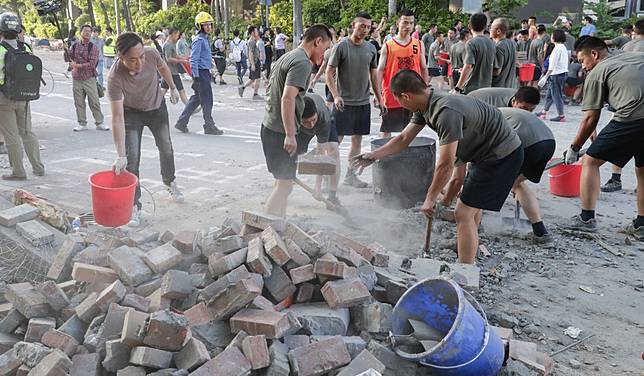 Outside the University of Hong Kong, hundreds of residents and alumni arrived at about 3pm and started to clear obstacles which had been blocking Pok Fu Lam Road since Tuesday.
The operations were largely peaceful, though a fight broke out when a man got into an argument with another person outside HKU. Separately, a petrol bomb was also thrown from a footbridge above Pok Fu Lam Road.
Some volunteers, wearing construction gloves and masks, also brought with them metal poles to dismantle a cement mount and brick wall built by protesters.
At 4.25pm, about 50 PLA plainclothes soldiers were seen clearing bricks and roadblocks on Renfrew Rd in Kowloon Tong. A person giving commands to others said the police force had not asked them to volunteer. "Stopping violence is everyone's duty."Video: SCMP/Victor Ting pic.twitter.com/JwBIb8tFMu

" SCMP Hong Kong (@SCMPHongKong) November 16, 2019
Some protesters shouted: "Hurry up!" as they watched the obstacles being removed.
Maxine Yao Jie-ning, a district council election candidate, was an organiser of the campaign. She cited the need for Hong Kong residents, including cancer patients, to reach the hospital, as a key reason she called on Hong Kong alumni to help clear the road.
Yao is running in the Southern district's Pok Fu Lam constituency, against pro-Beijing candidate Siu Wai-chung and incumbent district councillor Paul Zimmerman.
By 4pm, ambulances, cars and taxis were starting to use the section of the road for the first time in the last few days and the volunteers cheered and applauded.
Among those clearing the roadblocks was former Executive Council member Franklin Lam Fan-keung. "It's easy to destroy, but hard to build," he said.
PLA soldiers and residents clear roadblocks on Hereford Road. #HongKongProtestsVideo: SCMP/Victor Ting pic.twitter.com/2hjk3lLPNv

" SCMP Hong Kong (@SCMPHongKong) November 16, 2019
There were several tense moments between those clearing the road and a group of protesters who remained on the street, sitting in a line in front of one of the barricades.
"We have to help Hong Kong, and we have to help ourselves," said Pauline Ho, 54, who came from Kowloon to help out and said she was not an alumni.
At Chinese University, a graduate had been on the campus since noon helping to clear bricks off the roads.
"I don't have a car so it's not very useful if I help with packing up food or medical materials, but I still think we should help restore the campus," he said.
But at the Polytechnic University, the Cross-Harbour Tunnel remained closed as no one was clearing the roadblocks.
Additional reporting by Kinling Lo
Copyright (c) 2019. South China Morning Post Publishers Ltd. All rights reserved.