Hong Kong leaders who claim not to know what is behind the violence strafing the streets need only look in the mirror. Their arrogance, self-entitlement and ignorance are the ultimate cause.
But they are not alone, as we are seeing with their counterparts in the West, the United States' Donald Trump, Britain's Boris Johnson and Australia's Scott Morrison among them.
Whatever the protesters' demands, at the root is a struggle between baby boomers on one side and millennials and Generation Z on the other.
I am surprised that the viral social media catchphrase "OK boomer" has yet to catch on in Hong Kong.
Teenagers to those in their mid-30s are using it in a derogatory manner to reply to baby boomers, that generation born after WWII between 1946 and 1965 who are often considered out of touch or resistant to change.
It fits in perfectly with our city's circumstances; all those in charge are boomers who have never experienced the war and hardship of their parents and have grown wealthy from the decades of economic growth and opportunities handed to them.
In power, they have colluded with the rich, shaped policies to their benefit at the expense of the majority, and largely ignored the crumbling social mess that they and their cohort have created.
At the helm of the city are the boomers par excellence, Chief Executive Carrie Lam, 62, and deputy leader Matthew Cheung, 69, the chief secretary.
They have overseen more than five months of mass protest, violence and mayhem with little more than condemnation of radical demonstrators and support for police, essentially parroting their master, Beijing.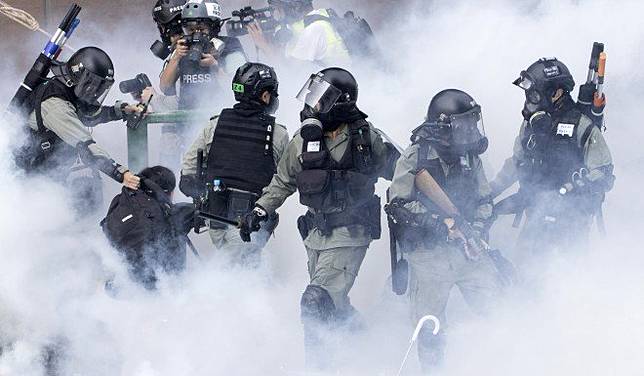 Endless calls by activists for an independent inquiry into alleged police brutality, for genuine democracy, amnesty for those arrested and Lam's resignation have been ignored.
What requires a political solution has instead been consigned to police officers, leading inevitably to escalation, bloodshed and increasing numbers of deaths.
Cheung showed his true colors before lawmakers last week. Asked what he believed was behind the anger, he said it could be any number of reasons and anyway, he did not have access to a public opinion poll for guidance.
He took a valiant guess, suggesting housing, the wealth gap, social mobility and the like, although he conceded police actions may also be of concern to some people.
Can this truly be Hong Kong's second-most important official, the person behind everyday policy and the one we rely on to keep the city running efficiently, effectively and smoothly?
He is not the only one apparently living in a parallel universe. Justice Secretary Teresa Cheng, 61, was in Britain last week to promote Hong Kong as a center of dispute resolution.
She hurt her arm when she fell while being jostled by Hong Kong protesters, the first such confrontation since the crisis began.
As the official overseeing the extradition bill that sparked the protests, taking on such a role is ironic. Promoting the city in such a way at such a time is misguided.
The wanton damage of radical protesters can never be condoned, but condemnation and focusing on ending the chaos without regard for what is behind it is a doomed strategy.
I am less angry with the pointless vandalism than the ignorance of those paid so handsomely to manage our city and their failure to even acknowledge peaceful protesters.
Officials are wilfully eroding guaranteed freedoms and their inaction has damaged trust in vital institutions, perhaps irretrievably.
But they are not alone, of course; leaders of the baby boomer generation are the reason that Hong Kong and the world are struggling with wealth gaps, aging societies, unaffordable housing, climate change and social welfare dilemmas like flawed pension schemes.
It is little wonder that young people, those protesting in our city among them, are so angry about the governments that have given them so little hope in one day being able to get a good job, buy a home and raise a family.
*Peter Kammerer is a columnist for the South China Morning Post. *
Copyright (c) 2019. South China Morning Post Publishers Ltd. All rights reserved.