The approval from the assistant commissioner came a month after extendable batons were issued for the same purpose
Only officers trained in the use of pepper spray will be eligible to carry it during off-hours, and its use will be governed by the force's guidelines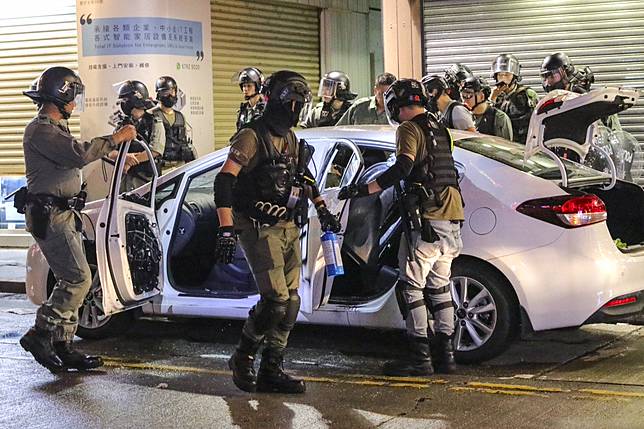 Hong Kong's police force has announced that off-duty police will be given pepper spray to "execute constabulary duties" amid increasingly violent clashes with anti-government protesters.
The approval from the assistant commissioner, which will apply from Tuesday, came a day after a sergeant was slashed in the neck and two other plain-clothes officers assaulted, and a month after extendable batons were issued to off-duty officers for the same purpose.
An internal memo issued by Support Wing of the 31,000-strong force on Monday said: "to meet operational needs for Operation Tiderider, a blanket approval has been given by Assistant Commissioner of Police, Support (Rebecca Lam Hiu-tong) to allow police officers to be issued with an extendable baton for the purpose of executing constabulary duties whilst off duty."
Tiderider is the code name for the police operation dealing with current anti-government demonstrations, which started in early June as opposition to the now-withdrawn extradition bill.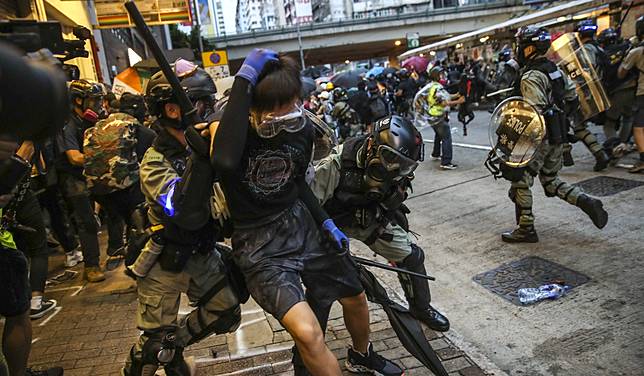 "With effect from October 15, the blanket approval will be extended to cover the issue of an OC Foam (Oleorsein capsicum) to eligible officers for the same purpose," the note stated, referring to pepper spray.
The crowd control device has been commonly used for public order policing in Hong Kong. It irritates the eyes, causes a burning sensation, pain and temporary blindness, making it easier for police to restrain protesters.
Hong Kong protests and 'fake news': in the psychological war for hearts and minds, disinformation becomes a weapon used by both sides
The internal memo said only officers trained in the use of OC Foam will be eligible to carry it during off-hours, and its use will be governed by the force's guidelines. Officers will be required to report the use of OC Foam to their immediate supervisor and regional commander and control centre "as soon as practicable". The formation commander will have to assess the incident and submit an initial report.
The memo said eligible officers could approach the police armoury and stores to receive the OC Foam and respective pouches. It said the force was purchasing additional pouches to accommodate the move.
On Sunday, a sergeant was slashed with a box cutter by a man, and left with a 3cm wound to his neck. The officer had been deployed to Kwun Tong MTR station at about 5.30pm, responding to reports of criminal damage by a group of men wearing black.
The group had left the scene by the time the sergeant arrived, but a man in a black shirt suddenly emerged from the crowd and assaulted him with the cutter, leaving him with cuts to his jugular vein and nerve. He was conscious when he was sent to United Christian Hospital.
In a separate incident at about 7.30pm on Sunday, two plain-clothes officers were identified and hit with hard objects in Tseung Kwan O.
One of them was seen apologising to assailants when they discovered he was a police officer. The pair suffered multiple injuries and were left bleeding from the head and body. Both were sent to Tseung Kwan O Hospital for treatment.
In an article on Monday, Beijing mouthpiece People's Daily condemned the "murderous" acts by Hong Kong protesters, and urged the courts not to show leniency to them.
"People expect the courts to uphold the rule of law and do justice when adjudicating these cases, and not let savage rioters go unpunished," it said.
The originally peaceful street protests, which started more than four months ago, have been marred by violent clashes between the police and protesters recently, with a radical faction of protesters attacking officers with petrol bombs, bricks and sticks, and riot police firing tear gas, rubber bullets and beanbag rounds.
Police fired live rounds during clashes last month, shooting a 18-year-old boy in the chest, and a 14-year-old in the leg.
Copyright (c) 2019. South China Morning Post Publishers Ltd. All rights reserved.