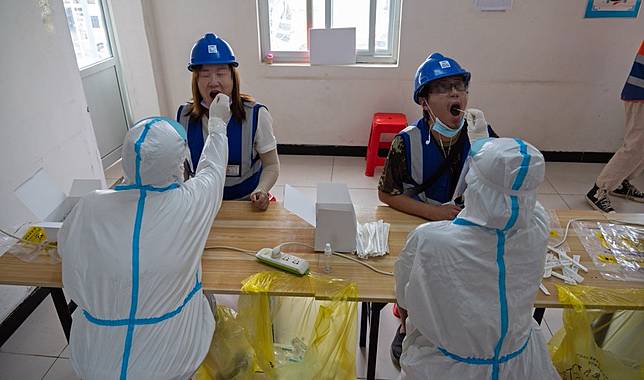 Medical staff members take throat swab samples from construction workers at a temporary sampling site in Daxing District of Beijing, capital of China, July 2, 2020.(Xinhua/Cai Yang)
The relaxation in the travel restriction will be effective starting this Saturday as the numbers of new confirmed COVID-19 cases continue to wane. 

BEIJING, July 3 (Xinhua) -- Nucleic acid test certificates will no longer be required for people traveling out of Beijing from the capital city's low-risk areas, though strict prevention and control measures remain in medium- and high-risk areas, authorities said.
The relaxation in the rule will be effective starting from Saturday, Pan Xuhong, deputy head and spokesperson of the municipal public security bureau, told a press conference on Friday.
The situation is improving in Beijing, with the numbers of new confirmed COVID-19 cases waning, Pan said.
Beijing reported two new confirmed domestically transmitted COVID-19 cases on Thursday, the municipal health commission said Friday.
One asymptomatic case and one suspected case were also reported, and three people were discharged from hospital after recovery on Thursday, the commission said in a daily report.
Authorities have tracked 204 close contacts of the asymptomatic case, and they are under medical observation.  ■