The Karimunjawa archipelago boasts pristine, near-deserted beaches and clear waters ideal for diving. They are reassuringly hard to reach, as well
Go beach and island hopping, or walk through mangrove forests, and wind down at the end of the day on the appropriately named Sunset Beach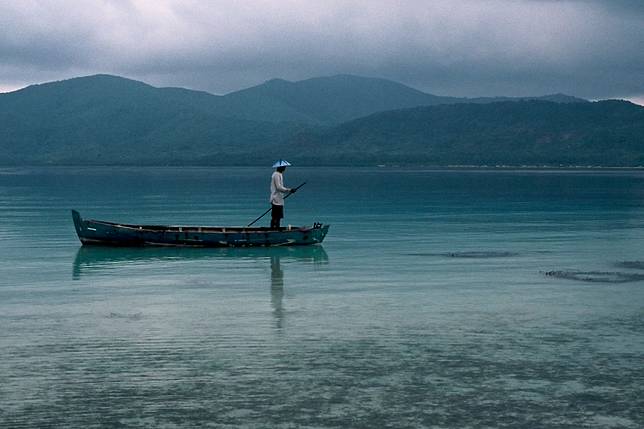 Gasps ripple through the cabin of the turboprop plane as a small group of tourists catch their first glimpse of the marine paradise we're headed towards. Phones are pushed against windows as we fly over an abstract canvas of colour.
Below us, the navy blue sea is peppered with tufts of lush green. Stretches of blinding white sand fringe the turquoise waters that surround a sprinkling of islands, each protected by a jagged coral reef.
This is Karimunjawa, an Indonesian archipelago that, while crowds flock to Bali, Lombok and increasingly Komodo, has stayed off the tourist radar despite its natural beauty. Sitting off the coast of Central Java, the area is speckled with a chain of 27 coral-fringed islands, many of them deserted.
Among them is Karimunjawa Island, after which the archipelago is named; with a population of 9,000, it is a tranquil spot where visitors can enjoy its pristine nature, vibrant underwater world and warm hospitality.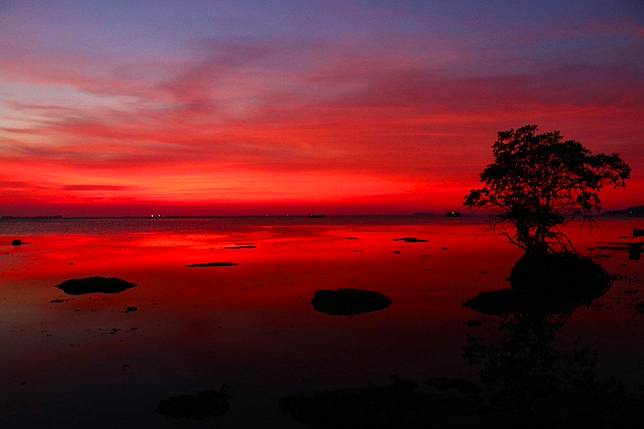 Getting there isn't easy. The island's only airport, Dewadaru Airport, is tiny and only welcomes a small number of domestic flights each week. Accommodation is boutique, the food is mostly local, the drinking of alcohol is restricted to a handful of restaurants and bars, and, away from the main town, amenities are few and far between " the island only got 24-hour electricity two years ago.
This is all part of Karimunjawa's charm. With six lazy days ahead of us, my friend and I book our first night at Bugis Cottage Batulawang (rooms from US$14 a night) close to the airport in the north. A short drive along the sole tarmacked road that circumnavigates the island and down a track through forest and we are at the foot of one of the beaches we'd spotted from above.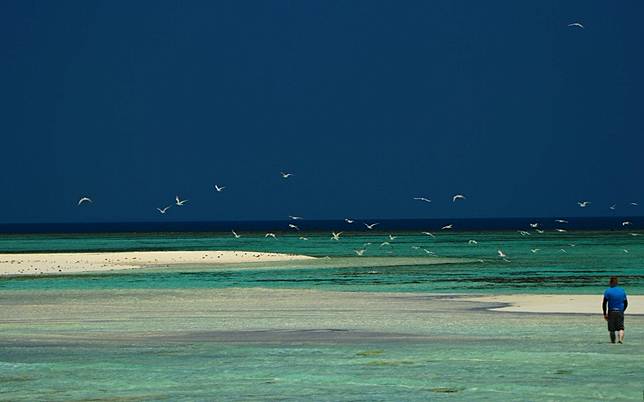 Five basic huts built by the family who run the resort look over manicured gardens that run to the private beach. White sands stretch to the horizon, the sea is wonderfully clear, and the low tide allows us to wade a good way out, almost to where the waves crash against the coral.
With no Wi-fi available, we while away the evening exchanging stories with one of the owners' sons, Sofian Le, learning about the hardships of island life while feasting on a spread of fresh prawns, fried chicken, spicy salad, rice and fried bananas.
The island is idyllic for visitors, but Sofian says growing up there is tough. Fishing dominates the economy, but as fish stocks shrink because of climate change, overfishing and other factors, it is becoming harder to earn a living each year. As a result, young people have to migrate elsewhere in Indonesia to find jobs.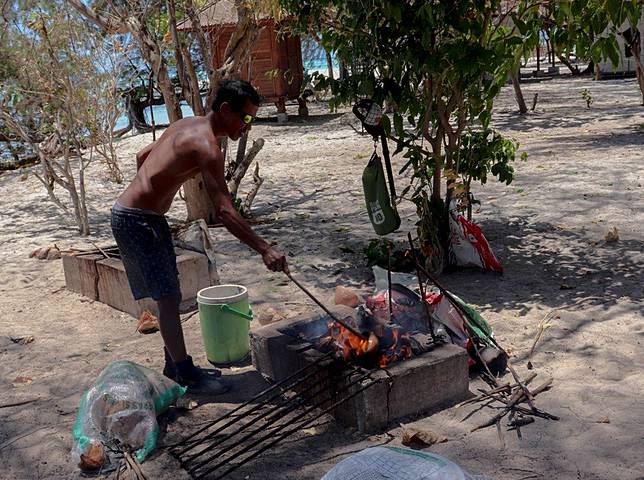 The following day, we catch a pre-booked taxi to the main and only town, also called Karimunjawa, on the island's southern tip. Our 30-minute drive takes us past jungle dotted with pretty pastel houses and ornate mosques, the trees occasionally parting to reveal breathtaking seascapes.
We spend our second night at Omah Alchy Cottages (from US$39 a night), about a five-minute drive from town. Here, the lack of beach is made up by the resort's abundance of charm.
Four brightly painted spacious villas, flanked by lush mangroves, sit amid gardens dotted with hammocks, swinging chairs and sun loungers. A wooden pier juts out into the sea " it's the perfect spot to watch the sunset.
While islanders refer to the compact town of Karimunjawa as the "city", it doesn't fit their description. Quiet, narrow roads are flanked by small one- and two-storey family-run stores, concrete and wooden homes with low sloping roofs, and a scattering of guest houses and restaurants.
Each evening, locals gather at the park, a patch of grass that transforms into a lively food market. Plumes of smoke waft from stalls and women crouch over trays of glistening seafood. Parrot fish, squid, prawns, and stingray are quickly gutted, rigorously washed and prepared in front of you, slathered in spicy sauce and grilled on a barbecue. Once ready, the food is delivered to diners sitting on a mat at low plastic tables.
A day snorkelling with 10 other local and foreign holidaymakers in Karimunjawa Marine National Park introduces us to more of the archipelago's extraordinary underwater scenery; we swim above vibrant sea gardens, forests of sea grass and seaweed beds, fans of colourful coral, and shoals of fish
In 1999, the Ministry of Environment and Forestry declared 111,625 hectares of the archipelago a marine national park. Two years later, 110,117 hectares of the park were declared a Marine Protection Area " one of the first of six in Indonesia.
Excited chatter erupts as we approach our lunch spot, Pulau Cemara Besar. The small island is surrounded by shimmering, shallow waters; even at high tide, our boat must dock a good way from its white-sand shore.
After wading through warm, thigh-high, waters, our crew fire up coconut husks to barbecue fresh fish, accompanied by rice, Tempe crackers, salad and fruit. After eating, we each find a secluded spot and snooze under the dappled shade of pine trees as waves gently caress the sand.
My first tentative foray underwater has given me an appetite for more, and two days later I find myself clinging nervously to the side of a boat bobbing in the Java Sea, about to go scuba diving in open water for the first time.
My diving instructor team and my friend " an experienced diver " convince me that the archipelago, with more than 250 species of reef fish and 100 species of corals, warm waters and few strong currents, is a top diving spot. As I drift past cliffs of soft and hard coral bursting with life, I know I've found a new hobby.
Giant pink sea fans wave in the current, giant bulbs of blue coral pulsate and tufts of red pipe organ coral waft in the water. Clown fish dart out of a rainbow of sea anemones, baby stingrays glide below and an array of other tropical marine life dance past us.
Karimunjawa island's sublime coastline makes beach-hopping another delightful way to spend the day. We bounce from Tanjung Gelam to Pantai Batu Topeng in the north and on to Bobby Beach, where we have the smooth sands and clear waters almost entirely to ourselves.
Hiring a motorbike is the best way to get around, with no public transport and taxis expensive and hard to find. Karimunjawa Mangrove Forest is a good place to spend a morning or afternoon strolling along boardwalks that wind through the alien-like trees and their knotted roots.
Perhaps the best place to round out the day is the aptly named Sunset Beach. Ahead of dusk, a few reggae bars and casual restaurants spring to life, locals huddle on the beach to play the guitar, and children splash in the sea as the sun sinks towards the horizon. As soon as dark descends, the shacks shut as quickly as they opened, and the crowds disperse.
When we visit, there are no signs of imminent change on Karimunjawa's horizon. No mass construction scars the landscape, nor is there talk of islands being snapped up and developed into private tourism projects.
For now, at least, Karimunjawa remains a tropical paradise lost.
Getting there: Dewadaru Airport receives one daily flight from Samarang (Saturdays excepted). Alternatively, a speedboat (two hours) and a daily ferry (six hours) connect the main island with Jepara in Central Java. Avoid the slow option, but check the speedboat timetable " they do not run every day.
Copyright (c) 2019. South China Morning Post Publishers Ltd. All rights reserved.