Hall of famer O'Neal backs Houston Rockets GM as row shows no signs of going away
Fans at both opening games protest, with NBA champions watched by fans in 'The North Stand With Hong Kong' T-shirts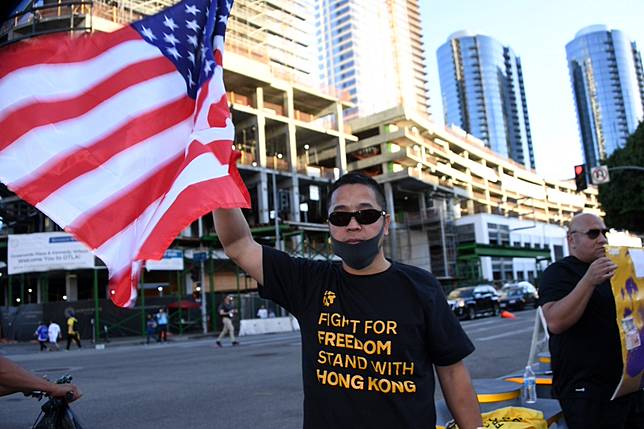 Basketball legend Shaquille O'Neal has said that Daryl Morey was right as the NBA's China crisis rumbled on during the league's opening night.
Speaking on TNT's pre-game show, the former LA Lakers star weighed in on the ongoing furore.
"One of our best values here in America is free speech, we're allowed to say what we want to say and we are allowed to speak out on injustices and that's just how it goes," O'Neal said.
"Daryl Morey was right. Whenever you see something wrong going on anywhere in the world, you should have the right to say 'that's not right' and that's what (Morey) did."
Shaq on Daryl Morey/China "One of our best values here in America is free speech we're allowed to say what we want to say and we are allowed to speak out on injustices and that's just how it goes. and if people don't understand that that's something they have to deal with. pic.twitter.com/vefcHSPlMD

" gifdsports (@gifdsports) October 22, 2019
Houston Rockets GM Morey posted in support of Hong Kong's anti-government protesters on October 4 in a subsequently deleted tweet that said "Fight for Freedom, Stand with Hong Kong".
The tweet resulted in the Rockets being banned by Chinese broadcasters and put the NBA China Games between the Lakers and the Brooklyn Nets in jeopardy.
Listen….@dmorey does NOT speak for the @HoustonRockets. Our presence in Tokyo is all about the promotion of the @NBA internationally and we are NOT a political organization. @espn https://t.co/yNyQFtwTTi

" Tilman Fertitta (@TilmanJFertitta) October 5, 2019
Those games went ahead but many team and player appearances were cancelled, while partners also pulled out of the events.
Is NBA's China crisis over? Not for LeBron James
The new NBA season's opening games " where LeBron James' Los Angeles Lakers took on the LA Clippers and at Toronto's Scotiabank Arena, and the NBA champions Toronto Raptors hosted the New Orleans Pelicans " were marked with supporters protesting the league's recent stance on China and anti-government protests in Hong Kong.
First NBA Halftime report and we have a Hong Kong flag. Love it pic.twitter.com/voKUJoL9jS

" Tony Hernandez (@HernandezTony) October 23, 2019
Protesters handed out thousands of black T-shirts outside the Raptors game with the message "The North Stand With Hong Kong" printed on them, in reference to the team's "We The North" slogan.
One volunteer, wearing a black surgical mask and who did not want to be named, said the Toronto group raised nearly US$34,000 through a GoFundMe page to print 7,000 T-shirts, Reuters reported.
In Los Angeles, many fans wore T-shirts with the same message as Morey's initial tweet and face masks.
1. Producer and activist Andrew Duncan bought 300 tickets to tonight's Nets vs Raptors game and is hosting hundreds of Chinese pro-Democracy activists to protest the NBA.They're all wearing "Stand With Hong Kong" t-shirts pic.twitter.com/pIcUwSLaPB

" Yashar Ali (@yashar) October 19, 2019
Meanwhile, a Hong Kong flag was seen waving in the stands during the half-time analysis from the Staples Center.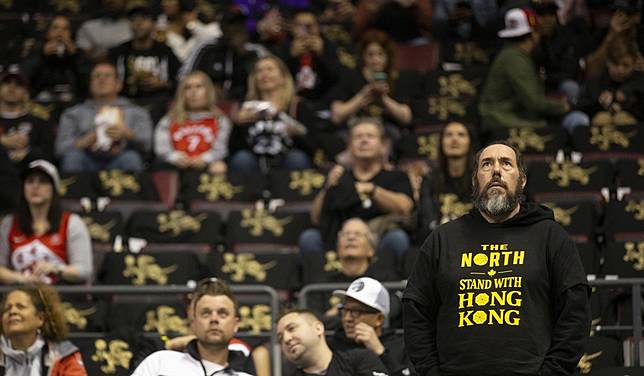 The ongoing crisis has brought the league's Chinese sponsorship into question, while many fans in the US have come out in support of the league's commitment to "free speech".
NBA players who have failed to speak out, such as LeBron James, have also come in for criticism.
Copyright (c) 2019. South China Morning Post Publishers Ltd. All rights reserved.