Fire department says protests are hindering response times, noting they reached fewer than half of Sunday's calls in Kowloon within the desired six minutes
Four police officers suffer injuries, while Hospital Authority treats another 23 people, aged between 11 and 73, during night of destruction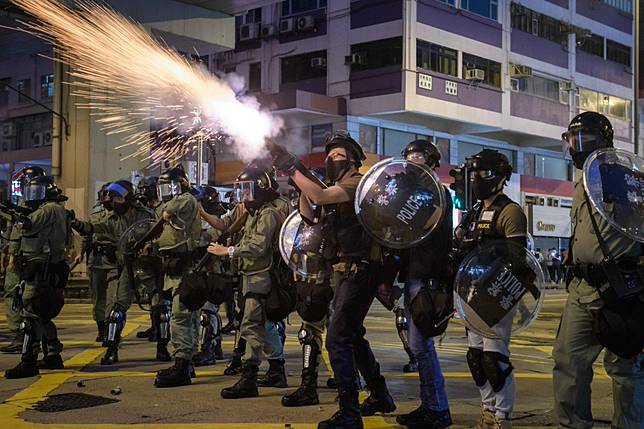 Anti-government protesters on Sunday threw more than 100 petrol bombs, damaged 11 MTR station entrances and a number of police stations, banks and shops " including one retailer that lost over HK$2 million worth of products " the force has revealed.
Four police officers were injured while 100 sets of traffic lights were damaged and 16 bus routes suspended in the heart of Kowloon during the violence that heralded the city's 20th straight weekend of unrest.
Cheuk Hau-yip, regional commander of Kowloon West, said on Monday that one damaged shop had lost HK$2.5 million worth of phones and other electronic products.
Protest organisers estimated 350,000 people joined the illegal march from Salisbury Garden in Tsim Sha Tsui to the West Kowloon terminus of the high-speed rail link. But some protesters later broke off to other areas such as Mong Kok, Tai Kok Tsui and Sham Shui Po, occupying major thoroughfares including Canton Road and Nathan Road.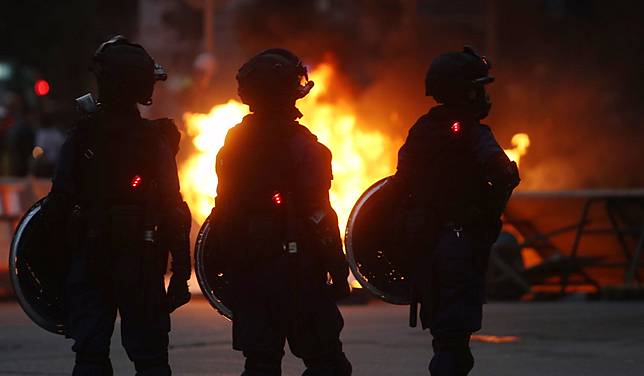 Apart from deploying water cannon, the force said they also used 260 rounds of tear gas, 130 rounds of rubber bullets, 20 beanbag rounds and 40 sponge grenades during their dispersal operation.
The police received 10 reports of arson and seven of criminal damage on Sunday alone.
"It's not just about criminal damage, but also burglary," Cheuk said, citing 28 related burglary cases since October 1.
"It shows that some people will take advantage to loot during protests," he said. "Why did the looting happen? Because rioters damaged the shops in the first place, creating chances for thieves."
Cheuk said that between Friday and Sunday, officers arrested 68 people " 53 males and 15 females " aged from 15 to 67 years old. They were arrested for charges including burglary, illegal assembly and covering their face.
On Sunday night, a shop owned by Chinese smartphone maker Xiaomi and a branch of Chinese medicine store Tong Ren Tang in Mong Kok were set on fire by protesters because of their mainland connections. Both premises suffered from serious damage.
We are still waiting for an apology from the riotersCheuk Hau-yip, regional commander of Kowloon West
Xiaomi declined to comment, while Tong Ren Tang could not be reached on Monday evening.
Police said among the four injured officers, one had been hit by a petrol bomb and suffered a second-degree burn on his wrist.
The Hospital Authority treated another 23 people, aged between 11 and 73, during Sunday's protests.
"What the rioters did has nothing to do with their demands," Cheuk said. "These are just violent and criminal activities."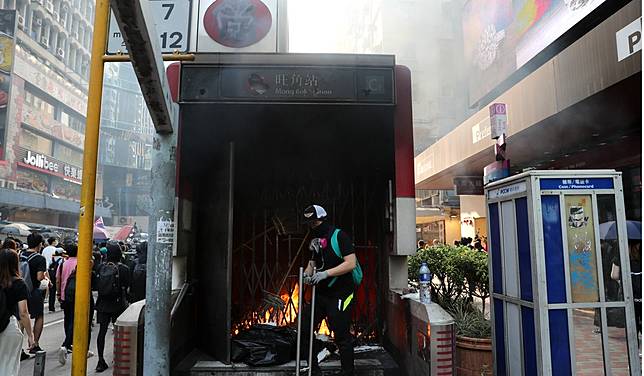 He said he believed the police had done nothing wrong when handling "rioters" and apologised to those affected by the clearance operation.
"We are still waiting for an apology from the rioters," he added.
At the same press conference, fire department officials also criticised the protesters for hindering their work.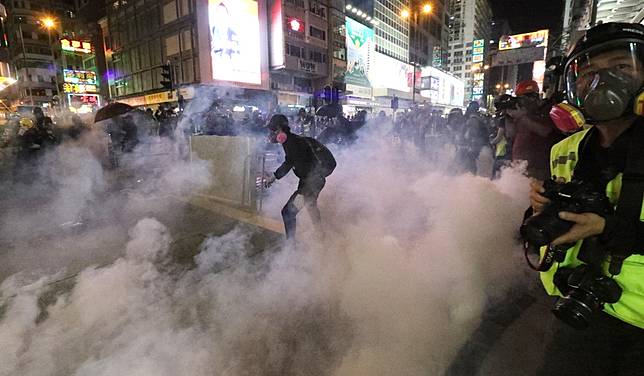 "Roadblocks completely affected our trucks from carrying out urgent assignments," said deputy chief fire officer Derek Armstrong Chan.
He said only 40.32 per cent of response times to urgent calls in Kowloon district on Sunday fulfilled the department's promise of six minutes.
He also condemned throwing petrol bombs and said arson attacks put others at risk.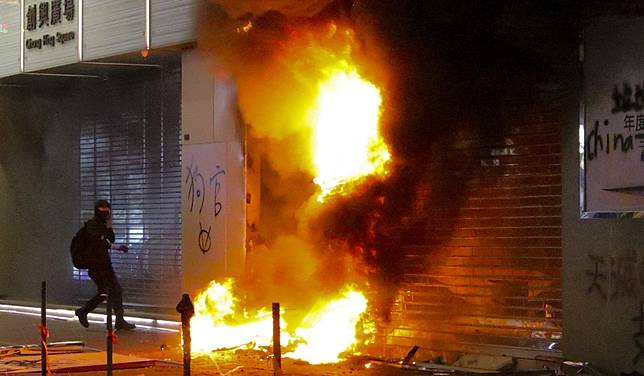 "Even if MTR stations and shops are closed, some staff might still be working inside carrying out maintenance and check-up work," he said adding that setting shops on fire put residents living in the buildings above at risk, including children and elderly people.
The department received 77 reports of fire related to the protests on Sunday.
While some journalists complained about officers targeting them with water cannon and pepper spray when there were no protesters in the area, Kelvin Kong Wing-cheung from the force's public relations branch told reporters not to stand between police and protesters for their own safety.
Additional reporting by Phila Siu
Copyright (c) 2019. South China Morning Post Publishers Ltd. All rights reserved.