Police block major pro-democracy group from marching on Sunday against the new law
Rejection comes days after organising group's leader was attacked by hammer-wielding group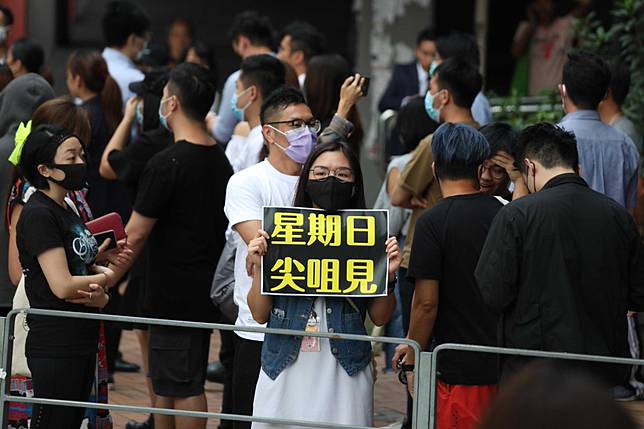 More than 1,000 people in various Hong Kong districts blocked roads during lunchtime protests, as police blocked the city's largest pro-democracy group from marching on Sunday against the government's mask ban.
Residents took to the streets in Central, Tsim Sha Tsui, Mong Kok and Kwun Tong. In Central, more than 300 protesters in black masks carried a banner which read "Citizens cover their faces, Carrie Lam covers her heart" as they rallied down Des Voeux Road. They made a U-turn at Jubilee Street and headed back in the direction of Chater Garden, where they had started.
In Chater Garden, protesters observed a minute's silence for Chan Yin-lam, the 15-year-old girl whose body was found in the sea last month. Some protesters have said her death was related to the unrest, blaming police, despite her mother saying the girl had "taken her own life" and police saying there was nothing suspicious about her death and she had never been arrested.
They chanted slogans such as "Disband the police", "Five demands, not one less" and "See you in Tsim Sha Tsui on Sunday!", in reference to a planned march that day.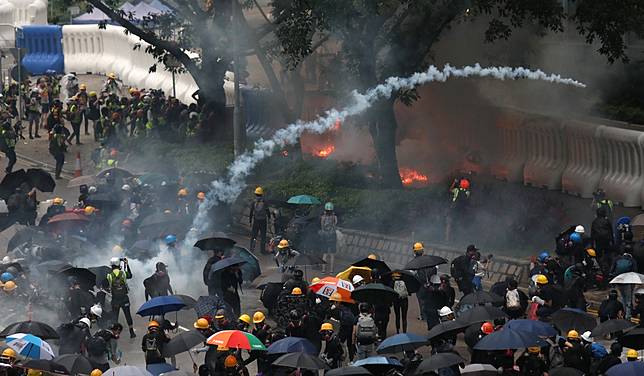 But police earlier rejected the Civil Human Rights Front's application for the Sunday march. In its letter of objection, the force cited violent incidents stemming from recent protests.
"The commissioner of police thinks there is a need to maintain public safety, public order and protect other persons' rights and freedoms," the letter read.
Police said the proposed route passed "high risk buildings", such as MTR and police stations, which had been targets of vandalism.
It also noted protesters had taken home-made explosives, petrol bombs and other weapons to previous protests.
The force has refused three other applications by the front in the past three months, on similar grounds. On all occasions, thousands marched on despite the bans.
The front had applied for approval to march from Salisbury Garden, Tsim Sha Tsui to the high-speed rail terminal in West Kowloon at 1.30pm on Sunday.
Apart from echoing the main demands of the protest movement, which has been running for months, the front also called on the government to abolish the anti-mask law it brought it earlier this month.
The law, enacted without Legislative Council scrutiny under the Emergency Regulations Ordinance, stipulates a penalty of jail for up to one year and a fine up to HK$25,000 (US$3,200) for wearing any face covering at a public gathering.
Prosecutors apply to hide identities of police allegedly assaulted by lawmaker
Chief Executive Carrie Lam Cheng Yuet-ngor said the ban was to deter radical protesters from breaking the law, following increased levels of violence against the police and damage to shops and the city's railway system.
At a press conference on Friday, the front said it would appeal the ban, with a hearing likely to be held on Saturday.
Figo Chan Ho-wun, vice-convener of the front, said it only wanted Sunday's march to be peaceful and non-violent.
"But when a peaceful and lawful march is not approved, how can people express their demands?" he added.
Figo Chan said previous bans had not stopped people from marching, adding he expected there to be protests on Sunday, whether they were approved or not.
Another vice-convener, Eric Lai Yan-ho, questioned the motive behind the ban.
"The government may want to see chaos on the streets, but they may not want to see millions joining a peaceful march against the police, the government and the anti-mask law," Lai said.
Lai also said it was unreasonable to ban protests on account they were near MTR stations, saying: "Does it mean we can only march in the walled-villages? Or on the outlying islands?"
In June, the front was behind two marches against the now-abandoned extradition bill that drew an estimated 1 million and 2 million people over consecutive weekends.
The ban came days after the front's convenor, Jimmy Sham Tsz-kit, was assaulted in Mong Kok by a group armed with hammers on Wednesday night.
Writing on his social media account on Thursday, Sham called on the public to not harbour hatred against ethnic minorities, after reports the attackers were not ethnically Chinese.
"The problem is always with the system, with the authorities," Sham wrote.
As of Friday, Sham was still in Kwong Wah Hospital.
Council Front lawmaker Au Nok-hin said the attackers had used "lethal force" against Sham, saying it amounted to "political assassination".
But Au urged people not to take matters into their own hands and commit acts of revenge.
Copyright (c) 2019. South China Morning Post Publishers Ltd. All rights reserved.