Man arrived in city from Comoros Islands with 55 radiated tortoises and two Madagascar tortoises hidden in his bags
Prison sentence is harshest ever handed down using Hong Kong's animal protection laws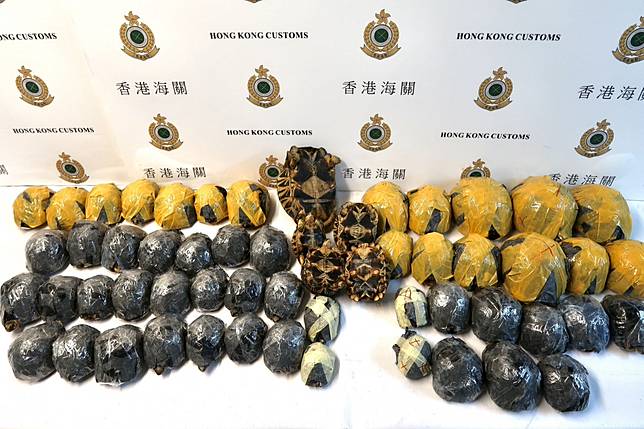 A foreign traveller convicted of smuggling 57 endangered tortoises with an estimated market value of HK$340,000 has been jailed for two years, the heaviest penalty ever imposed using Hong Kong's animal protection laws.
The 47-year-old man arrived at the city's airport on September 28 last year from Moroni in the Comoros Islands, via Addis Ababa in Ethiopia.
Customs officers found a total of 57 endangered tortoises, comprising 55 radiated tortoises and two Madagascar tortoises in plastic tape in his baggage.
An investigation by the Agriculture, Fisheries and Conservation Department concluded the tortoises had been subjected to unnecessary suffering, and their health and welfare had been severely neglected.
Hong Kong customs seizes 392kg of suspected controlled shark fins
He was convicted at the District Court on Monday, and sentenced to 24 months and eight months behind bars on Wednesday, under the Protection of Endangered Species of Animals and Plants Ordinance and the Prevention of Cruelty to Animals Ordinance respectively.
The jail term was the severest penalty ever handed out in Hong Kong for the illegal import of live endangered species.
Under the first law, the maximum penalty for those offences is a HK$10 million (US$1.3 million) fine and 10 years in prison, while the cruelty law carries a maximum fine of HK$200,000 and three years behind bars.
Copyright (c) 2020. South China Morning Post Publishers Ltd. All rights reserved.