Carriage comes off the track near to Hung Hom station during morning commute
MTR source says no formal reports of injuries, but paramedics on scene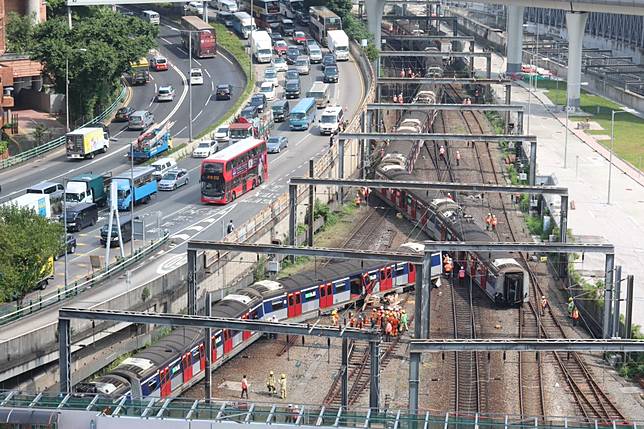 An MTR train carrying passengers has derailed in Hong Kong for the first time, leading to a partial suspension of the East Rail line.
Services between Mong Kok East and Hung Hom stations were shut down from about 8.30am on Tuesday after a carriage came off the track, rail operator the MTR Corporation said.
A source said the company had not received any formal reports of injuries. However, emergency services were out in force to help those affected.
Secretary for Transport and Housing Frank Chan Fan also arrived at the station at about 10.30am to visit the scene.
The Post understands the derailment happened at a diverting point, where trains are directed to different platforms, their direction and speed controlled by computer.
The train was arriving at Hung Hom from Mong Kong East, though the rail operator initially said the train was heading in the opposite direction.
A female passenger described the moment of derailment as an explosion, before she was stretchered away from Hung Hom station.
A man, who gave his surname as Kwok, was seen at the station in a wheelchair. He said he had knocked his head when the train derailed.
At the Exit C concourse of Hung Hom station, a female passenger from the derailed train was treated by medical personnel for smoke inhalation.Video: SCMP/Lea Li pic.twitter.com/jMMAdL64nT

" SCMP Hong Kong (@SCMPHongKong) September 17, 2019
Kwok told reporters he heard a strange noise, after which the carriage began shaking and veering from side to side.
The carriage he was in held 40 to 50 passengers, mostly women and at least one child. Kwok said he helped them to leave before he was tended to by first-aid workers.
Another man, who was on the carriage next to the one that broke off " which appeared to be in the middle section of the train " said there was no announcement or guidance from the train conductor or MTR staff and passengers made the decision to leave the carriage by themselves as dust, smoke and debris began filling the air.
Passengers leave the Mong Kok East-bound train, which derailed shortly after departing from Hung Hom terminus at about 8.45am on Tuesday.Video: SCMP/Denise Tsang pic.twitter.com/SsUSi635WA

" SCMP Hong Kong (@SCMPHongKong) September 17, 2019
Images circulating online showed passengers leaving the carriage, which stood across two sets of tracks, through a damaged train door. They were seen walking along the tracks to safety.
A senior source at the corporation said earlier it had not found any suspicious objects on the track, with the investigation in its early stages.
The area where the derailment happened was closed off, the source added, hinting that it would have been difficult for anyone to get in and cause disruption.
A paramedic said he and colleagues had initially received no reports of injuries. "But later, some complained of discomfort or shortness of breath, probably due to the anxiety and fright," he said.
Another paramedic said three passengers with complaints of discomfort were sent to hospital.
Some of the passengers aboard the train were taken to a control room at Hung Hom station for medical attention.
A fleet of ambulances, fire engines and police vans were lined up outside the station on standby, with firefighters and policemen at the scene offering assistance.
A carriage of a Mong Kok East-bound train derailed not long after leaving Hung Hom. Passengers are now disembarking onto the tracks. MTR East Rail services are suspended between Hung Hom and Mong Kok East stationVideo: SCMP/Denise Tsang pic.twitter.com/64OOGpq7cj

" SCMP Hong Kong (@SCMPHongKong) September 17, 2019
Lawmaker Lam Cheuk-ting urged the MTR Corp to thoroughly investigate the incident.
"It is fortunate there have not been any serious injuries or casualties, but if the train was going at high speed, the situation could have been worse," Lam said, speaking at a briefing outside the Legislative Council building.
Pan-democrat lawmaker Wu Chi-wai, who was also at the briefing, said the MTR Corp should make sure the signalling system was working in sync with the track diversion system to prevent further incidents.
Trains on the West Rail line were also affected, but normal service was resumed by 11.40am.
The MTR Corp arranged a free shuttle bus service in both directions between Tai Wai and Diamond Hill to ease the impact on Kowloon-bound passengers.
Train services on the East Rail line between Mong Kok East and Lo Wu, at the border with mainland China, continued to run at six-minute intervals, with services to Lok Ma Chau remaining at every 18 minutes.
Tuesday's incident was the first time a train carrying passengers had derailed in the MTR Corp's 40-year history.
In March, two trains without passengers crashed during an out-of-hours service trial of a new signalling system near Central station, causing services between Central and Admiralty stations to close for 48 hours on the Tsuen Wan line.
Copyright (c) 2019. South China Morning Post Publishers Ltd. All rights reserved.