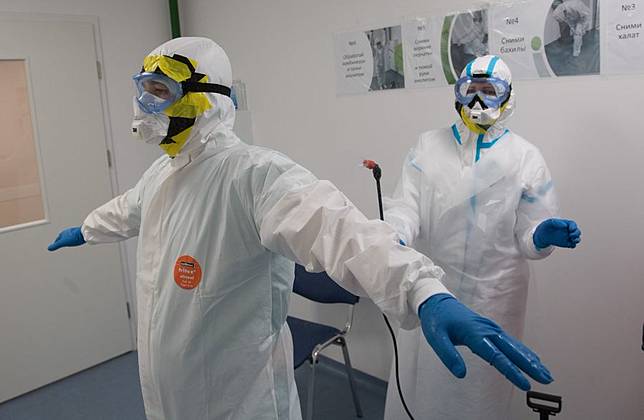 A medical worker wearing personal protective equipment (PPE) disinfects her colleague at the National Medical Research Center for Endocrinology where patients suffering from COVID-19 are treated in Moscow, Russia, on May 14, 2020. (Sputnik via Xinhua)
- Russia confirms 8,952 new cases in last 24 hours, total infections reaching 396,575
- Uzbekistan extends quarantine measures until June 15 while easing some lockdown restrictions to allow many businesses to reopen
- China donates medical protective supplies to Botswana
- Kuwait reports 1,008 new cases and 11 more deaths, raising tally of infections to 26,192 and death toll to 205
BEIJING, May 30 (Xinhua) -- The following are the updates on the global fight against the COVID-19 pandemic.
- - - -
MOSCOW -- Russia confirmed 8,952 new COVID-19 cases in the last 24 hours, raising its total number of infections to 396,575, its coronavirus response center said in a statement Saturday.
The death toll increased by 181 to 4,555, while 167,469 people have recovered, including 8,212 over the last 24 hours, according to the statement.
- - - -
KUALA LUMPUR  -- Malaysia reported 30 new COVID-19 cases on Saturday, pushing the national total to 7,762, the Health Ministry said.
Health Ministry Director-General Noor Hisham Abdullah said at a press briefing that three of the new cases are imported, while 27 being local transmissions of which 17 are foreign nationals and 10 are locals.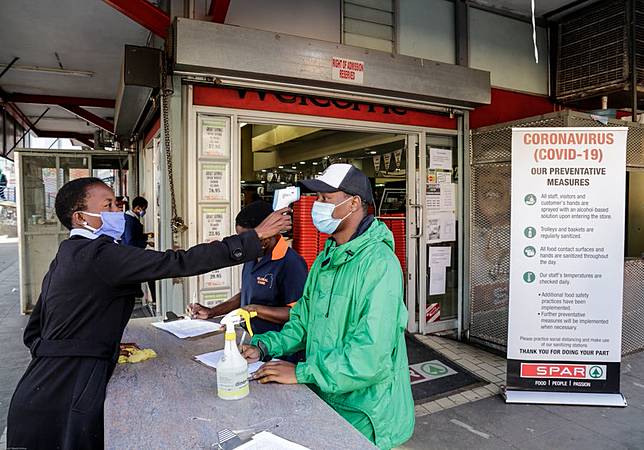 An employee screens a customer before accessing a shop in Gaborone, capital city of Botswana, May 15, 2020. (Xinhua/Tshekiso Tebalo)
GABORONE  -- China on Friday donated medical protective supplies to Botswana to help the country fight COVID-19.
An aircraft carrying the consignment arrived at Sir Seretse Khama International Airport in Gaborone, Botswana's capital city on Wednesday and was received by Botswana's Minister of Health and Wellness Lemogang Kwape and Chinese Ambassador to Botswana Zhao Yanbo.
- - - -
BISHKEK -- Kyrgyzstan's nationwide tally of confirmed COVID-19 cases reached 1,722 after 60 new cases were reported on Saturday.
Deputy Health Minister Nurbolot Usenbaev said at his daily online news briefing that most of the new cases are close contacts of confirmed cases.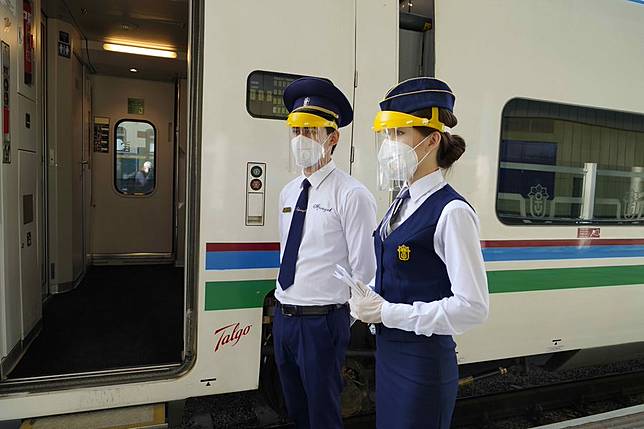 Train attendants wearing protective masks and shields wait for passengers in Tashkent, Uzbekistan, May 18, 2020. (Photo by Zafar Khalilov/Xinhua)
TASHKENT -- Uzbekistan has extended quarantine measures until June 15 while easing some lockdown restrictions to allow many businesses to reopen, the Special Republican Commission to Combat Coronavirus said Saturday.
Restrictions are eased in districts, towns and cities depending on the sanitary and epidemiological situation of COVID-19, which Uzbek authorities have divided into red, yellow and green levels of quarantine severity.
- - - -
QUITO -- A public security network designed by Chinese engineers has become a strategic tool of Ecuadoran authorities to protect public health and social stability amid the COVID-19 pandemic.
Juan Zapata, general director of the Integrated Security Service ECU 911, Ecuador's integrated emergency service hotline, recently told Xinhua that the Chinese-made technological platform that supports the country's emergency response system has been incredibly important during the global health crisis.
- - - -
SUVA -- A Fijian COVID-19 patient was charged on Saturday for breaching self-quarantine in Labasa, capital of Fiji's second largest island of Vanua Levu.
According to Fijivillage, a local news website, the 54-year-old Mohammad Saheed, Fiji's ninth COVID-19 patient from the village of Soasoa near Labasa, appeared in a special court sitting at the Labasa Magistrates Court.
- - - -
HANOI -- Vietnam reported a new case of COVID-19 infection on Saturday, bringing its total confirmed cases to 328 with zero death so far, according to its Ministry of Health.
The latest case was a one-year-old Vietnamese boy recently returning to the country from Russia, said the ministry, noting that 33 other passengers on the same flight with the baby had been confirmed to have contracted the virus.
- - - -
HARARE -- The number of confirmed COVID-19 cases in Zimbabwe has risen to 160 after 11 more tested positive Friday.
The latest cases are seven returnees from South Africa and two from Botswana while the other two are local transmissions, according to an update from the Ministry of Health and Child Care on Saturday.
- - - -
DAKAR -- Senegalese Ministry of Health and Social Action announced on Saturday 106 new cases of COVID-19, bringing the total number of infections to 3,535 in the country.
Out of 1,370 tests carried out in the past 24 hours, 106 returned positive, including 94 follow-up contact cases and 12 community transmission cases, Senegalese health minister Abdoulaye Diouf Sarr said during the daily briefing.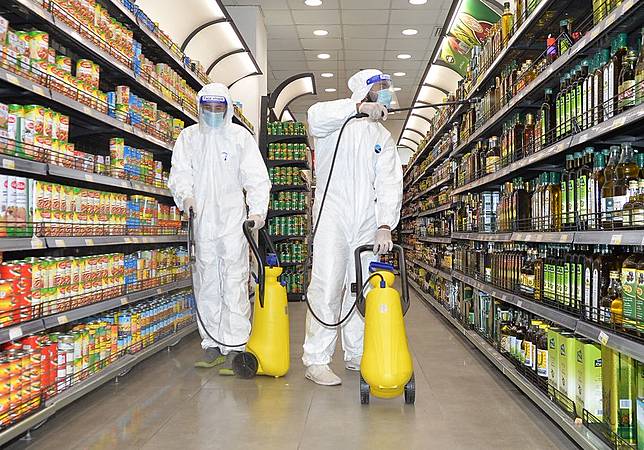 Medical workers disinfect shelves at a supermarket as measures to prevent the spread of COVID-19, in Kuwait City, Kuwait, May 12, 2020. (Photo by Asad/Xinhua)
KUWAIT CITY -- Kuwait on Saturday reported 1,008 new cases of COVID-19 and 11 more deaths, raising the tally of infections to 26,192 and the death toll to 205, the health ministry said in a statement.
Currently, 15,831 patients are receiving treatment, including 206 in ICU, according to the statement.
- - - -
MALE -- The number of COVID-19 cases in the Maldives reached 1,591 on Saturday, according to data from the Heath Protection Agency (HPA).   Fourty-four additional COVID-19 cases including 13 Maldivians, 29 Bangladeshis and two Indians were confirmed on Saturday as of 3:30 a.m. local time.■