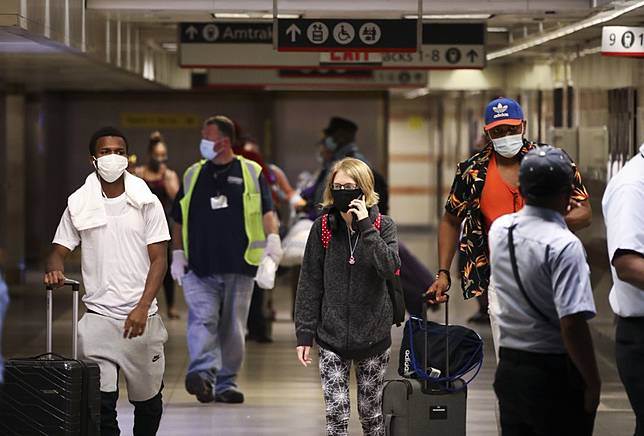 Passengers are seen at Penn Station in New York, the United States, on Aug. 6, 2020. (Xinhua/Wang Ying)
- U.S. COVID-19 cases surpass 4.9 mln: Johns Hopkins University
- White House rejects Democrats' offer for 2 trln USD COVID-19 relief package: media
- Italian institute to begin human trials of COVID-19 vaccine in late August
- France reports biggest daily spike of coronavirus cases since end of April
- Africa CDC urges compliance to preventive measures as Africa crosses 1 mln COVID-19 cases
BEIJING, Aug. 8 (Xinhua) -- The following are the updates on the global fight against the COVID-19 pandemic.
- - - -
NEW YORK -- The number of COVID-19 cases in the United States surpassed 4.9 million on Friday, reaching 4,902,692 as of 1:35 p.m. local time (1735 GMT), according to the Center for Systems Science and Engineering (CSSE) at Johns Hopkins University.
Meanwhile, the national death toll from the disease rose to 160,255, according to the CSSE.
- - - -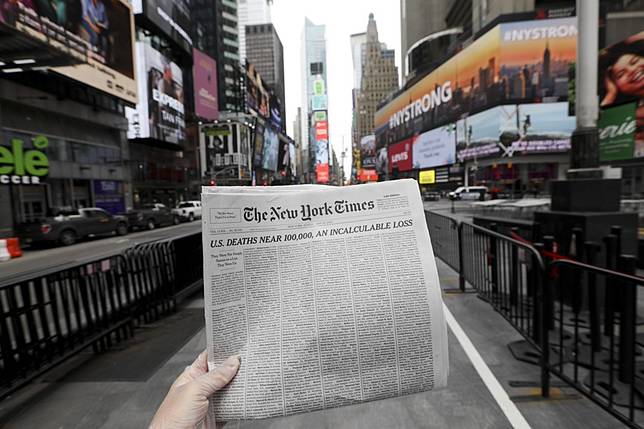 Photo taken on May 24, 2020 shows the front page of Sunday's New York Times at the Time Square in New York, the United States. (Xinhua/Wang Ying)
WASHINGTON -- A key COVID-19 model has updated its projection that nearly 300,000 Americans may die from coronavirus by Dec. 1.
The forecast from the Institute for Health Metrics and Evaluation (IHME) at the University of Washington said on Thursday there will be 295,011 COVID-19 deaths by Dec. 1, based on current projection scenario.
- - - -
WASHINGTON -- The White House had rejected Democrats' offer for a roughly 2-trillion-U.S.-dollar COVID-19 relief package, U.S. media reported Friday.
As part of a closed-door meeting with White House officials Thursday, Democrats offered to cut their 3.4-trillion-dollar relief proposal by 1 trillion dollars if Republicans would agree to increase their roughly 1-trillion-dollar package by the same amount, House Speaker Nancy Pelosi said Friday at a joint press conference with Senate Minority Leader Charles Schumer, The Hill reported.
- - - -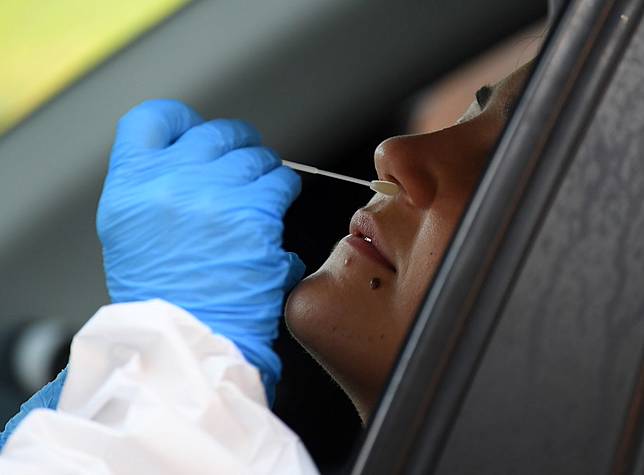 A medical worker of San Filippo Neri Hospital takes samples for further testing in Rome, Italy, April 8, 2020. (Photo by Alberto Lingria/Xinhua)
ROME -- The Lazzaro Spallanzani National Institute for Infectious Diseases in the Italian capital will start human clinical trials of a possible vaccine against the coronavirus in late August, the hospital and local authorities said on Friday.
A call for 90 volunteers was issued on the institute's website on Friday, especially for adult volunteers aged 18 to 55 or 65 to 85.
- - - -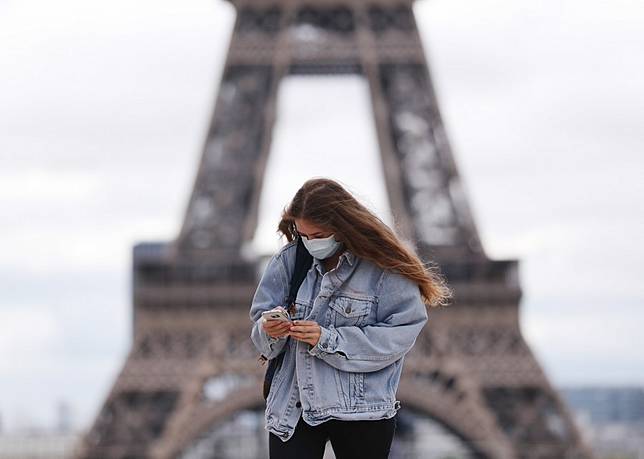 A woman wearing a face mask walks at the Trocadero Palace near the Eiffel Tower in Paris, France, July 10, 2020. (Xinhua/Gao Jing)
PARIS -- France on Friday reported 2,288 new coronavirus cases in the last 24 hours, the biggest daily spike since the end of April.
In the past week, France registered more than 9,330 new infections, bringing the country's total number of confirmed COVID-19 cases to 197,921, according to the health ministry.
- - - -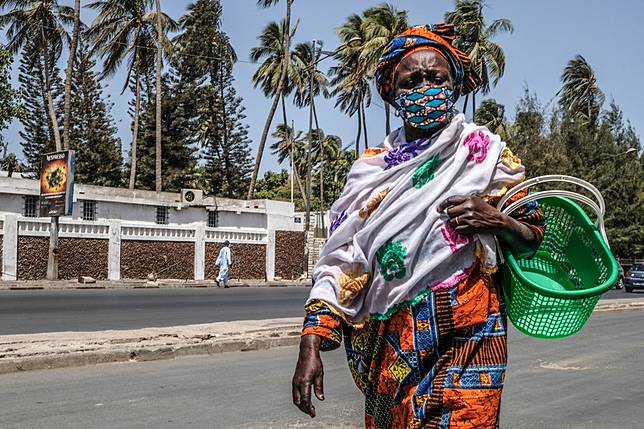 A woman wearing a homemade face mask walks on a street in Dakar, Senegal, April 30, 2020. (Photo by Eddy Peters/Xinhua)
ADDIS ABABA -- The Africa Centers for Disease Control and Prevention (Africa CDC) on Friday urged the African continent to increase compliance to the public health and social measures as the COVID-19 pandemic continued to gain momentum in Africa.
On Friday, the number of confirmed COVID-19 cases across the African continent has exceeded the 1 million mark, reaching 1,007,366 confirmed cases as of Friday afternoon, according to the Africa CDC.
- - - -
GENEVA -- A group of United Nations (UN) experts on Friday called for the lifting of all unilateral sanctions, so that people in countries under sanctions can protect themselves against COVID-19.
"Sanctions should be lifted, or at a minimum eased, so people can get basics like soap and disinfectants to stay healthy, and so that hospitals can get ventilators and other equipment to keep people alive," they said in a press statement.
- - - -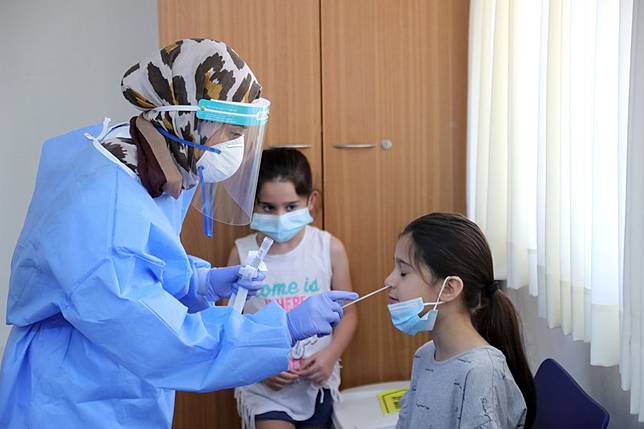 A medical worker takes a sample from a girl for COVID-19 test in the central Israeli city of Or Yehuda on July 22, 2020. (Gideon Markowicz/JINI via Xinhua)
JERUSALEM -- The number of coronavirus patients in Israel has reached 80,991 with 1,432 new cases, the Ministry of Health said Friday.
According to the ministry, the death toll has risen to 581 with five new fatalities, while the number of patients in serious condition has risen from 358 to 369, out of 776 currently in hospital.
- - - -
KATHMANDU -- Nepali government reported the highest COVID-19 cases in more than a month on Friday, as the number of cases in the Himalayan country, by an increase of 464, crossed the 22,000-mark.
The government also reported five new deaths, which is a record high daily fatality, tallying the same number of deaths reported on Thursday. A total of 70 people have so far died from the pandemic in Nepal, according to Nepal's Ministry of Health and Population. ■