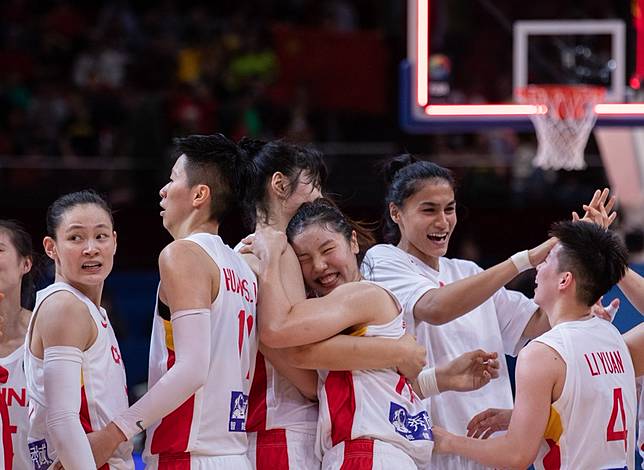 Players of China celebrate winning the quarterfinal against France at the FIBA Women's Basketball World Cup 2022 in Sydney, Australia, on Sept. 29, 2022. (Photo by Hu Jingchen/Xinhua)
China makes its first semifinal appearance at the FIBA Women's Basketball World Cup in 28 years, while the winning streak of the United States at the tournament has been extended to 28 games.
SYDNEY, Sept. 29 (Xinhua) -- China got past France 85-71 to advance to the FIBA Women's Basketball World Cup semifinals for the first time in almost three decades here on Thursday, while the United States extended its winning streak to 28 games after beating Serbia 88-55.
The last time China reached the same stage was in 1994 when they finished runners-up at the 12th FIBA World Championship for Women, also held in Sydney.
Back to the "blessed land" called by head coach Zheng Wei, China racked up a victory over the Tokyo Olympic bronze medalist.
Five Chinese players hit double-digits in scoring, led by Li Meng's 23 points and Huang Sijing's 18 points. Both players rocked the Sydney Superdome, with each pouring down four 3-pointers.
After Gabby Williams helped France race to a 12-6 lead, China responded with an 18-3 surge to turn the tides, with Li contributing 12 points down the stretch. France scored five late points, including Mamignan Toure's buzzer-beating 3-pointer, to tie the first quarter at 25-25.
Li Meng of China thumbs up during the match. (Photo by Hu Jingchen/Xinhua)
In the second half, China steadied themselves through Han Xu's three-point play, and Li Yuan continued her scoring output after coming off the bench, helping China lead 66-58 heading into the final frame.
With Li Meng's layup in the last 30 seconds, China extended its biggest lead to 14 points.
"Losing to the good Chinese team tonight and seeing what they showed is something really positive to us," said French head coach Jean Aime Toupane. "We will try to learn from this experience for the future."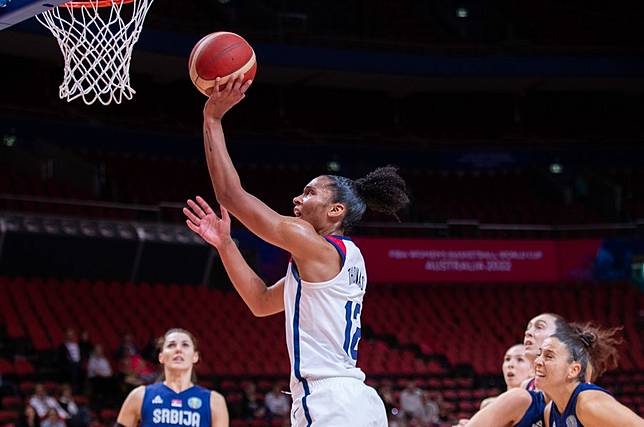 Alyssa Thomas (2nd L) of the United States goes up for a basket during a quarterfinal against Serbia at the FIBA Women's Basketball World Cup 2022 in Sydney, Australia, on Sept. 29, 2022. (Photo by Hu Jingchen/Xinhua)
The quarterfinal game day was opened by the 28th straight win at the World Cup for the United States, but its forward Kahleah Copper and guard Betnijah Laney were helped off the court after hard falls.
The seesawing first quarter witnessed seven lead changes and two times tied before the United States secured a narrow 25-23 lead over Serbia. The differential was extended to 17 points in the second quarter and 33 points as the final buzzer sounded.
"Once we were able to start pressuring them and speeding them up, we were able to really turn them over," said the U.S. power forward Alyssa Thomas, the game's top performer who scored a double-double of 13 points, 14 rebounds, seven assists and three steals.
Canada, who finished the group phase with four wins and one defeat to Australia, sealed the second berth in the semifinals by defeating Puerto Rico 79-60.
Three of Canada's starting five combined for four 3-pointers in the first 10 minutes, contributing to a 26-11 quarter lead. Five out of 10 Canadian players in action hit double-digit scores, led by guard Kia Nurse with 17 points and four 3-pointers.
Arella Guirantes finished with 19 points, seven rebounds and three assists but was unable to spearhead Puerto Rico into the semifinals. But the Caribbean country already achieved a historic breakthrough at the 2022 World Cup by getting a quarterfinal ticket, as its previous best result was 16th place in 2018.
Darcee Garbin (R) of Australia hugs teammate during the quarterfinal against Belgium at the FIBA Women's Basketball World Cup 2022 in Sydney, Australia, Sept. 29, 2022. (Photo by Hu Jingchen/Xinhua)
Australia booked the last semifinal slot with an 86-69 win over Belgium, and China will be the Opals' next opponent.
Despite a spoiled opener by France, Australia swept through the group phase with four wins in a row and extended it to five in the quarterfinals, while Belgium bowed out with three wins and three defeats.
Four Australian players scored double-digit points, including the top performer Cayla George with a game-high 19 points and nine rebounds. The 41-year-old Lauren Jackson contributed 12 points and two steals.
Looking ahead to their semifinal match, Jackson said that China is a really refined team with great shooters. "It is going to be a super tough game," she added. ■