Hong Kong University of Science and Technology says it strongly condemns incident in which mainland student was assaulted last week
Rival groups clashed during meeting to discuss fatal car park fall suffered by Chow Tsz-lok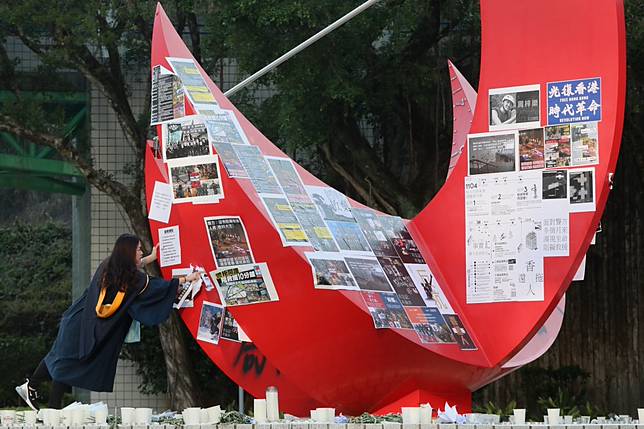 A statement by a Hong Kong university condemning the assault on a student last week has done little to allay the fears of many mainland Chinese.
The statement issued by the Hong Kong University of Science and Technology on Sunday has been viewed 140 million times on Weibo, China's version of Twitter.
The university said: "We cannot accept the deliberate assault on the student. We assure everyone we will not tolerate violence on campus and strongly condemn the attack."
More than 6,000 people left comments on the website, with many of them expressing concern over the safety of mainland students.
"I really dare not go to study in Hong Kong," wrote one user at Weibo. "The statement came so late. The university issued the statement now for fear that all mainland students will leave it? " asked a second.
"Are there any careless mainland parents who would send their children to Hong Kong (to study)? I will not even if the situation gets better."
The university has been criticised by both sides in Hong Kong since the death of 22-year-old student Chow Tsz-lok, who fell from a car park roof during a police operation that involved the use of tear gas.
Last Wednesday tempers flared during a HKUST forum to discuss the circumstances of Chow's fall.
During the clashes between rival groups four people were injured and footage shows a mainland student " identified as Zheng Candi in media reports " was hit on the head.
Protesters in Hong Kong have criticised the school's president Wei Shyy for not condemning police brutality and have vandalised businesses on the campus and Wei's residence in retaliation.
But on the mainland there have been calls to boycott Hong Kong universities for not safeguarding its students.
Global Times chief calls for HKUST boycott over attack on mainland student
Videos of the incident involving Zheng circulated on mainland social media and the editor-in-chief of the influential nationalist tabloid Global Times called on the university to condemn the assault, punish the attackers and apologise to mainland students.
"If HKUST does not give a satisfactory response on this matter, I recommend that all mainland students do not apply to HKUST next year," Hu Xijin wrote on Weibo on Thursday.
On Monday, an opinion influencer on Chinese social media, known as Chairman Rabbit, urged the authorities to protect the safety of Hong Kong-based mainland citizens and mainland-backed companies.
The political observer said the central government should issue a travel warning to Hong Kong for mainland citizens and advice students to be cautious when applying to study in Hong Kong.
"We can't wait any longer. It's high time to adopt proactive measures, starting with protecting mainland citizens," he wrote.
The university had earlier promised to investigate the case and would decide whether to pass it on to the student disciplinary committee.
But some people questioned the sincerity of HKUST when it said it was seeking "professional assistance to investigate" the video evidence.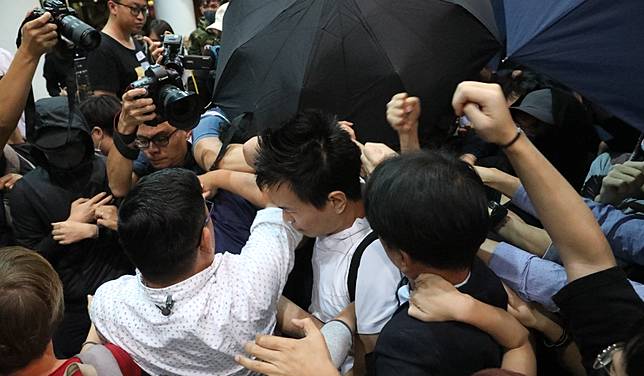 "Who will trust the result of the investigation by this university? This is a crime, why not report to police?" wrote a commenter on the news website Thepaper.cn.
On Sunday the central government's Liaison Office in the Hong Kong sent an open letter to mainland students who are studying in the city.
Besides condemning violence, the office said it was following the incident and was providing assistance.
Night of violence and grief in Hong Kong as city mourns death of student Chow Tsz-lok
"The motherland always cares about you. Please keep calm, pay attention to security and focus on study," the authority told the mainland student community in Hong Kong.
But one user on the news website guancha.cn wrote, "This statement is too weak and can't solve any practical problems. That's why mainland students are bullied in Hong Kong."
"Do the authorities hint that mainland students should pray for their own luck to make sure of their safety?" commented another.
Copyright (c) 2019. South China Morning Post Publishers Ltd. All rights reserved.