Business leader warns contingency plans are being made in case violence flares again in troubled city
Competition from rival cities could lead to loss of talent in years ahead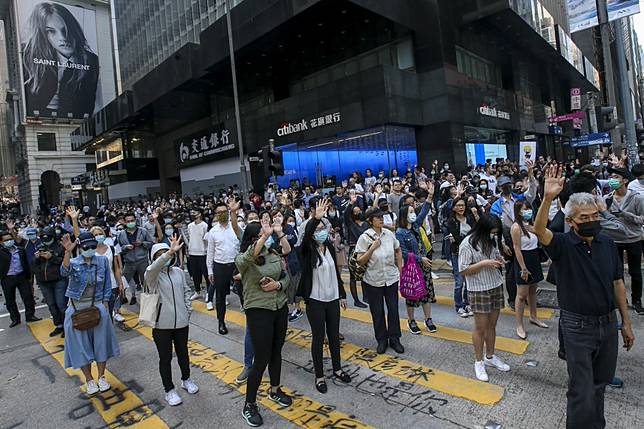 Some foreign companies in Hong Kong may be losing patience and have started to make contingency plans in case the political unrest deteriorates again, an international business leader has warned.
While they have so far downplayed the impact of the city's bleak economic prospects, the foreign business community is aware of the city's potential challenge to retain talent, according to Joerg Wuttke, president of the European Union Chamber of Commerce in China.
Wuttke said he was "struck" by the optimism of foreign companies that conditions in Hong Kong would remain stable, adding that there were concerns for the retail and restaurant sectors after the months of unrest but other sectors, such as cars and machinery, had not moved out of the city.
But, he said, many of these businesses might relocate if the worst of the violent disturbances that had plagued Hong Kong for the past six months flared up again.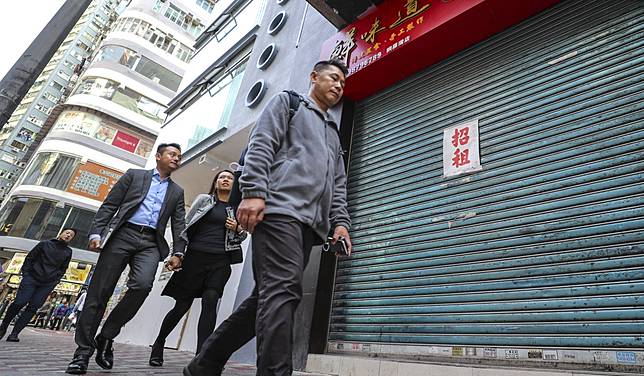 The protests began in June over a now-withdrawn extradition law that would have allowed the transfer of fugitives to mainland China. The demonstrations escalated into wider and prolonged anti-government unrest marked by violent clashes between radicals and police which have eased off since the district council elections in November.
"If the situation gets tough again, (such as) demonstrations and tear gas, you have to relocate meetings to safer areas away from Central (area), that's not good. And I guess that, most of these (firms), definitely big ones, are looking into contingencies. So, what if the situation gets worse, what if there is serious confrontation, do we move to Singapore, do we move to Shanghai, Shenzhen and Guangdong?" he said.
Wuttke said he also expected Hong Kong to face growing competition from neighbouring regions to attract talent in the coming years.
"The other thing I guess of what happens over the next two to three years, other regions " south China, Japan, Singapore and other places " will try to attract talent from Hong Kong, and Hong Kong is all about people, all about talent, all about a knowledge base," he said.
Wuttke said Japan was actively recruiting top financial people from Hong Kong while some cities in the southern mainland province of Guangdong, such as Dongguan, were offering high income tax refunds, which could be a huge attraction for hi-tech companies to relocate there.
"This maybe will make people think about moving across the border," he said.
St John Moore, chairman of the British Chamber of Commerce in China, said on Tuesday that violence was not a solution to the Hong Kong issue and called for a peaceful resolution.
"The integrity of China in that regard is a cause of uncertainty and the uncertainty is a challenge, certainly last month, or six weeks, (which) shift from a protest of something into actual violent protest, that is something of great concern, and that needs to be called back and needs to return to some form of a more peaceful process to try to achieve something," Moore said.
Hong Kong, which has played a key role in attracting foreign capital to China, has so far been unaffected by the punitive tariffs imposed by the US in its trade war with China. But that could change, with the recent passage of the Hong Kong Human Rights and Democracy Act which puts the city's special customs status under a yearly review.
The legislation also allows Washington to impose sanctions on officials deemed to have violated human rights in Hong Kong, infuriating Beijing which has accused the US of being a "black hand" behind the city's unrest.
Retaliatory measures have included the suspension of US Navy visits to the city and sanctions against a number of US human rights NGOs for their alleged support of the violent protests. Beijing has also warned the US to stop intervening in China's internal affairs to avoid jeopardising bilateral cooperation in key sectors.
Analysts said the tensions may have cast a shadow over the already slower-than-expected trade talks between Beijing and Washington and warned the US moves would only hurt the people of Hong Kong, which slipped into a technical recession in the third quarter as the economy shrank 3.2 per cent, dragged by the unrest and the US-China trade war.
Global credit agency Fitch cut the city's rating by one notch, to AA from AA+, and lowered its outlook from stable to negative in September, amid the persistent political stalemate. Moody's followed suit, downgrading its outlook for Hong Kong's sovereign rating from stable to negative, while keeping the city's rating unchanged at Aa2.
Stephen Orlins, president of the National Committee on US-China Relations, told the South China Morning Post on Sunday in the southern Chinese city of Sanya, Hainan province, that Hong Kong's economic downturn had yet to create a big impact on US businesses in the city, but he added that some operations had been affected.
"Things like the closure of the airport, the inability of their employees to take mass transport to work, demonstrations which affect their ability to work in Hong Kong, these will certainly cause American companies to think about their long term plans for Hong Kong," he said.
"And it's a tragedy. What both sides need to do is to step back and ask what is really in the long-term interest of people in Hong Kong."
Copyright (c) 2019. South China Morning Post Publishers Ltd. All rights reserved.