As many as 16 companies applied to raise funds on the local bourse in the first three weeks of September
The number of active applications rose by 7 per cent to 231 in the year to date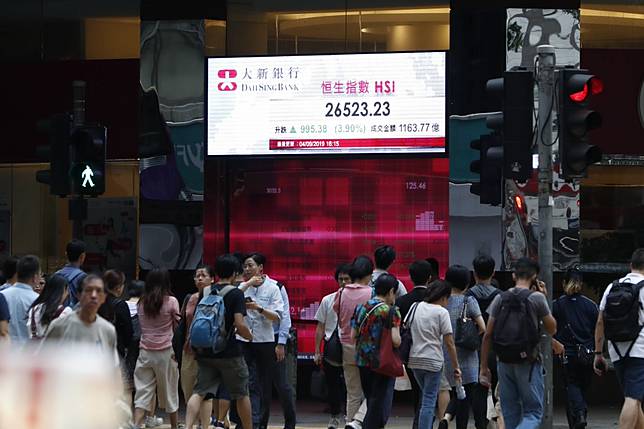 Initial public offerings (IPOs) are returning to Hong Kong, as valuations have bottomed out after a dismal summer disrupted by the worst political crisis in the city's history, underscoring the resilience of Asia's financial hub as the go-to option for fundraising, said one of the largest local brokers.
As many as 16 companies applied to raise funds on the local bourse in the first three weeks of September, increasing the number of active applications by 7 per cent to 231 in the year to date, according to data by the Hong Kong Exchanges and Clearing Limited (HKEX), the market operator. They are open to launch their IPOs, pending approvals by the HKEX.
"Many clients are returning to the market in September after a quiet summer," said Kenneth Ho Shiu-pong, the equity market managing director at Haitong International Securities Company, which arranged 37 IPOs worth US$1.59 billion last year, and underwrote 28 fundraising deals valued at US$704.77 million this year. "Hong Kong remains the top fundraising destination for mainland Chinese and Asian companies that want to capture the international investors."
Hong Kong's economy is teetering on the brink of a technical recession, as three months of political rallies that began on June 9 have deteriorated into street mayhem and violence, causing property prices to plunge, forced visitors to stay away and crimped retail sales. Up to 10 of the city's smallest brokers have shuttered, as dwindling transactions made it too expensive for them to maintain their operations, according to the industry's association.
Still, the city's benchmark Hang Seng Stock Index fell by 6.2 per cent at the worst of the crisis, recovering to a 2 per cent dip as at the end of Friday's trading. That has been worse than Hong Kong's previous political crisis during the Occupy Central movement in 2014, when the city's central business district was almost paralysed by 79 days of sit-ins and protests.
"Hong Kong remains the top destination for IPOs, based on its strong fundamentals, despite a number of uncertainties affecting the market's sentiment, and some IPO applicants adopting a more cautious, wait-and-see approach to proceed with their listings," said KPMG China's head of capital markets Paul Lau.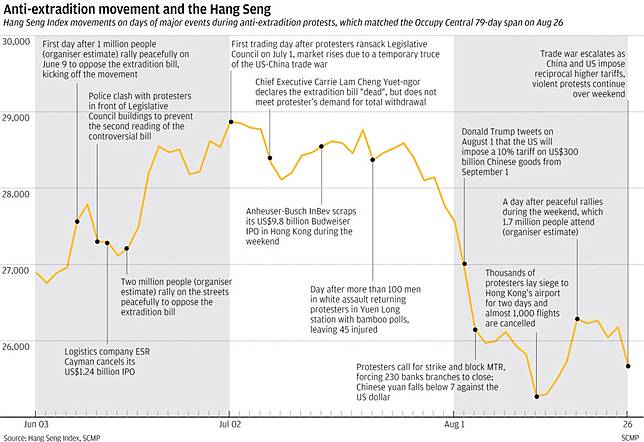 Budweiser Brewing Company APAC Limited, the regional unit of the world's largest beer producer, last week revived its fundraising plan by halving the amount of capital raised to US$4.8 billion. Still, that makes it the world's second-biggest IPO this year. ESR Cayman and several other companies also dusted off their shelved plans.
Gloom and doom prevailed during the summer months, when Budweiser, ESR Cayman and others shelved their IPO plans, which would have raised a combined US$11.05 billion in Hong Kong, and helped the local bourse catch up with New York and Nasdaq in the annual race to be the world's fundraising capital.
The tide turned after Hong Kong's Chief Executive Carrie Lam Cheng Yuet-ngor caved in to public demand on September 4 and withdrew the controversial extradition bill that sparked the protests in the first place.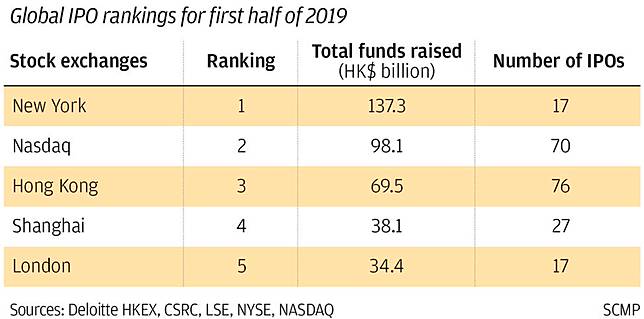 Budweiser is expected to set a final price for its IPO at the end of today. Inclusive of its US$4.8 billion stock sale, Hong Kong's fundraising tally is projected at US$16 billion from 84 IPOs, putting it third globally behind New York Stock Exchange and Nasdaq, according to Refinitiv data. Hong Kong was the world's favourite fundraising destination in six of the past 10 years.
There were "positive signs from the number of main board deals in the first three quarters comparable to last year, and the number of new main board applicants in July and August increased by about 30 per cent," KPMG's Lau said. "Hong Kong is likely to remain in the top three globally in terms of total funds raised for 2019."
Consumer stocks, biotechnology and telecommunications remained the darlings of international investors, according to Haitong's Ho, adding that come clients " particular those with business models that are more likely to be better received in the US " would still prefer to list in New York. Haitong helped arrange Luckin Coffee's US$561 million Nasdaq IPO in May.
"Luckin Coffee is a Chinese version of Starbucks, so we received very strong investor demand globally, especially in the US, as expected," Ho said.
Copyright (c) 2019. South China Morning Post Publishers Ltd. All rights reserved.