The compact room is possibly the smallest in the entire apartment. Fabric coverings outfit the walls and, circling to the not-so-distant other end, one's gaze rests on the pièce de résistance of this enigmatic, though elegant, den.
A collection of Kellys and Birkins, one in each colour and one to a row (save for a matching pair side by side) sits on display in a glass case. All mystery surrounding the passcode-enabled access door is dispelled.
Next to it, Lily Wong, interior design director at Lusso Design, dials open two gilded closets, and with a click, minks from Valentino, Balmain et al. appear in a neat row. On the sofa – a light butterscotch leather number from Ligne Roset – teddy bears sit with their price tags still on.
See more: This open, airy home in Happy Valley is a perfect space for entertaining
My idea was to help switch things up from their usual style, without making it difficult for them to adapt to the changes.
It's nothing if not a warmup to the rest of the house. Past the marble landing, one transitions to the nucleus of the abode, the purpose for which this home was purchased: a home gym, complete with rubber mat flooring, a TurboSonic unit, a SciFit body exerciser and bike, a Technogym Kinesis Personal, a Tanita Boditrax machine, a treadmill and elliptical from Life Fitness. Thanks to the reflective ceiling – so polished it mimics the glassy surface of water – and expansive vistas of greenery, the city, and Victoria Harbour beyond, the already-massive room swells even more.
The Home Journal crew is convinced: with a home gym like this, we'd be pouncing out of bed daily for a workout.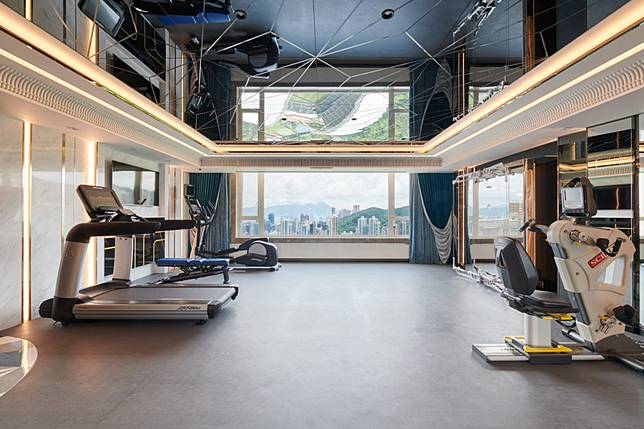 The homeowners are a health-conscious couple, says Lily. They wanted a private gym with fitness equipment completely their own, and that was suitable for them, she explains. So they bought the 3,000sqft apartment as their home gym. The Broadview Villas unit comes with a master bedroom, guest bedroom, two maid's bedrooms, a master bathroom, two guest bathrooms, one lavatory, and one maid's bathroom.
See more: Architect James Tu designs a sprawling 15,000sqft mansion in Taipei
With all stops out for pulling with this project, the greatest challenge lay in meeting the two sole parameters Lusso was given: that the home be stylish, and the home be elegant. Their own residences are inspired by the Louvre, and look like French palaces, Lily says. My idea was to help switch things up from their usual style, without making it difficult for them to adapt to the changes.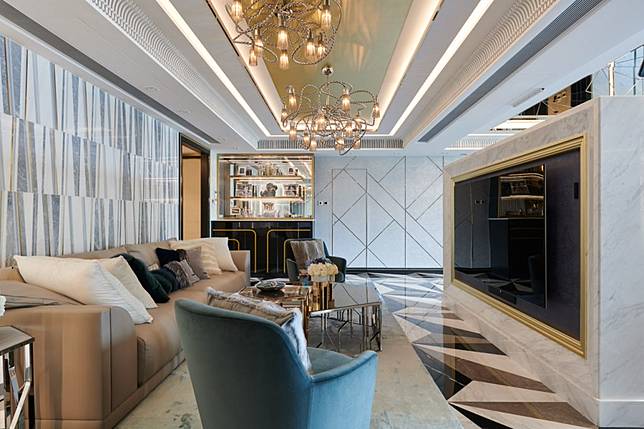 They didn't interfere with our creative space, allowing us more freedom to design.
Such changes are likely minimal – and have more to do with Hong Kong's limited real estate – given the elaborate attention paid to ensure every idle surface and corner of the abode is spared no expense. The living room, demarcated by a divider with a curved-screen television on one side and mirrors for the gym on the other, doubles as a luxe lounge, plush with a leather sofa and cushions from Fendi.
A swivel armchair from Minotti, along with coffee tables and side tables, sit snug within the remaining space. Surfaces of mirror and glass lend one another their glimmer under the sculptural, ropey chandelier, a beauty of twists and turns.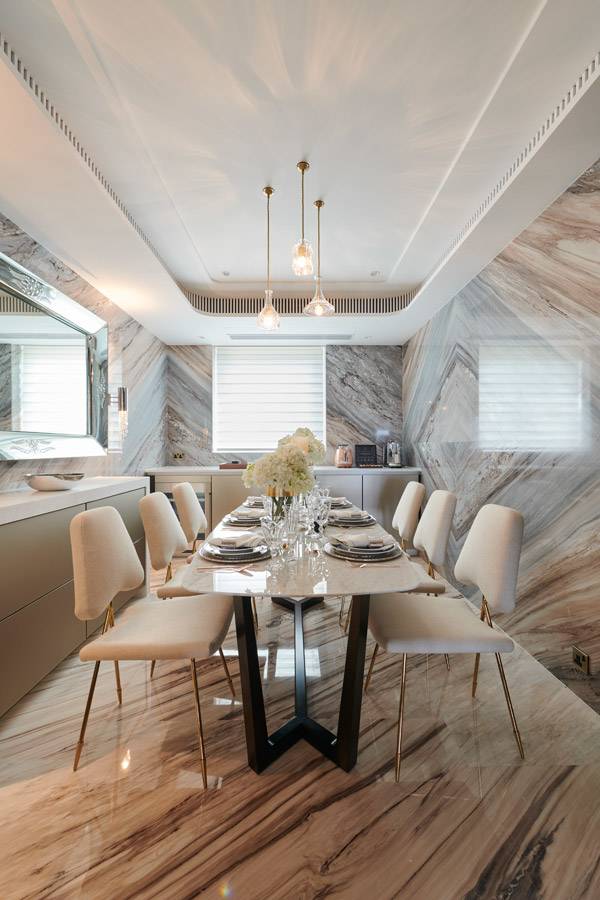 Reminiscent of a ritzy hotel suite, the master bedroom boasts a Lancaster bed with custom-designed bedside tables and a headboard by Bentley. The window, lining the length of the room, treats dwellers to the same sweeping views from the gym area, the Hong Kong Stadium's curved white shells cutting through the green.
See more: Inside the 3,000sqft Stanley home of a property firm owner
Here, a few taps on the smartphone gently shrouds the room from light, commanding the curtains to close by way of the same intelligent Lutron system operating the home's lighting. Instantly, day turns to night in this luxurious enclave.
Having worked with the homeowners on projects spanning offices and retail, Lily and her team were no strangers to the challenge at hand, likely only eclipsed by the resources available to make things happen. Our clients have completely trusted us with the flat's design and renovation, says Lily. They didn't interfere with our creative space, allowing us more freedom to design.
In all of the glass and bling, the passcode-automated doors and state-of-the-art personal gym, such freedom – offered and received – is perhaps the greatest luxury of them all.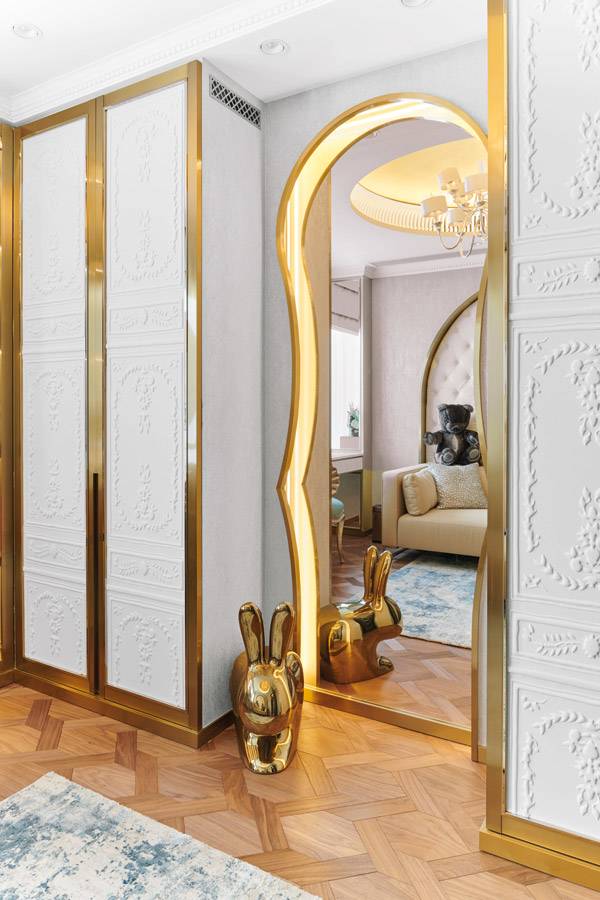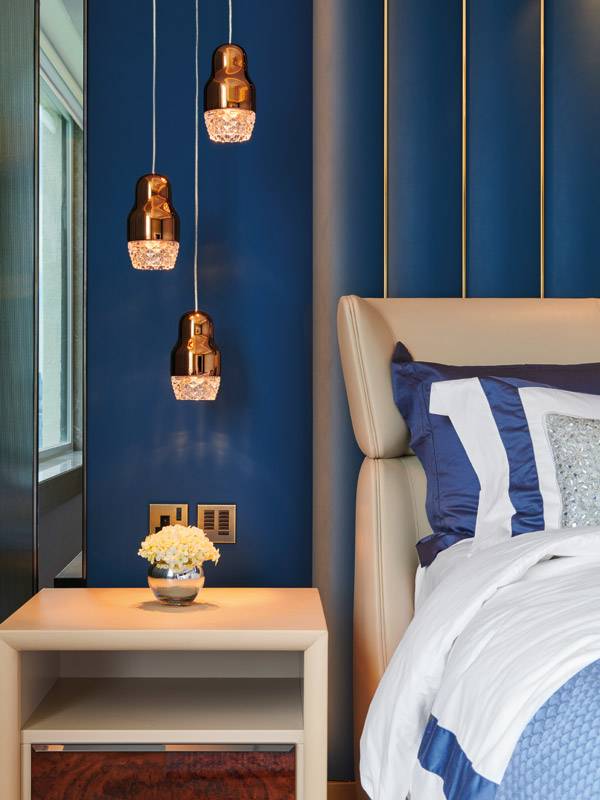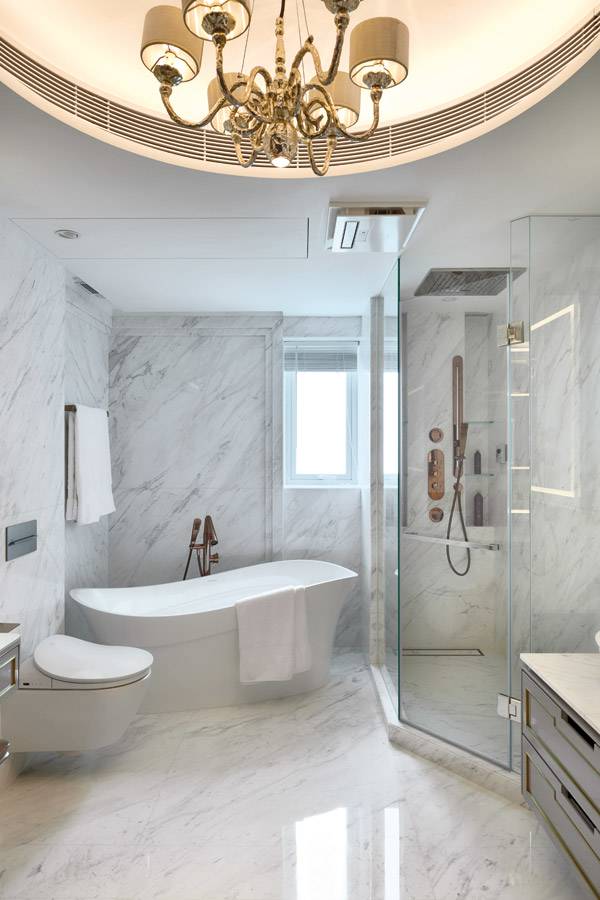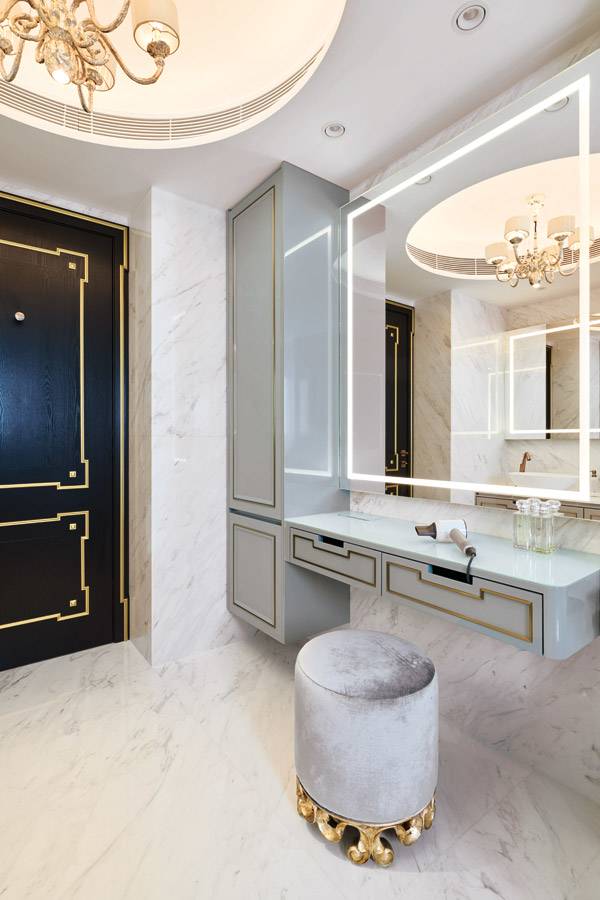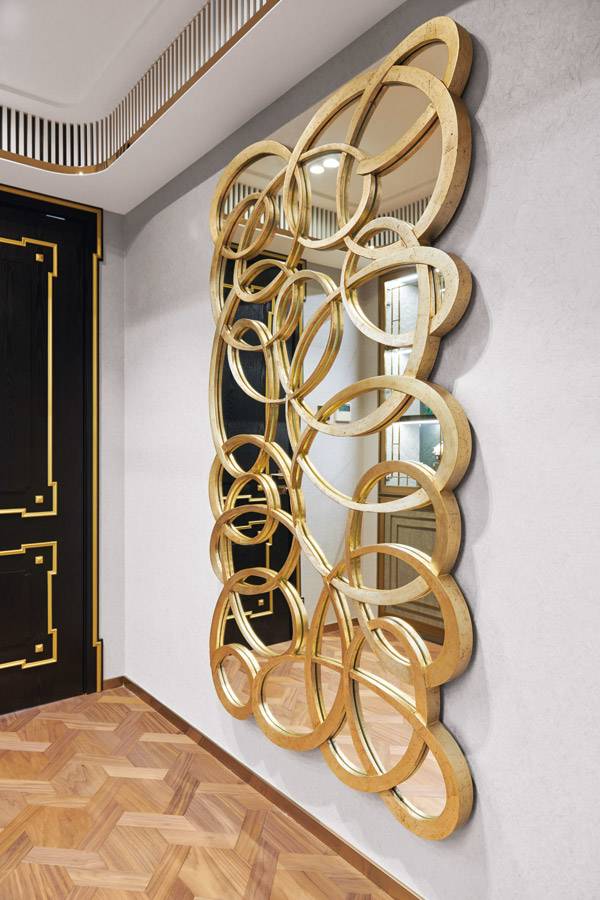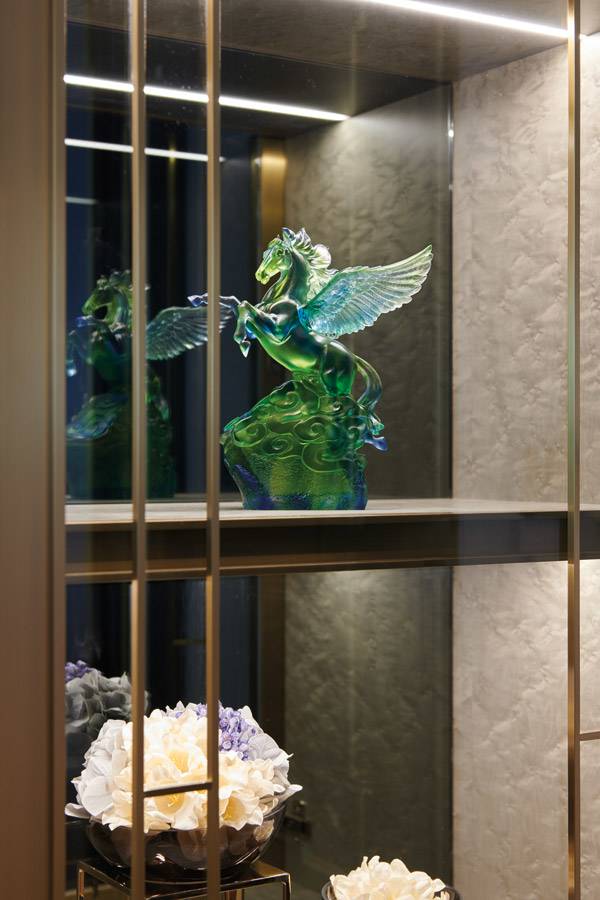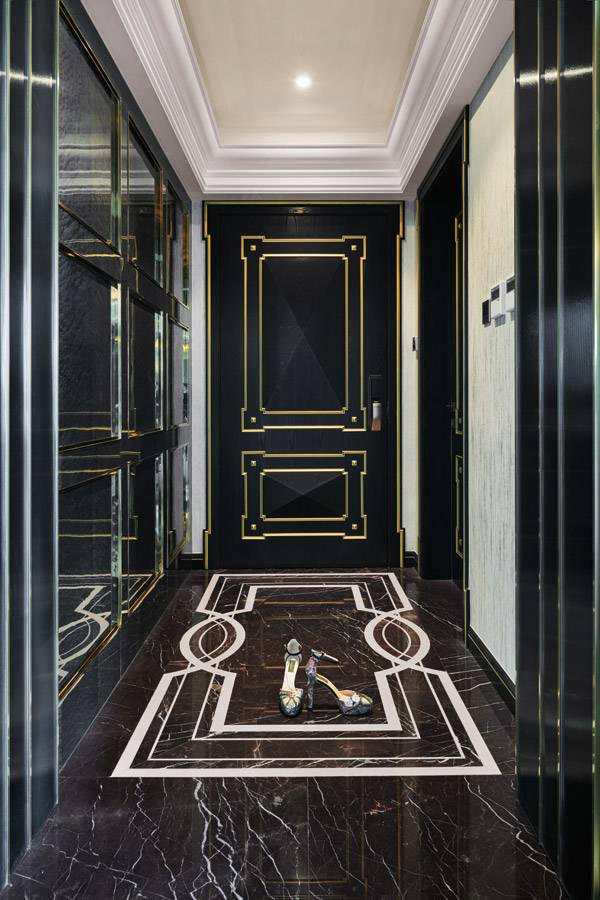 Get acquainted with Hong Kong's best designers in our hand-picked Designer Profiles.
The post In Happy Valley, a 3,000sqft bling-filled residence contains its own private gym appeared first on Home Journal.