Parents' fears and suspended classes force some back to the island but others are staying put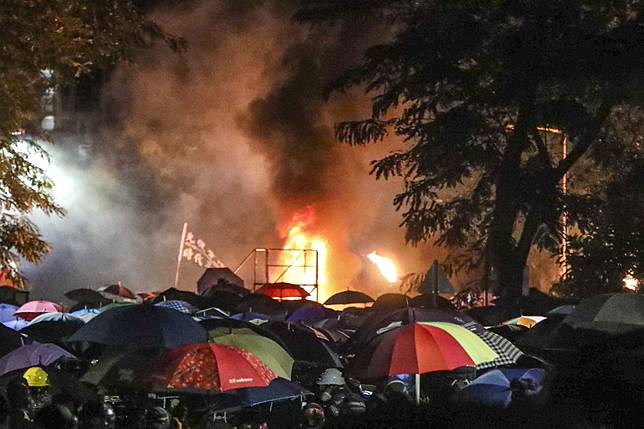 Hundreds of Taiwanese students studying in Hong Kong will return home, authorities on the island said after a university campus in the city became a battleground for clashes between anti-government protesters and police.
Chiu Chui-cheng, deputy minister of Taiwan's Mainland Affairs Council, said on Thursday afternoon that 368 of the 1,021 Taiwanese university students in the city were leaving Hong Kong.
They included 140 from Chinese University, 70 from the Hong Kong University of Science and Technology, 64 from Polytechnic University, and 55 from City University, the council said.
"The Taipei Economic and Cultural Office (TECO) has maintained daily contact with the student associations at the local universities to see what they need. We want all of our students in Hong Kong to be safe," he said. "If they want to come back to Taiwan, we will definitely provide necessary assistance."
Chinese University: how a scenic seafront campus in northern Hong Kong became a fiery battlefield, scarred by petrol bombs and tear gas
The announcement follows hours of confrontation at Chinese University on Tuesday, in an escalation of the protests marked by tear gas, rubber bullets, and petrol bombs.
Taiwan's education ministry said earlier that several universities on the island, including National Taiwan University (NTU), National Chiao Tung University, and National Dong Hwa University, would help the affected students continue their studies in Taiwan in the interim, or transfer next semester.
Jeff, a Taiwanese student at Chinese University, said he planned to fly back to Taiwan on Friday and would consider sitting in on courses at NTU, but would seek to return to Chinese University if possible.
He said he had not taken part in the protests until Tuesday.
"A group of us could not restrain ourselves, so we headed to the second line of the protesters to help support them by transporting supplies and helping with first aid stations," he said. "Thousands of tear gas canisters fell onto the university but we were not the enemy " standing beside us, there were only our classmates, alumni and uncles in their fifties and sixties."
"At the end of that night, most of the Taiwanese students left campus."
A Taiwanese student at Baptist University, surnamed Chang, said she was also flying back to Taiwan on Friday, after helping to ensure her Taiwanese classmates had safe places to go.
"Our families are very worried," she said. "My dad called me yesterday asking me when I would come back and asking why it was taking so long, but I have to fulfil responsibility to my fellow classmates before leaving."
Shenzhen and Hong Kong-based groups help mainland Chinese students flee city
Timmy Hsu, a Taiwanese student from the University of Hong Kong (HKU), said the Chinese University confrontation did create some panic within the Taiwanese community and among students' parents, but many also headed back home because classes were suspended or courses were shifted online.
"I wouldn't say there is a need for us to leave Hong Kong because our school is not encountering a lot of conflicts with the police," he said.
Hsu said it would be difficult to transfer to a Taiwanese university because there was "an emotional attachment to the university and to the community".
Two final-year HKU students from Taiwan also said their families were concerned but they did not plan to leave because there was no immediate threat to personal safety.
"The protests have not been happening around the HKU campus, next to where I live, so there is no need to leave immediately," one of the students said. "I do not feel there is a huge threat to my personal safety."
The other said she still wanted to look for jobs in Hong Kong and Taiwan, and that she understood the situation Hong Kong protesters were in.
"At a certain level, Hong Kong and Taiwan people share a common destiny," she said. "I hope Hongkongers' demands in the protests can be met, and that justice can prevail."
Copyright (c) 2019. South China Morning Post Publishers Ltd. All rights reserved.