Event at Edinburgh Place in Central held although officials have repeatedly dismissed fears that tear gas is toxic
Group says it interviewed 17,000 people exposed to the smoke, with nearly a quarter saying they suffered some problems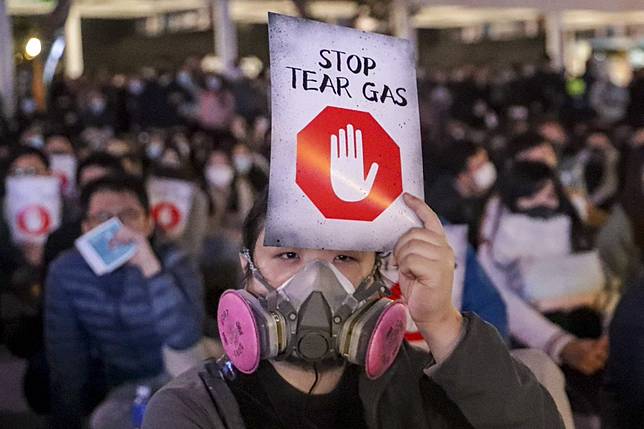 Hundreds of people gathered in downtown Hong Kong on Friday night for a rally against the use of tear gas, as protesters' representatives released a survey that said some of those exposed to the smoke suffered from rashes, diarrhoea and coughed up blood.
The event at Edinburgh Place in Central was held although officials had repeatedly dismissed fears that tear gas was toxic, with welfare minister Law Chi-kwong saying the level of carcinogenic dioxins resulting from police's crowd-control weapon was minimal compared with that released from barbecue activities.
On stage, masked members of the so-called Citizens' Press Conference, a self-styled representative group of protesters, said they had interviewed 17,000 people who were exposed to the smoke, with up to 23 per cent claiming they suffered breathing problems, watery eyes and skin irritation for a prolonged period. Another 16 per cent experienced abnormal diarrhoea, three times the figure from data obtained overseas.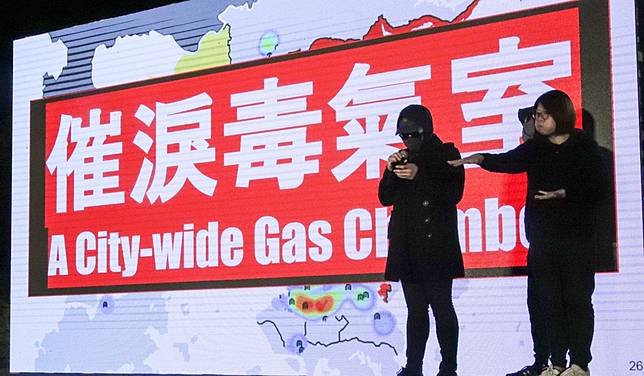 "It proves that tear gas is toxic and poses great health risks," one representative alleged, adding that about 5.5 per cent of respondents said they had coughed up blood and had discoloured urine.
Among the speakers was Dr Arisina Ma, president of the Hong Kong Public Doctors' Association, who slammed police for firing tear gas frequently in dense areas in a short time, as the smoke could irritate the skin and nervous system, resulting in an allergy.
"Officers also shot the smoke at short-range and from height … It could cause a stampede," Ma said. "The smoke could cause pulmonary oedema (excess fluid in the lungs), which is fatal."
But she did not know if the tear gas contained cyanide and dioxin, and demanded the government disclose the ingredients
"City in tears. People in fear," the organisers led the crowds in chanting. They called on the government to address the public's concerns and disclose the ingredients of the irritants.
In a video played at the rally, a black-clad frontline protester said she suffered from diarrhoea for three to four days almost every time she was exposed to the smoke.
"After police switched to using canisters made in mainland China, I once coughed up blood," she said, showing a photo of blood on a tissue. She claimed her menstrual cycle was also disrupted with the blood discharged being a black colour.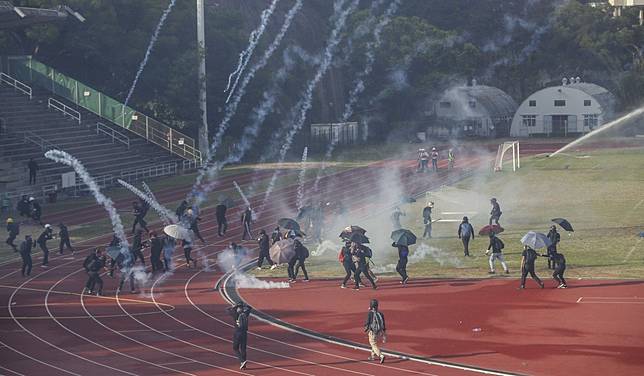 The organisers estimated the turnout as near 20,000. Police put the figure at 600 at the rally's peak.
In the crowd was a man in his 50s holding a placard saying, "Save our next generation. No more tear gas".
Declining to give his name, he criticised police for firing tear gas in neighbourhoods and affecting residents living in flats above the streets.
"Why can't the government disclose the ingredients? It is also unfair to frontline police. They are also subjected to harmful effects," he said.
Protests triggered by the now-withdrawn extradition bill have gripped the city since June. Radical protesters have vandalised, damaged and set fires at railway stations, major roads and university campuses, besides targeting businesses with links to the mainland.
In response, police have fired more than 12,000 rounds of tear gas and arrested close to 6,000 people. But the government and the force refuse to reveal the chemical content of the gas, citing security and operational reasons.
Senior Superintendent Kelvin Kong Wing-cheung from the police public relations branch said at a press conference on Friday that the force had not used any ammunition since Monday.
"It proves police do not need any ammunition if there are no mobs or violence," Kong said.
He had previously said police had no choice at which locations they fired tear gas as it depended on where mobs were rampaging.
Meanwhile, Chinese University, where police fired more than 2,300 rounds of tear gas after being attacked with petrol bombs by protesters who occupied the campus last month, said tests for toxic chemicals in soil and water samples found they were well below risk levels.
But the preliminary report did not carry the test results of samples taken at one of the campus entrances where most of the petrol bombs and tear gas were used.
Copyright (c) 2019. South China Morning Post Publishers Ltd. All rights reserved.